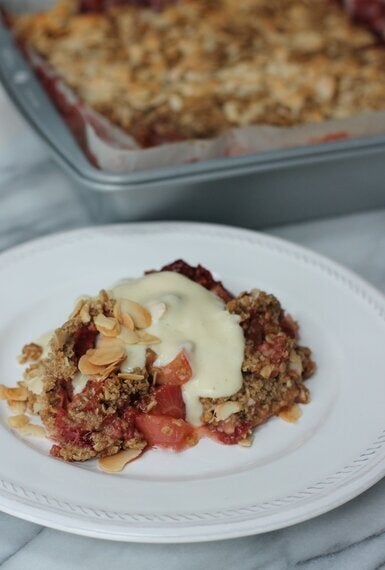 Hot summery desserts! You had me at hello with this one! There is nothing like strawberry season, my favourite time of the year, when these red juicy fruits come out in their full blossom, bursting with flavour.
400g strawberries, stem removed and halved
3 nectarines, white if possible, sliced 1cm thick
2 apples, peeled and cored (I used pink lady), cut into small cubes
1 tsp. vanilla or vanilla pod deseeded
200g rolled oats, gluten-free (I use Bob's Red Mill)
100g oat flour, gluten-free (I use Bob's Red Mill)
160g coconut oil, melted (odorless if you prefer)
vanilla soya or almond yogurt
Preparation time - 20 mins, cooking time - 50 mins
Pre-heat the oven to 375°F, gas mark 5, 190°C (170°C fan-assisted).
Line a 9x9 inch square baking tin with parchment paper.
In a large mixing bowl add the strawberries, nectarines, apples. Gently stir in the custard powder, coconut sugar and vanilla until the fruit is coated. Spoon the fruit into the prepared tin, and smooth out so the fruit is level.
To make the crumble topping in a mixing bowl add the rolled oats, oat flour, coconut sugar, cinnamon, sea salt and coconut oil. Mix everything together in the bowl and then add to a food processor, and blend until the mixture forms a paste (do not over beat).
Scatter the crumble topping over the fruit, until no fruit is exposed, then scatter over the flaked almonds and bake in the pre-heated oven for 50 minutes, until the edges start to bubble at the sides.
Remove from the oven, leave to cool for 5-10 minutes, if serving straight away.
Serve with some vanilla soya or almond yogurt.
LISA'S TIP -This crumble is delicious served straight from the oven to the table. You can make in advance and reheat. It taste wonderful after dinner or lunch, but equally good reheated in the morning for breakfast! The best thing about crumbles, you can be adventurous with your fruits, enjoy the sweeter side of life with this utterly irresistible seasonal dessert. Just one more tip, find your local pick-your own farm, and it will taste even better if you have picked the fruits yourself!