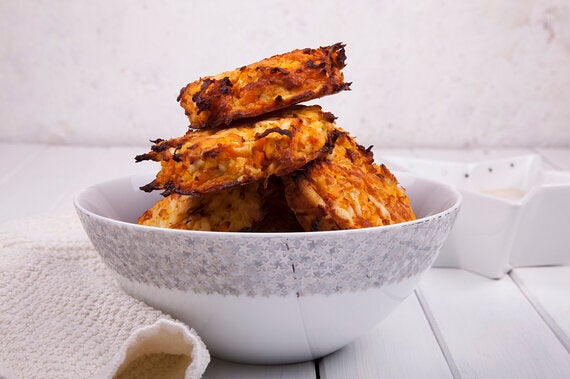 No need to wait for Chanukah for these latkes, get grating and baking! A healthy alternative to the fried latke, these are baked and not fried and gluten free.
500g sweet potatoes, peeled and grated
400g parsnips, peeled and grated
Preparation time - 40 mins, cooking time - 30 mins
Pre-heat the oven to 350°F, gas mark 4, 180°C (200°C fan-assisted).
Line two baking trays with My Relationship with Food silicon baking mat or parchment paper. I highly recommend lining your baking trays because the patties will stick if you don't.
Grate the sweet potatoes, parsnips and onion into a large mixing bowl and mix together so the vegetables are evenly distributed.
Beat the eggs in a separate large mixing bowl and season generously with sea salt and white pepper. Pour the sweet potatoes and parsnips into the egg mixture and combine together.
Add the ground almond slowly into the mixture, folding it in together until thoroughly incorporated.
The mixture should be loose and a bit soggy, divide the mixture onto the prepared baking trays and using your hands (I tend to wear kitchen disposable gloves) shape into 4-inches in diameter and about 1/2-inch high, see my tip below. I mound the mixture into firmly packed circular shapes on the baking trays.
Bake in the pre-heated oven for 20 minutes then remove the trays from the oven and carefully flip the patties over (they will be soft and delicate; I use a flexible spatula to scoop-and-flip without breaking them, don't rush this process) and bake for a further 10 minutes, or until browned. The patties will be browned but soft upon removal from oven. Allow them to cool and firm up on the baking trays for at least 10 minutes before moving or serving them on the presentation side up.
To make the tahini sauce, mix together the tahini sauce ingredients in a bowl until smooth and creamy and serve together with the sweet potato and parsnip latkes.
As a serving suggestion, you can serve with apple sauce, drizzled with tahini!
LISA'S TIP - I weigh the mixture after everything is combined and then divide that by 12 and weigh each latke that I put onto the baking tray so each latke has the same amount of mixture. Not only will this ensure that you make 12 latkes, it will also ensure an even bake.
Related