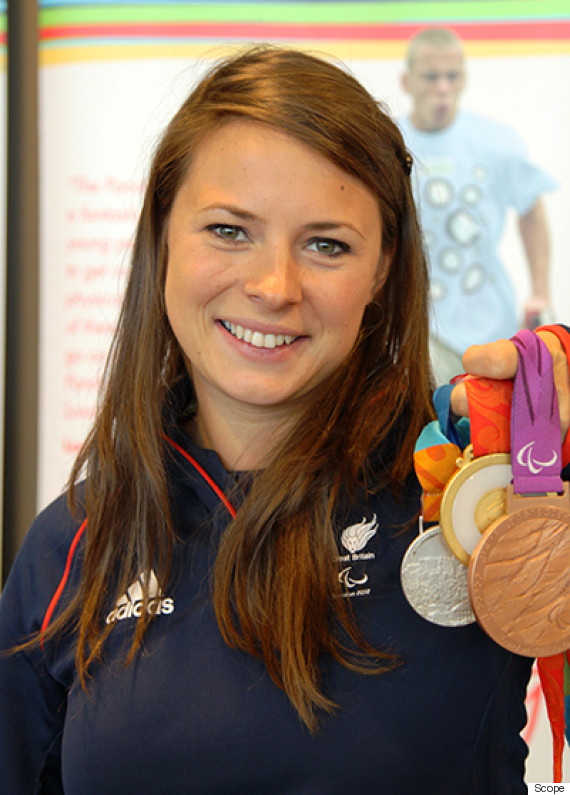 Having strong support from people who believe in you is so important.
As a child I played all types of sports from the word go. Sport is definitely a passion of mine and being able to have a competitive career has, without doubt, helped shape me into who I am today.
My mum was very keen to give me the same opportunities as my non-disabled peers. She was a school teacher, and the lifeguard at the pool her class swam at ran a club for disabled people - so after much persuasion, I went along to see what it was all about.
I have congenital cerebral palsy, right side hemiparesis and it effects that side of my body. In swimming, it meant I struggled with strength in my right side, as well as coordination, so I naturally fell into becoming a breaststroker because of the symmetrical movements that were required. My left side would lead - and my right side would follow as best it could.
Luckily I've always had this competitive, almost aggressive, mentality and I got into swimming competitively when it became obvious to me that I couldn't do all of the team sports I wanted to do to the level which I aspired. Although I was able to hold my own, there was no real system in place for me to progress in these other disciplines.
Attitudes towards disabled people and disability sport have made great progress since those days. There's much more resources in place relating to equity of inclusion and I believe a lot of this is down to the London 2012 Paralympic Games.
London 2012 really provided the platform for change, before then we only ever got a snapshot of Paralympic sport, and that wasn't enough.
Our capital city was hosting the games and there were so many people directly involved in it, through a variety of roles, that the public began to realise it was something big. People suddenly had the time and means to find out more about the athletes and understand their impairments. The appreciation went up, and suddenly these sports men and women were seen as athletes who happen to be disabled. They were no longer just seen as 'disabled people who do sport'.
Now, when I tell people that I'm a Paralympic athlete, they don't say "what's that then?", instead they ask what sport I compete at, what my training involves or even what classification I'm in. The reactions and perceptions have definitely changed in the last five years.
Of course, there's still lots of work to be done with attitudes towards disabled people taking part in sport, as well as attitudes towards people with impairments in general.
I would hope that I've saved the next generation of disabled athletes a lot of work and hassle - trial and error, if you like. The doors that I've had to knock down whilst growing up to convince people that I was worthy of an opportunity will hopefully still be open to future generations. I want young people to think "if she can do it, so can I."
My biggest role model growing up was my mum. She taught me that there was always a way around something. She was the one that made sure that I had all the opportunities my peers had.
The disability charity Scope is running a campaign called Sport For All this summer, which aims to encourage better representation and inclusivity in sport. The campaign is also aimed at challenging attitudes towards disability.
I think sport is important and vital for everybody. There are so many benefits - physical, mental, health, social - so many positives to be offered from getting involved. People should be entitled to access it at the level that they want. It needs to be talked about constantly.
These kinds of conversations will hopefully help start changing people's perceptions about disability. Then in turn, bring a wave of change when it comes to the existing prejudices that disabled people face in their daily lives.
Sport really is for all.
As part of Scope's mission for everyday equality, the disability charity is running the Sport For All Campaign this summer to encourage better representation of disability in sport, as well as challenging attitudes towards disability.
Support Scope's fundraisers this year in accessible events such as Parallel London. Visit scope.org.uk/get-involved/charity-events to see a full list of Scope's challenge events.