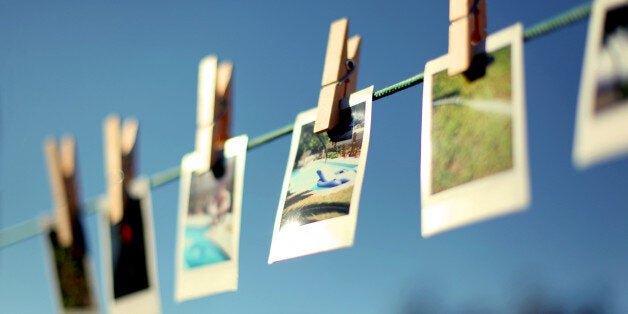 So, we're leaving London, our home of ten years. It started as a casual conversation across the three washing airers that are permanent residents in our living area. Like many city-dwellers before us, we were seduced by the idea of a bit more space. Considering their compact size, toddlers and babies have an amazing ability to fill a room (or, more accurately, all the rooms).
'Let's do it,' we said, as the toddler charged out from under the towels on a pink plastic car.
Soon after, we found a house to rent - a place to dip our toes into life away from the London buzz. It's a little daunting: no barista within walking distance and a real possibility that my pristine wellies might get some mud on them. That said, I am looking forward to our new utilty room adventure.
But now we're doing things for the 'last time'. Ironically after a year of trying to practice mindfulness, I no longer need to make an effort. I'm absorbing our everyday life because I know our favourite cafés and playgrounds will soon slip into our past. We'll be back, of course, to visit. We may even come back for good; we're only renting (I currently say this around three hundred times a day). But it won't be the same: the toddler might not run around the bandstand on the common the way she does now; she may have forgotten her strange fascination with the dog's drinking fountain.
We've had some of our happiest times here, but what is now the fabric of everyday life will eventually become threads of memories (you may, of course, have a better capacity for remembering things than me - I'm blaming sleep deprivation, and the latter part of the nineties).
Here are some ideas for making memories last:
1. Photo story book photo story book
Photo books are really easy to put together online, or do it the old fashioned way and caption the pics in an album. I like to make photo story books for kids to be read as bedtime stories. My next one will be based around our old haunts, as a nice reminder for us all of London life. Here are some general ideas for photo story books:
A particular relationship i.e. 'Isla & Daddy' or 'Charlie & Granny' - include things they like to do together, places they go and shared jokes
A routine that you want to encourage i.e. 'bath & bedtime' or 'getting ready for school'
A holiday, special day out or celebration
A book of firsts (first steps, first bites of food, first panicked visit to A & E because the baby has been a bit sick etc.)
Sports or favourite activities
A day in the life
Highlights from a year - good for birthday/Christmas presents
Family - introduce family members with one fact about them
A group of friends
I love this idea which came from Kelly Pietrangeli at Project Me. I keep our family quote book on the hall table so I can scribble down funny phrases or current favourite words. That way I won't forget that the toddler used to call shoes 'choos' (I presume she meant Jimmy Choos), or that her elbows were 'arm bows' for a while. Older kids will be able to write in the book themselves (could be dangerous...).
Looking through old recipe books from my family is like a social history lesson (if you're ever looking for 'a new way with dripping' then do get in touch...). Several years ago I started scribbling down some favourite recipes of mine, as well as new dishes I try. I add a photo and a note of when they were made. My grandchildren may be as enthusiastic about recreating my recipes as I am about whipping up some 'marrow jam', but things like this all bring family history to life. It's a great way to document all those kid's birthday cakes that you stayed up all night making too.
4. Frame your favourite things
If you're currently reading certain bedtime stories five times a night it may seem inconceivable that you'll ever forget the words. But time passes and we do forget what The Tiger ate when he came to tea, or how much Little Nutbrown Hare was loved. When our two bookworms have outgrown some of these beloved books I plan to frame a few pages as mementos.
There are plenty of other things you could frame too: first pairs of shoes, a favourite t-shirt, mittens etc. I may also make a large collage out of all the empty packets of coffee and chocolate I've had to consume to get myself through the preschool years.
How do you keep memories alive?