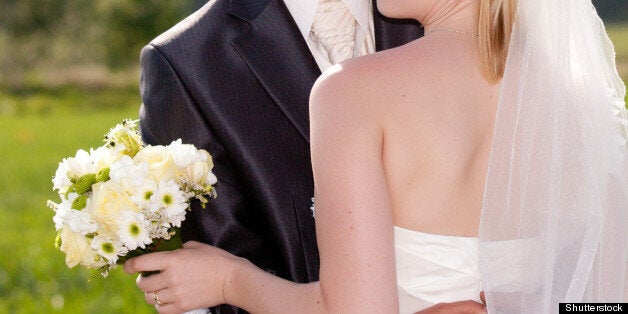 It's that wonderful time of year again. You know the one, when your mailbox fills up with invitation after invitation to your friend's bridal showers, bachelorette parties, engagement announcements and receptions. Yep, it's wedding season. If you're single, wedding season can bring to surface a lot of confusing emotions. On one hand, you're likely over the moon happy that your friends have found true love and are excited to share in their joy; on the other you might find yourself feeling jealous, bitter and annoyed with the whole affair.
Weddings are a celebration of love and commitment, and for many they are a glaring reminder that those two things are missing from their own lives. Whether or not you've been single for a while or are wondering if your significant other is ever going to propose, sometimes it's difficult to push your feelings to the side. These feelings of jealousy and frustration can easily take a toll on your friendships and overall happiness though, so it's important to get them in check before wedding season really begins. Here are some tips on how to handle it when all of your friends seem to be falling in love and getting engaged,while you're still playing the dating game.
Easier said than done, right? Not really. If your BFF calls you, ecstatic, because her boyfriend popped the question your first thought shouldn't be, "I'm happy for her, it will never happen for me." A slight tweak in your thought process can make a world of difference in your overall attitude. Try this: "I'm happy for her, and can't wait until it's my turn." Is it your turn now? No. Does that mean that it never will be? No way! Relax and don't compare your journey to those of your friends and family.
Being an invited wedding guest is one thing, but if you play an important role in your friend's wedding day by being a bridesmaid, etc, it's okay to say no from time to time. If you're single and all you want in the world is to fall in love and get married, being in the midst of wedding madness for days on end can be overwhelming and painful. Striking a balance between honoring your own emotions and being a supportive friend isn't impossible, nor selfish. If the thought of going wedding dress shopping with the bride for the tenth time makes you want to cry, sit this trip out and go do something for yourself! Just make sure you're there for the really important moments, and never punish your friends for being in a different life stage than you are. You'll want them by your side when it's your turn. Alternatively, you don't need to attend every single wedding related function you're invited to this season. Be selective with your time, energy and money--just make sure you aren't letting jealousy or bitterness run the show!
It's crucial that you speak up about how you're feeling with your friends, but choose the time and tone of your conversation carefully. For example, if your close friend is getting married and you're having a difficult time plastering on a happy face at all times, the best time to talk to her about it isn't in the middle of her bridal shower. When the time is right, grab a cup of coffee together and clue her in on how you're feeling--chances are she has no idea and will be extra aware and respectful of your feelings. However, after you tell her once, don't bring it up again. If she's a good friend, she'll make an effort to make sure you're as happy as possible, but come on...she's the bride and has more important things to worry about other than your emotions. Mentioning your jealousy or sadness over and over again will only make you seem negative, insecure and immature.
Lastly, hold tight! While wedding season is just beginning, it doesn't last forever. In a few months you won't be booked every weekend for a wedding related function, you won't have to worry about who to bring as your plus-one, and you won't have to glance at one more wedding registry! Sweet relief. Until next season, of course.