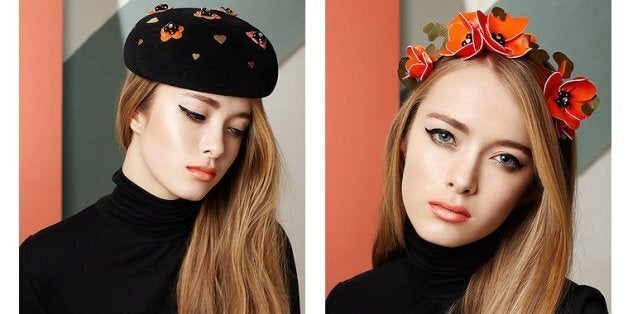 I shot my AW14 collection just after my first Triumph mentoring session with Grace Woodward. With this being my biggest collection to date, it was fantastic to hear her advice on how to section up the collection and the importance of using styling to make that very clear for my audience.
The shoot took place in my studio space - plenty of room and so much cheaper than renting a massive studio space when you are only doing portrait shots! Natasha Brown, my photographer, arrived to set up lights and backdrops for the shots, and in terms of set design, we went for a clean graphic colour blocked background to echo the Pop Art references in the collection.
My model was the lovely, Jess M (FM Models) who arrived and went straight into hair and make-up. I had shown Grace the make-up references from my research, using Faye Dunaway's classic 60's cat-eye liner as the main focal point, and using soft coral lip to pick out the orange highlights in the collection. It was so beneficial to have her perspective as she made lots of suggestions on how to get the best look with the resources available and how to ensure that all the images pushed my brand aesthetic forward without losing the core values. Grace had also thought of a number of pieces from her personal wardrobe that could be used for the shoot and arranged to have them delivered to me! This proved invaluable, as a beautiful Ossie Clark wedding dress and a 60's gold brocade jacket of hers ended up in the final looks and really made the whole line up come together.
From the shoot, I took all the hats to Maison Triumph for the duration of London Fashion Week where I met with press, buyers and hat lovers through the week. It was really great to present the collection to a wider audience and start absorbing all the reactions and comments. Amongst others it was fantastic to see Boo Attwood, an amazing stylist, who tweeted about my pieces!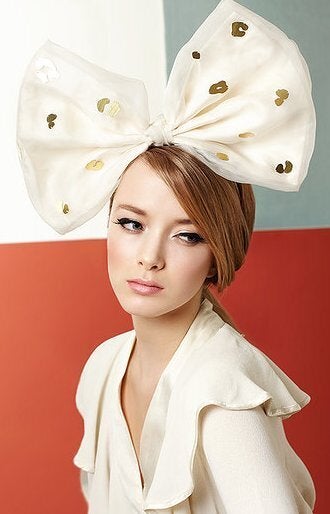 A Taste Of My AW14 Collection
After London Fashion Week, I had my second mentoring session, this time with Gizzi Erskine. This was perfectly timed as over the following days I had filming scheduled for my Women in Making winner video, along with a talk to over 100 people at London Fashion Weekend, and was able to get lots of advice from Gizzi on how public speaking and filming.
Her advice was to be yourself and try to lighten the mood with a little joke which makes both audience and speaker feel more at ease. I must admit I was still nervous, particularly when doing the talk, but I do feel I got through much better with Gizzi's advice in mind.
My journey with Triumph so far has been an incredible, the mentoring sessions, bursary and support have really allowed me to push my work forward in such a short space of time - I am really excited for what is next!
If you'd like to apply to enter this year's Women in Making competition from Triumph to win a £10,000 bursary towards your business, click here.