Why you need to spend the night like a Traditional Mongolian Nomad (like, now) and where best to set up glamp.
As we adventure-hungry Gen Y's lead the charge for experiential travel with our selfie-sticks held high, the demand for authentic accommodation is growing faster than our bucket lists.
Gone are the days when a simple booking.com or Expedia search would suffice. Thanks largely to the likes of Airbnb and specialised platforms such as Canopy & Stars or Pitchup.com, intrepid wanderers can now spend their nights abroad in tipis, tree-houses or tents.
Traditional Mongolian nomadic tents, to be precise. Also known as Yurts.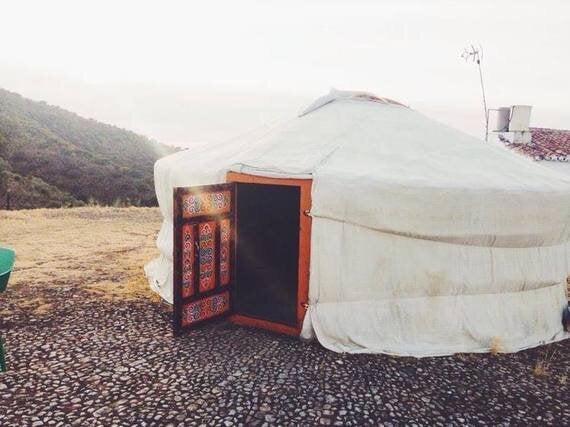 So popular are these glamping-friendly shelters, 2014 was declared the 'Year of the Yurt' and as far as we're concerned it's certainly not too late to jump on this vagrant-friendly bandwagon.
Circular in shape with a wooden structure, yurts are typically lined with felt walls and fittingly furnished - offering a stylish and luxurious alternative to pitching, pegs and poles.
Once only available in Central Asia, these enchanting structures are now popping up all over the globe whether in restaurant form or on their own farms (yes, the 'Yurt Farm' is real).
If you're around Europe and keen to find out what makes Yurts So Good - I'd recommend switching off and curling up in one (or all, if you fancy) of the below...
This spacious Moroccan-themed yurt is located on the property of a 350 year old Spanish farmhouse in the Andalusian countryside. With treasure hunt-like instructions through an off-beaten track just to get there, guests can expect nothing short of a truly serene and authentic experience. The farmhouse's live-in hosts Marina and Nacho will bend over backwards to ensure you get the most out of your stay on the property, offering one-on-one yoga classes and bespoke (delicious) prepared meals that you can even enjoy in the comfort of your yurt if you're so inclined. The nomads would be thrilled.
Price: From £40 per night.
Perched atop a wooden platform with stairs leading to its entrance, the Chestnut Tree Yurt boasts a distinguishable antique feel and haven-worthy hammock. Tucked away in rural Portugal, on-site hosts Hannah and Derrick are dedicated to providing a perfect experience - complete with horse riding, pre-mapped hiking routes and restaurant-quality meals complemented by freshly mixed Caiparinhas. The Chestnut Tree Yurt can also accommodate for larger clans if you're travelling in group - with further camp beds and bell tents available for the shotgun riders and backseat navigators.
Price: From £65 per night.
Featuring an antique trunk suitcase and shelf composed entirely of wooden crates, the rustic-inspired interior of this yurt perfectly reflects the bohemian vibes of the Karlovy Vary Region. As with most yurts, the kitchen and bathroom facilities are located separately in a house very nearby. Hosts Hana and Peter supply everything needed and leave you to enjoy the idyllic isolation. Standing in the middle of a meadow, it can get quite chilly in the colder months so opt for a spring visit if possible to get the most out of your stay.
Price: From £37 per night.