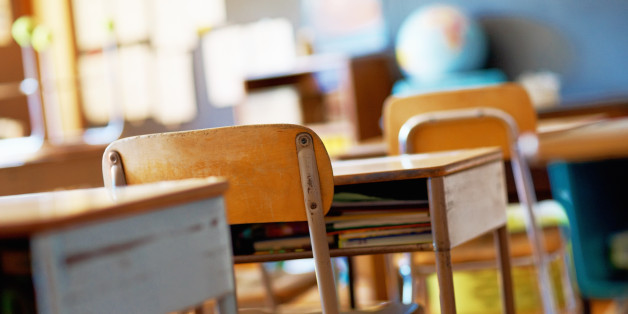 GlobalStock via Getty Images
Liberal Democrats believe we need an education system that delivers for all young people. The Conservative Government have consistently shown that they are more than happy to turn a blind eye to growing inequalities if it means they can pursue their toxic Grammar and Free Schools agenda. In the spring Budget Hammond announced that the Government would be investing another disproportionate sum of £320 million in Grammar and Free Schools, while just £260 million was outlined for vital school repairs.
The National Audit Office says a minimum of £6.7 billion is needed to restore all school buildings to a satisfactory condition. This figure falls woefully short. To add insult to injury, while other schools are left to suffer without reasonable investment, the Tories' Free School Programme is overspending by billions of pounds. This is utterly unacceptable. If they can find money to spend on education, it should be used to reverse devastating cuts to school budgets. Schools are being forced to make heart-breaking decisions as they struggle to buy books and afford the teaching staff they need. Some schools are even having to consider closing early for a number of days each week.
Despite this, the Conservatives continue to waste millions on Grammar and Free Schools in areas that do not need them. These do not benefit most children. The Sutton Trust found that fewer than 3% of children attending Grammar Schools received Free School Meals, compared to 20% nationwide. The Tories' completely unbalanced investment in these schools is irrational, exclusionary and divisive. Grammar Schools are extremely harmful and disproportionately benefit children from more affluent backgrounds. As money and resources are diverted away from other schools to Grammars, the majority of children suffer. If only a small percentage of children achieve academically and the majority get left behind then as a result we cease to be a globally competitive country.
It is clear there is a severe funding crisis within the school system. The Tories' policy of neglecting schools in favour of their pet projects, Grammar and Free Schools, continues to worsen this dire situation. Urgent action is needed to tackle these inequalities. Liberal Democrats believe we need an education system which delivers opportunities for all young people - not just a few. During our time in Government, we introduced a series of measures targeted at those who needed them most - free early years learning, the Pupil Premium, Free School Meals and the National Apprenticeship Scheme.
More investment is now urgently needed in the core schools budget. The Liberal Democrats will continue to call for any extra money for education to be spent on reversing the devastating £3 billion of cuts to school budgets that will see an 8% cut in per pupil funding by 2020. We will continue to fight for the schools' budget to be protected per pupil in real terms over this parliament. And we will continue to advocate for empowered, well-resourced local government so that they can adequately provide important services such as music lessons and clothing grants.
At our Spring Conference in York this weekend we are debating how we can create a fairer, more open education system, meanwhile, the Conservative Government is on a divisive warpath. Their education policy has been absolutely unjustifiable. We need an education system that delivers for all young people and we need a Government that is willing to support the system in doing so. It is unacceptable that the wealth of a child's parents and where they are born still has such an impact upon how well they do at school. The importance of accessible, good quality education can not be overstated. It is at the heart of what Liberal Democrats stand for. Education is the key to freedom and opportunity, and a vital part of creating the fairer society Liberal Democrats seek to build.
Lord Storey is a Lib Dem peer and the party's shadow Lords minister for education