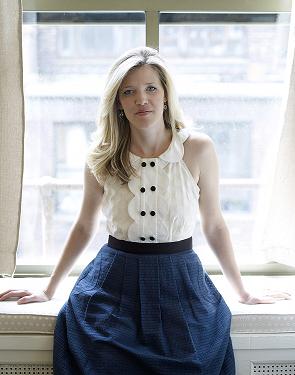 Photo credit: Courtesy of Lela Rose
Before launching her own collection, Lela Rose earned her fashion credentials as a design assistant for Christian Francis Roth and Richard Tyler . Her celeb clientele includes Chloe Sevigny, Anne Hathaway and Zoe Saldana... We caught up with the designer at Fashion Week to talk about inspiration, her first fashion memory and her dream of owning an ice cream shop.
What inspires you?
I bike around New York City as a way of getting everywhere I need to go. I find that I see so many inspirational things whenever I am out - new & old architecture, cool stores, food vendors, and interesting people. This city is such a cultural melting pot, and I find it always has so much to offer in terms of being constantly stimulated and inspired.
What is your first fashion memory?
I remember helping my mother make a tulle shrug for a gown she was wearing to the Dallas Museum of Art's Ball. She was affixing broken pieces of egg shells, as it was in celebration of their new wing and was themed "New Beginnings" (hence the egg shells). Needless to say, my mother was not very conventional.
Person you would most like to collaborate with...
Ferran Adria of El Bulli. I would relish working with a brain that is so creative and thinks so outside the box!
If you weren't a designer, what would you do?
I would do something in the food world. I have always wanted to own a homemade ice cream shop!
Who is your style icon?
My mother and Audrey Hepburn
What is the best piece of fashion advice you've ever been given?
My mother always taught me to wear clothes for myself and not to follow trends as trends will end!
When you aren't designing, what do you like to do?
I love to cook and entertain. We have many family dinners with friends where all ages are welcome.
Name three things you can't live without.
My bike, good food, and summertime!
Fashion should be more...
Celebratory of the fabric designers...they contribute so much but get so little credit.