Since the Whitecube Gallery decided to relocate from Hoxton to St James's and Bermondsey, and currently being Fitzrovia and Hackney Wick as the London art hotspots, Hoxton seems to have lost momentum since its heyday in the 90's. Not so, you have to look harder and you will still find edgy galleries. A garage in a housing estate in Hoxton, called The Garage Project, run by the curator and artist Charlotte Trower, is a fine example of what artists are making in Britain today. Ramblin', a solo show by Daryl Brown, has just open and will continue until the 16th of June.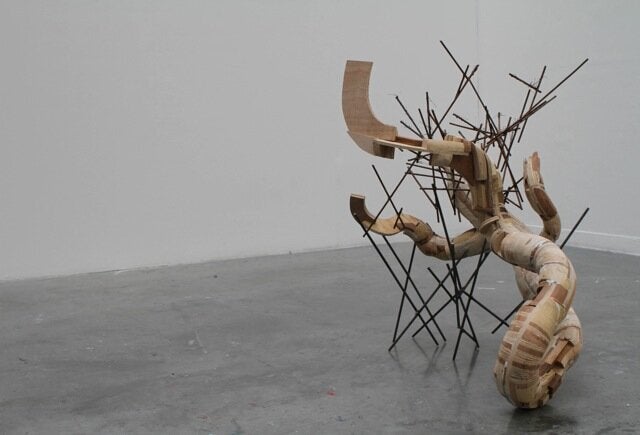 Daryl Brown uses construction, carving and modelling techniques to grow his sculptures. His working process is one of prolonged accumulation in which small parts cohere to form a whole that only gradually reveals itself. The constituent parts of Brown's sculptures are the detritus of our urban environment. He uses the off cuts, sweepings and left overs of what others have overlooked and discarded. Time and energy are invested in these raw materials giving them shape and purpose. His attitude is one of care and attention. It is a craftsman's approach and is rewarded with a sort of understanding that only comes through prolonged contact with tools and materials.
However, Brown is not satisfied with the certainties of craftsmanship. He pushes materials to their limits, sometimes to the point of collapse. Works are deliberately left unfinished in such a way that their potential to evolve and change is held intact. In many ways Brown works in a Modernist tradition, letting the possibilities of materials and process guide his creative practice. However his sculptures are too complicated, too impure to fit the idealising and reductive tendencies of Modernism. Instead we are confronted with half described imagery and the material fact of wood, plastic, steel, junk and torn plastic bags; things we see everyday re-configured differently.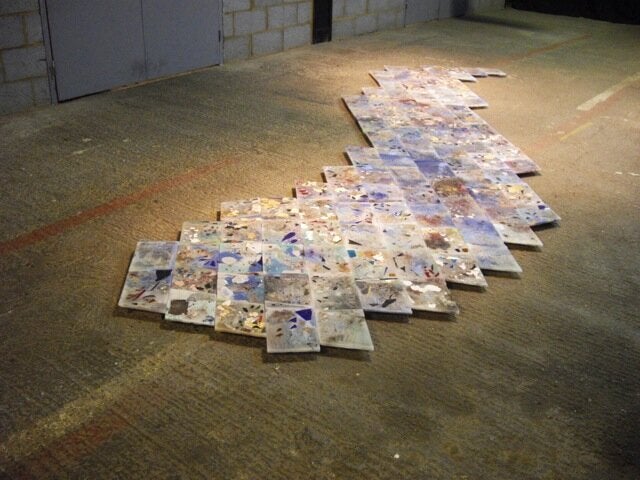 When I asked Trower why she decided to invite Brown to exhibit at The Garage Project, she said:
"The Garage Project space being a working yard, I thought that the nature of how Daryl operates as an artist would have an interesting connection with how he would respond to the space. His exploration of the everyday disregarded materials from the urban environment was a key element, as the space offers many materials he would use."
I also had the opportunity to ask Brown about what it is the inspiration behind his works and if he has produced new works in relation to the space, he responded:
"Mine is a practice entrenched in an exploration of materials and form and the pursuit is ongoing. When I was first introduced to the Garage Project space what initially struck me was the strong aesthetic character and large volume of space it offered. Almost immediately I conceived the idea for the floor piece and from there a body of work grew. In such a space as The Garage, the space becomes a component that cant be ignored, and when making and certainly installing the work, the space was the driving influence on the show."
The Garage Project shows new waves in creativity and is a platform to communicate ideas in a real setting within the community, with no exit through the gift shop.