Artpusher adventures in Mayfair and Brick Lane
The Danish artist Artpusher is the candy girl that will give you a bitter-sweet caramel. Flashy colours and pretty girls are the promise of a Disney experience. A broken one since nothing is what it seems and the viewer is left perplexed by a game of brand changing and name calling. Too late, the hook of beauty has done its job and one is immersed in an unrequested journey of sharp advertising techniques and questioning. Lots of it. The exhibition currently at Mead Carney in Mayfair, London, until the 2nd of May is an invitation to a full acceptance of consumerism. We are weak animals after all, but Artpusher always finds a way to sabotage it with the use of the same strategies. If you cannot beat your enemy, make him your ally!
Artpusher has always been fascinated by New York as a symbol of global commercial popular culture. Times Square in particular is unique in this context. A place of "visual prostitution" as he calls it. Each painting becomes a shopping mall of artists' iconic works and art movements to become products ready to be bought.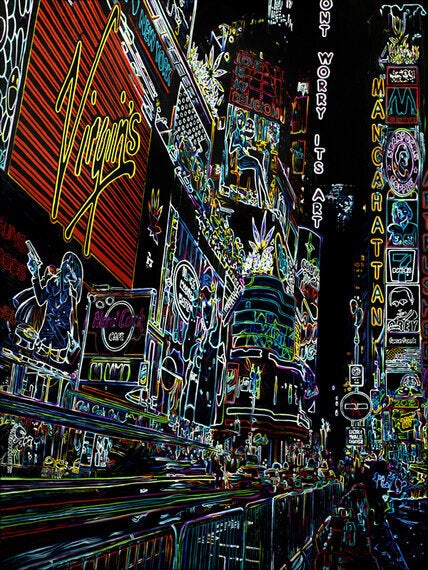 OBEY NEON by Artpusher. Courtesy the artist and Mead Carney.
Artpusher has kindly agreed to respond to the following questions:
1. Can you tell us why you decided to become an artist?
My father is an amazing water colour artist and an art teacher. We were always broke, so at a young age I decided to take a different path in life. After years of business schools, I started several fashion companies, making loads of money and running around like a headless chicken for years, thinking this must be the way to happiness. During this period of time, I also was runnig a private gallery in Copenhagen, Artpusher, showing emerging Danish artists. In 2003 I went bankrupt leaving me with nothing but my toothbrush, some art supplies and a depression that lasted for 3 months. Having nothing to loose it seemed like a good option to spend my life doing what always made me happy: painting. Since that autumn day in 2003, I have done nothing but paint day and night. I guess my old man was right after all, painting is damn close to happiness
2. Which artists are your main influences and why?
My father, he taught me all the basic skills. Picasso, bad artists copy, great artists steal, burn & rape. Basquiat, he taught me to fuck all basic skills and to keep away from drugs, at least the strong ones. Warhol, the old advertising trick of repetition also works in the artworld. Lichtenstein, I have to borrow those bubbles. Koons, size matters, not only in porn. Ron English, humor is a powerful tool and this guy can actually paint. Hirst, just do it. Banksy, keep Your message simple and effective and do NOT get caught by the Police. Blek le Rat, you´re never to old to make street art.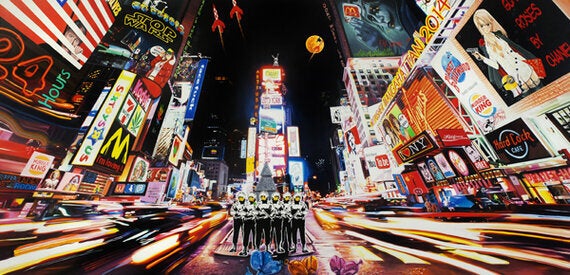 I'M LOVING IT by Artpusher. Courtesy the artist and Mead Carney.
3. What do you bring to Painting having been brought up in Northern Europe?
I consider myself a political world artist rather than a typical Scandinavian painter. The ideas behind my works are, however, strongly influenced by the sceptical and ironic Scandinavian approach towards religion, politics and the commercial world. These days as an artist, it is almost impossible to be unique or original . One has to make use of the existing ideas, collaborate them and make it your own. Finally the works are discretely sprinkled with hidden political statements and works as my Trojan horse.
4. What is your major achievement so far?
My greatest achievement is to show that art can actually make a difference. The Love Party is the project closest to my heart. It`s always been a sore in my eyes to walk the streets having to look at the invasion of our public spaces by political parties and commercial interests. As a reaction to this and the right wing turn in European policy I created the " The Love Party " in 2011. During the Danish election campaign in 2011 I flooded the streets of Denmark with election posters delivering the message of charity, environmental responsibility and international openness in a fun and engaging way. I encouraged the public to steal the posters.
5. What is your next project?
I believe there is even more need for public awareness in the world today, so " The Love Party 2015 " is my next project. Just a few days ago I started working on the first sketches for the upcoming election campaign. I wish to make " The Love Party " an international movement as a reaction to the current political climate and a protest against the commercialization of our public spaces. Income from these projects are used for charity and among other things I sponsored art supplies for school children after the Typhoon Yolanda in the Philippines in 2013. " If putting up art posters in the streets could change anything - it would be illegal "