Every summer big players come to town. And this year after the Jubilee, the Olympics and the Paralympics are in the archives, we are spoilt by choice. So, why not do it all? The artists mentioned above are in galleries of free access in Mayfair and all within walking distance. All the shows except Chillida at Christie's, which ends this week, will continue open for several weeks. A map with a walking tour is included below and, also, links to the galleries to check opening times and exhibition dates.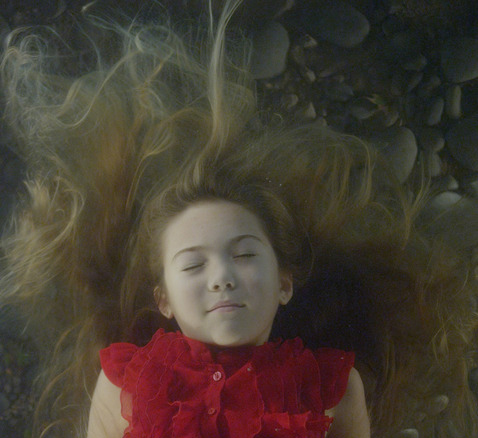 The Dreamer (detail) by Bill Viola
Blain|Southern, in Hanover Square, is showing Frustrated Actions and Futile Gestures, a museum-scale exhibition of nine new works by the internationally renowned video artist Bill Viola. Created between 2012 and 2013, both on location and in the artist's studio in Southern California, the exhibition presents three distinct bodies of works; the Frustrated Actions, the Mirage and the Water Portraits series. Through these works, Viola engages with complex aspects of human experience, including mortality, transience and our persistent, yet ultimately futile attempts to truly and objectively understand ourselves and the meaning of our brief lives. Unmissable.
The next two exhibitions are by Eduardo Chillida; the Spanish Henry Moore. Now regarded as one of the foremost pioneers of modern sculpture. The first exhibition is by Christie's, in Bond Street. The collection Homage to Chillida was first shown at the Guggenheim Museum in Bilbao in 2006. A master of Post-War sculpture, Chillida made work that explored both material and form, but beyond that, he became a philosopher and an architect of the void. The second exhibition, organised in collaboration with the artist's estate, Chillida: From Iron to Light is on public display at Ordovas, showcasing sculptures made in steel and alabaster, alongside works on paper and source materials from the artist's archive.
As you would probably want more; Robert Motherwell: Works on Paper, the first ever exhibition dedicated to his drawings and paintings on paper to be held in Britain, will be staged at the Bernard Jacobson Gallery, in Cork Street. Motherwell was a major figure in the birth and development of Abstract Expressionism and the youngest member of the New York School, a term he coined. His career spanned five decades during which time he created some of the most iconic images of the 20th century. A passionate advocate and articulate spokesman for Abstract Expressionism, he believed that ideas and emotions were best communicated through the bold forms and gestural lines of abstract art.
The next master in the line is Francis Bacon at Faggionato, in Albermale Street. Bacon is known to be one of the most powerful and disturbing artists of the period following World War II, taking the human figure as his subject at a time when art was dominated by abstract movements. His highly personal expressionistic style, an array of emotions dragged to the extreme, is a constant reflection on the fragility of being. It coincides with an installation by the Japanese artist: Yoshihiro Suda.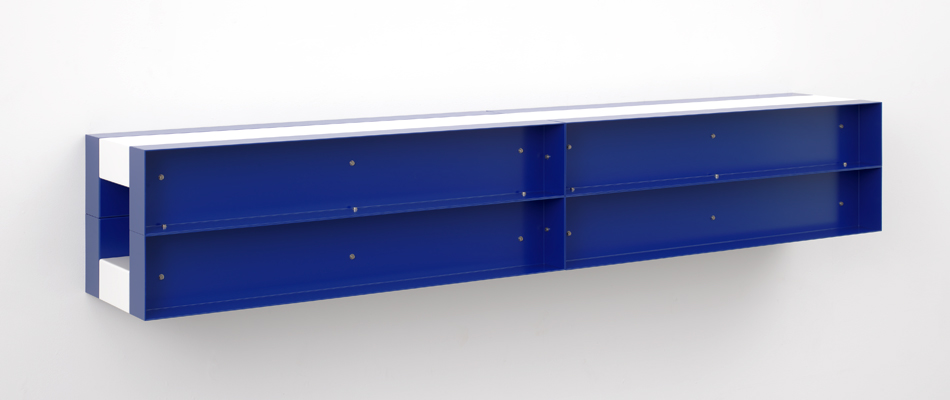 Untitled (Lascaux 89-59) by Donald Judd
Then, we move to Minimalism by Donald Judd at David Zwirner, in Grafton Street. This is the first gallery presentation of this seminal artist in London in nearly fifteen years. From the early 1960s up until the time of his death, Judd developed a rigorous visual vocabulary that sought clear and definite objects as its primary mode of articulation. Together, the works in this exhibition present an overview of many of Judd's signature forms and offer insight into his singular commitment to material, colour, and proportion. One of the most significant American artists of the postwar period, Judd's oeuvre has come to define what has been referred to as Minimalist art. You can also see works by Dan Flavin in the upper room.
The final master is Gerhard Richter, one of the most sought after contemporary artists in the world, at the Gagosian Gallery, in Davies Street. Richter is an important artist in the twentieth and twenty-first centuries; his work spans nearly five decades. Richter's beliefs are credited with refreshing art and rejuvenating painting as a medium during a period when many artists chose performance and ready-made media. Richter is known for his blurred paintings, modernising traditional art through technique, and using photography as his source of material. These blurred paintings of photographs are close to reality but also contain a nostalgic distance, because the eye can never precisely capture the image being viewed
The list of galleries in the map is as follows: (A) Blain|Southern, (B) Christie's, (C) Ordovas, (D) Bernard Jacobson, (E) Faggionato, (F) Zwirner and (G) Gagosian. Enjoy it!