The latest boom years in the 90s and early 2000 saw an implosion of artists as mass commodity producers for a new bourgeoisie eager to invest vast amount of money while enjoying their conscious left intact. Dot making Master Damien Hirst and hare photographer and soft-porn filmmaker Sam Taylor-Johnson happily catered for such not so new needs. Cedric Christie and Pascal Rousson, both a curator and an artist, decided to investigate whether contemporary artists are still able to hit a nerve about current issues in this Society or complacency and not-to-upset-anyone have become the top skills in art-making today.
The show titled Sunday in the Park with Ed, opening at the Display Gallery in the City of London on the 6th of March, takes Édouard Manet's Le Déjeuner sur l'Herbe as a starting point, the show asks artists to look at what is transgressive in their own practice, questioning whether the radicalism present in Manet's work has been truly taken forward. The show features a selection of current artists, with a focus on painting and European artists. It also includes a picnic installation where a series of guests have been invited to host evening picnics. Artists include: Ackroyd & Harvey, Jake & Dinos Chapman, Jacques Charlier, Simon Liddiment, Robert Montgomery, Martha Parsey, Barry Reigate, Danny Rolph, John Smith, Geraldine Swayne, Gavin Turk, Marijke Vasey & Ben Young.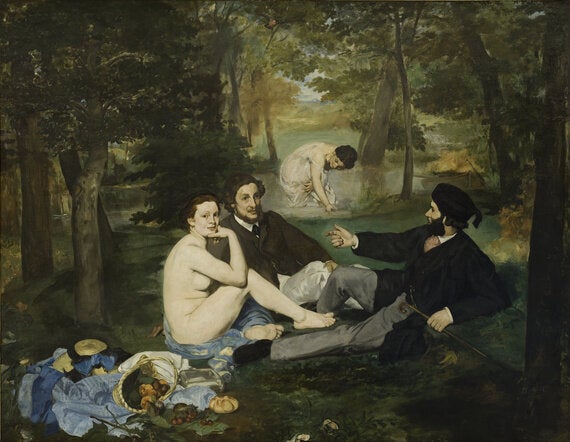 Le Déjeuner sur l'Herbe by Édouard Manet currently in the Musée d'Orsay in Paris
According to curator Pascal Rousson:
"When Manet exhibited Le Déjeuner sur l'Herbe at the Salon des Refusés in 1863, the state was pretty much the only art 'commanditaire' (patron) and dictating public taste was a form of aesthetic dictatorship. Manet was to turn things upside down, all would soon drastically change with Impressionism when artists began exhibiting independently from the state. It was obvious for us to choose Le Déjeuner as a starting point: it's hard to understand how revolutionary and heretically scandalous it was when it now seems quite harmless. We're attempting to ask each artist if they think it's possible to still achieve something equivalent."
Co-curator Cedric Christie adds:
"It's that thing that Zola talked about when he was describing contemporary taste: "They can't stand strong truths. There is no one to guide the crowd, and what can they do in the great hubbub of contemporary opinions? Art is fragmented ... Each artist has drawn the crowd to himself, flattered it, given it the playthings it loves, gilded and decorated with pink ribbons. Art here has thus become a vast boutique of sweets, with candies for all tastes". A 'vast boutique of sweets' - I love that. It seemed so familiar, what has changed? We wanted to put it to the test."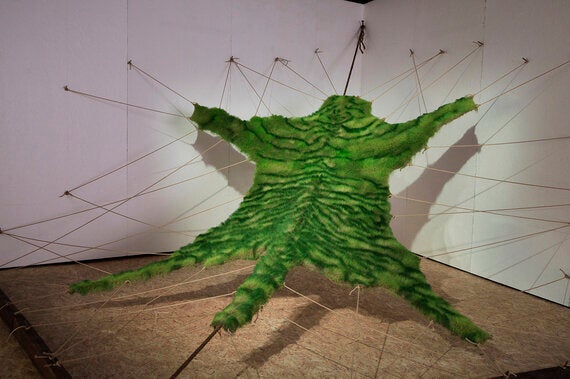 Living Skin by Ackroyd & Harvey. Courtesy the artist.
As Caroline Minar and Josefina Pierucci, directors of the Display Gallery, say:
"Curator Pascal Rousson said it perfectly: "This is an artist show made by practising artists". This reflects our vision of the gallery. We trust the artists we are working with and aim to open discussions throughout their works."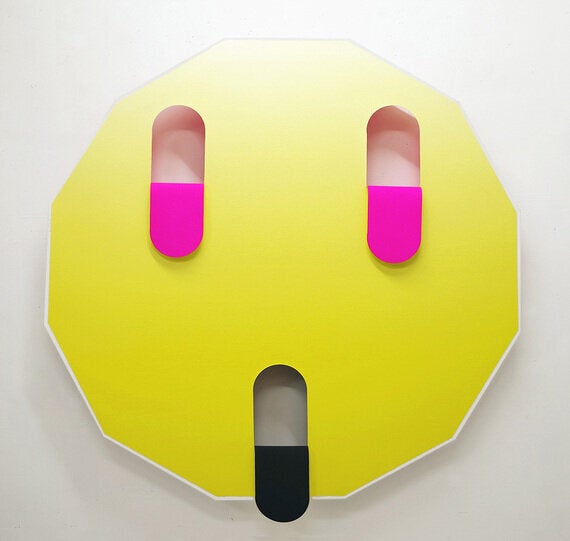 Finally, the next solo show by Cedric Christie at the Flowers Gallery in Shoreditch starting on the 22nd of April is highly recommended. With such a thought-provoking title: When Colour Becomes A Beautiful Object. And An Object Becomes A Beautiful Colour, Christie's serial arrangement will explore the rhythmical interplay of tension and balance between colours with the use of paper, painted stainless steel angle bars and coloured plastic spheres. A must-see.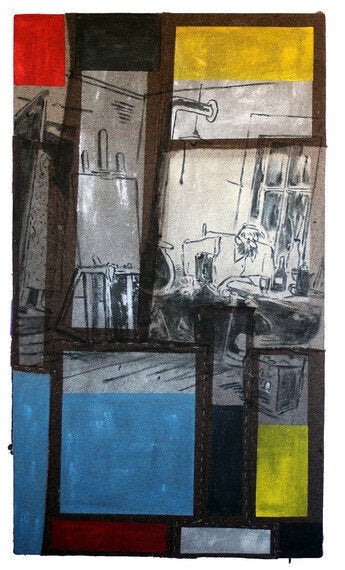 Time for bed Piet, you've suffered enough for one day by Pascal Rousson. Courtesy the artist.
Selection of artworks presented at the exhibition.
For more information about Christie's solo show and the Flowers Gallery, please visit their website: www.flowersgallery.com
Popular in the Community