Auction Houses always get in the news when an art work reaches an exorbitant price. However, many people do not realise that they exhibit some of the finest works before they go back into a private collection away from the public view. It is a golden opportunity to see them before it is too late. And there is no entrance fee.
Christie's is no exception and they are planning five stunning exhibitions in three different locations during Frieze Week. From the first first comprehensive exhibition dedicated to British Pop Art to be held in London to a selection of major contemporary sculptures and installations, from paintings and photography by the most established current artists to the masters of 20th Century Italian Art. Finally, there will be a charity auction for Gasworks with 14 artworks donated by leading UK and international artists.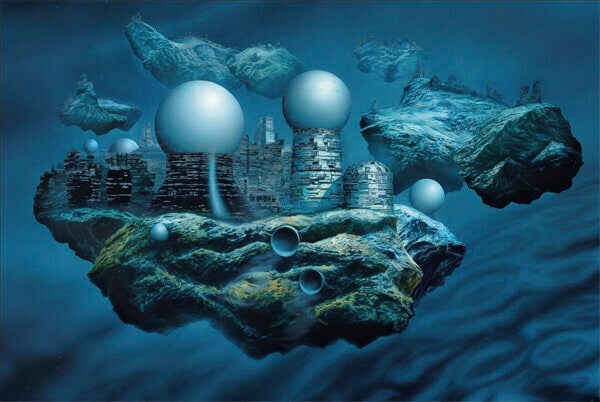 Glenn Brown, Bocklins Tomb (copied from Floating Cities 1981 by Chris Foss)
Thinking Big, held at the Sorting Office in New Bond Street, London, features the work of 50 artists who have been shown at the Saatchi Gallery, including YBAs, such as Tracey Emin and the Chapman brothers, as well as newer talents such as Toby Ziegler, Kader Attia, Conrad Shawcross, Kris Martin and Sterling Ruby. Among the many leading contemporary artists included are Berlinde de Bruyckere, whose work at the Belgian Pavilion was a highlight of the 2013 Venice Biennale; Gert and Uwe Tobias, who had a solo show at London's Whitechapel Gallery earlier this year; and David Altmejd, Karla Black and Liu Wei, all of whom were selected for Art Basel's Art Unlimited show of large-scale sculpture this year.
Francis Outred, Christie's Head of Post-War & Contemporary Art, Europe, comments:
"I hope Thinking Big inspires people in the way I was inspired by the Saatchi Gallery as a teenager in the late 1980s. It was a shot in the arm - nowhere else in London showed new art on such a scale. The Saatchi's combination of showing the very best of the new, together with its mission to educate, has inspired a whole generation of collectors, curators, gallerists and, of course artists. In the midst of the current global interest in contemporary art, we can only guess at how different it would be without the Saatchi Gallery's continual support of new artists."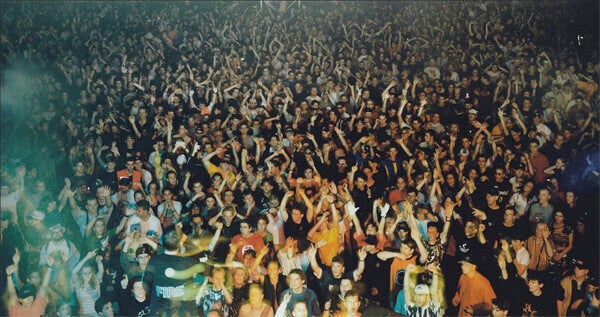 Andreas Gursky, Union Rave
Post-War and Contemporary Art exhibition, held in King Street, London, will present a strong selection of contemporary painting with a focus on works created during the last 30 years. It will feature exceptional works by masters such as Martin Kippenberger, Glenn Brown and Mark Tansey, as well as Peter Doig, who has a solo exhibition at the National Gallery of Scotland, and Brazilian artist Mira Schendel, the subject of a solo show at Tate Modern. And an outstanding selection of photography in a specially hung gallery dedicated to photography. These works, assembled from different collections, illustrate the diversity present in photography since the 1970s, when it extended beyond the limits of documentation to become an autonomous artistic medium. The selection is led by works from the groundbreaking German photographers of the 1990s, such as Andreas Gursky's monumental Union Rave, 1995 and Thomas Struth's El Capitan, Yosemite National Park, 1999 and San Zaccaria, Venice, 1995. Further highlights include works by some of the pioneering conceptual artists of the 1970s, such as Jeff Wall, to the more recent contributions of Gabriel Orozco.
When Britain Went Pop!, an exhibition exploring the early revolutionary years of the British Pop Art movement, which will launch Christie's new gallery space in New Bond Street, Mayfair. This is the first comprehensive exhibition of British Pop Art to be held in London. When Britain Went Pop! aims to show how Pop Art began in Britain and how British artists like Richard Hamilton, Peter Blake, David Hockney, Allen Jones and Patrick Caulfield irrevocably shifted the boundaries between popular culture and fine art, leaving a legacy both in Britain and abroad.
Finally, also at King Street, leading UK and international artists have generously donated major works of art to a charity auction for Gasworks, a UK registered charity providing studios and programmes for some of the most promising artists in London. The vital funds raised will contribute to the purchase and renovation of the gallery, the education space and artists' studios, in Gasworks' home of 20 years. Christie's is pleased to collaborate with Gasworks in developing this selection, which will be offered for auction on Saturday 19 October 2013 at 1pm as part of the Post War and Contemporary Art day auction. Fourteen artists including Turner Prize winner Chris Ofili and Turner Prize nominees Goshka Maçuga and Lynette Yiadom-Boakye have contributed signature works for the sale, many of which have been created especially for the occasion.
9 October-23 November; When Britain Went Pop!; Christie's Mayfair, 103 New Bond Street, London W1S 1ST
12-20 October 2013; Thinking Big; The Sorting Office, 21-31 New Oxford Street, London WC1A 1AP
13-18 October 2013; Post-War & Contemporary Art; Christie's London, 8 King Street - St. James's, London SW1Y 6QT
13-18 October 2013; The Italian Sale; Christie's London, 8 King Street - St. James's London SW1Y 6QT
13-18 October 2013; Gasworks; Christie's London, 8 King Street - St. James's, London SW1Y 6QT
Popular in the Community