The Other Art Fair has announced it will host its fifth edition at East London's primary destination for creative events, The Old Truman Brewery from the 17th to the 20th of October. Coinciding with Frieze Week, the most important date in London's art calendar, this change in date and location signifies a new era for The Other Art Fair particularly as they will share the space with Moniker Art Fair. Visitors to The Truman Brewery will be able to experience both fairs in what will be a showcase of independent and established talent all under one roof. This spectacle is estimated to attract 10,000-plus visitors, forming one of the major satellite events of London's Art Week when 60,000 visitors descend on the city to form an unparalleled international art audience.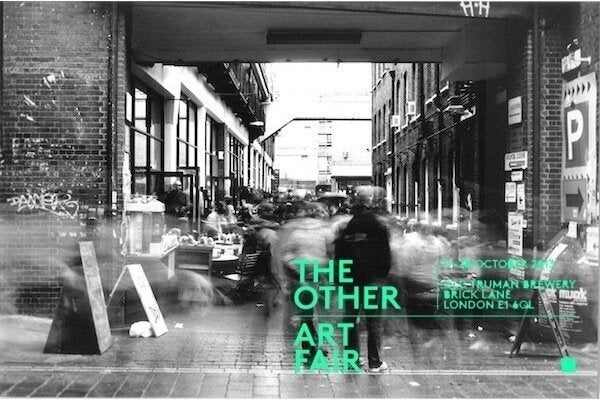 The Other Art Fair is the UK's largest artist-led fair, attracting thousands of art buyers, collectors, journalists and gallerists from across London. Following an overwhelming amount of artist applications earlier in the year, this autumn will see more exhibiting artists than ever before. The increase in applications attests the growing profile and popularity of the fair as a unique platform from which artists can independently showcase their work. In addition to selling artworks, these four days enable artists to launch their work in the contemporary art world, gauge the public's response to their pieces and meet fellow artists for potential future collaborations. The fair is wide-reaching in its audience, attracting individuals who support artistic practice in other ways: advertising agencies, designers or corporate companies looking to commission pieces.
The Other Art Fair is unique in its approach of using a selection committee of industry experts to handpick 100 (out of 500 applicants) of the most exciting unrepresented artists from across the UK and beyond. The Other Art Fair selection committee for autumn 2013 includes four eminent figures in their respective fields: Artist and Turner Prize nominee Yinka Shonibare MBE, senior curator at the National Gallery David Jaffe, Director of the Saatchi Gallery Rebecca Wilson and Founder and Director of Paradise Row Nick Hackworth.
The larger space that the Truman Brewery provides also allows The Other Art Fair and Moniker Art Fair to expand their activity programme with ambitious projects, children's workshops, live music, and an expansive restaurant and bar for visitors in need of refreshment. Events already scheduled to take place at the fairs include taxidermy classes and demonstrations for visitors keen to explore this quirky and historic art form.
The fourth edition of the fair, 25-28 April 2013, welcomed 7,456 visitors with 2,000 attending the opening night. This installment attracted representatives from over 200 leading contemporary galleries and art organisations such as Tate, Blain Southern, Sotheby's Institute, Gazelli Art House, White Cube, Christie's, Lisson Gallery and Hauser & Wirth.
Ryan Stanier, the founder and Fair Director, has kindly agreed to respond to the following questions:
1. Why have you decided to move the Fair to Brick Lane from Mayfair this October?
The last three fairs have taken place successfully at Ambika P3 although for our fifth edition we decided to shake things up and host the fair at The Truman Brewery. Firstly The Truman Brewery is fantastic arts and cultural venue that gives us the space and layout to develop the fair, secondly we are looking to create a major satellite art fair destination by hosting the fair alongside the Moniker Art Fair. Finally it shows the diversity of the fair by appealing to visitors from all areas of London.
2. What's so special about The Other Art Fair this year?
Every fair we work with a selection committee that is responsible for choosing 100 of the best unrepresented artists, so for people looking to buy something for their wall or invest in an artist of the future it's a great fair to visit. In addition we are hosting a list of new features such as a children's art trail, a 3D Printing Project, Taxidermy workshops, a fantastic bar run by Far Rockaway and a street cafe.
3. Is there an artist you'd like to highlight because of their unusual use of medium or technique?
The Other Art Fair creates a platform for artists working across a wide range of mediums whether that be painting, illustration, photography, digital, sculptural or performance. Our interest in shining a spotlight on unusual techniques has led us to a collaboration working with 3D Printing design agency Modla and artists James Hopkins and Dan Hillier. Together we are exploring the idea of creating art through the process of 3D Printing. For the first time an art fair audience will have the chance to come and see the process happening live at the fair. Three works will also be available to buy.
An unparalleled event to complement the busiest week in the London's Arts calendar.
Related