Glyndebourne is to opera what Glastonbury is to pop music. A summer festival that becomes an opportunity to experience the best in the classical music arena and to have a good time while having a picnic. The appreciation of the sheep is optional.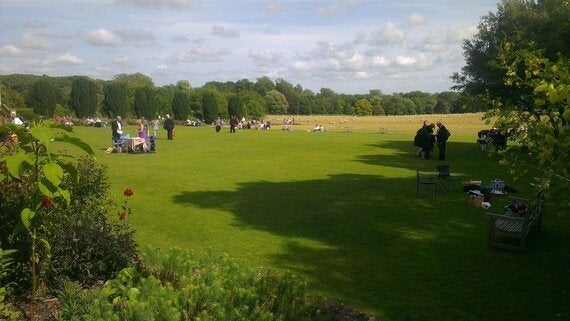 Picnic at Glyndebourne. Photograph courtesy Lorenzo Belenguer
Glyndebourne has been staging opera in the heart of the South Downs, near Lewes, since 1934 after John Christie built an opera house for his opera-singer wife, Audrey Mildmay. The Festival has since developed an unrivalled reputation for producing world-class, inventive work and the 2014 Festival honours that reputation by presenting three new productions; La Finta Giardiniera, the earliest Mozart opera ever to be staged at Glyndebourne, Verdi's La Traviata and Strauss's Der Rosenkavalier, last seen at Glyndebourne in 1982. Mozart is their speciality, but any production is of superb quality. For this occasion I chose Rinaldo by Handel. Highly recommended specially if you are new to the opera. Baroque music and style is a turmoil of emotions that appeals to everybody. More of it later.
Glyndebourne's award winning theatre celebrated its 20th birthday last May; replacing a well-loved 300-seater opera house with a state of the art auditorium was the brainchild of Sir George Christie, Glyndebourne Chairman between 1962 and 2000. Designed by architects Michael Hopkins and Partners, it won awards for the quality of its architecture, craftsmanship and acoustics when it opened in 1994 and is still widely regarded as having some of the best acoustics in any theatre in the world.
Visual art plays a key role in the celebrated annual Festival; each year renowned sculptors and visual artists display work in the landscape that enhances Glyndebourne's cultural output and compliments the Festival. Julian Opie has been the artist invited to design the cover of the programme and there will be a collaboration with a top art gallery next year.
Writing about her love of Glyndebourne, novelist Jeanette Winterson remarked: "
I think that Glyndebourne is a place where people can find opera for the first time, and fall in love with it. I think it is a place that has kept its values. Yes, some tickets cost a fortune, but some don't, and whether you dine in style or eat sardine sandwiches on the lawn, the music is what matters."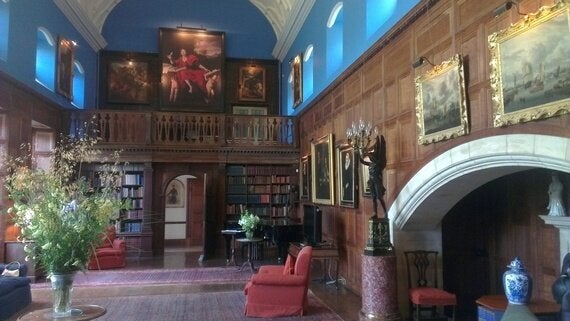 The Organ Room. Photograph courtesy Lorenzo Belenguer
Rinaldo was composed by Handel when he was only 26. It was the first Italian language opera written specifically for the London stage, although he recycled material he already composed while living in Italy, and premiered at the Queen's Theatre in London's Haymarket over 300 hundred years ago. Handel was able to bring all the qualities of a Hollywood blockbuster, clear good characters versus evil ones, challenges, a love story by pretty people, but adding substance and conclusions that one can take home. Rinaldo is directed by Robert Carsen and was first performed at Glyndebourne in 2011. The 2014 staging is a revival of the 2011 Festival production. Ottavio Dantone returns to conduct the Orchestra of the Age of Enlightenment, a real treat, having made his Glyndebourne debut with this production in 2011. This production features four countertenors Iestyn Davies, Tim Mead, exquisite colour in his voice, Anthony Roth Costanzo and James Laing in the roles of Rinaldo, Goffredo, Eustazio and a Christian Magician. All gifted with a magic voice that thrills audiences to the climax. Countertenors are male voices that sings in high pitch using the falsetto technique. Perfect for the ornamental aspect of Baroque music. Widely used by contemporary artists such as: Michael Jackson, the Bee Gees, Prince, David Bowie, even Justin Timberlake. Nothing uncommon.
It takes place in and around the city of Jerusalem during the First Crusade in 1099. It is drawn upon Torquatto Tasso's epic poem Gerusalemme liberata (Jerusalem freed). A popular hit in those times. A heavily mythicised recounting of the First Crusade in which Roman Catholics successfully fought the Muslims to retake the city. Rossi's libretto was clever in using a story that everybody was familiar with and it had the happy ending to please the audience. A constant dilemma between love and honour dominates the plot. Original mise en scene with unexpected turns like the crusaders travelling on bikes and interesting references to Alice in Wonderland and even E.T. Nothing seems out of use in this comical version of Handel's opera. Highly recommended. A unique experience awaits you.
The production is supported by Lindsay and Sarah Tomlinson. For more information, please see the short videos below: