Barry Martin, a Goldsmiths graduate with artworks in the Tate collection, and Samir Ceric, the director of the Debut Contemporary art gallery in Notting Hill, decided to join forces to highlight an issue that unfortunately is still quite relevant in a society in the 21st Century. Human Suffering at Times of Crisis has just open and shows the response by artists to a problem that should have solved ages ago. Political activism is becoming more and more the core of creativity in a world that seems to be getting worse rather than better. Ciara Phillips, this year's Turner prize favourite nominee, works with community groups using prints as a medium to express discontent in working conditions and other concerns. Even Karl Lagerfeld organised a demonstration led by Cara Delevingne at the latest Chanel catwalk. Politicians and business leaders should take note.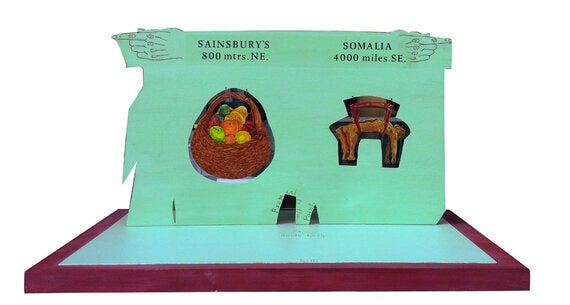 Death and Starvation in Somalia Mindful of My Position 1992 by Barry Martin. Courtesy the artist.
Martin and Ceric kindly agreed to respond to the following questions. Starting by Martin:
1. Why "Human Suffering at Times of Crisis" as the title of an Art show?
I had just moved into my newly restored studio in Chiswick House grounds, West London in 1990, and was feeling good about my position. Then in 1992 we were shown the destruction, slaughter, and carnage of civilians in Somalia, the results of civil war. Those images were shown in the media every day for weeks on end! I felt I had to respond as an artist, from my position and place from my studio. That's how the sculpture ' Death and Famine; Mindful of My Position', came about. I gave a talk about my work to Debut artists and stated that I was feeling the same now as I did back in 1992, about the human suffering in today's world and we should do a show called' Human Suffering at Times of Crisis'.
2. Movement and time seems to be very important elements in your works. Can you please explain us why?
During my student days the college course was centred on the figure, clothed and naked. Life painting and sculpting from the figure were ' de rigeur'. I painted numbers of works in a pointillist style, and these raised questions relating to perceptual psychology and cognitive consistency, and how the brain interpreted these sensory stimulations. Peripheral vision was excited by movement and the way coloured spots could link together to form trails and lines of movement in time. This developed and I made spot abstract paintings and kinetic sculptures. ( Damian Hirst was 20 years too late in the spot painting department!).
3. You graduated from Goldsmiths in the 60's. What do you think are the biggest changes you have seen in the art world in the last years?
The difference from the past to now, between a student building their identity and authorship through a learning process of hands-on making, and building a self-critique, and just stealing other artists' images and styles, and pretending they created them.( Damian Hirst has been sued several times for plagiarism and settled out of court), is the biggest change! This has been accompanied by a blatant and crass commercialisation of the arts supported by the power of super global galleries, themselves fuelled through a super rich elite.
Addictions by Daniela Raytchev. Purling London Chess Set. Courtesy the photographer, Lorenzo Belenguer, and the artist.
Ceric kindly responded to the following questions:
1. Gallerists are often accused of easy topics when curating to please the bourgeoisie, but Barry and you have chosen a thorny issue - Human Suffering - for this show. What moved you to do so?
Since our London 2012 Summer exhibition I co-curated with an independent curator Sara Rasa, I've been thinking of doing another theme-based exhibition and when Barry suggested it to me a couple of months, I took no time in convincing. The theme is very current however it is not necessarily war driven. Human suffering is found all around us and as far as the art industry is concerned, Debut is very much in the role of a professional coach dealing with personal suffering and struggle in artists' individual careers. And that is what Barry and I hope to achieve with this show which we hope to turn into a travelling exhibition. The theme is truly global.
2. Can you please let us know the biggest achievements by Debut Contemporary in the last three years?
That's a difficult question. Perhaps winning a HCLUB.100 as one of the top 10 pioneers, visionaries and innovators in art and design last year and winning an innovation award with London Fusion which led to an exciting project with Goldsmiths Computer Science PhD department. As far as the artists are concerned, there are many success stories.
Human Suffering at Times of Crisis features: Alice White, Mara Alves, Annie Terrazzo, Aziz Anzabi, Caroline Lowe, Chantal Gillingham, Crystal Isabel Fischetti, Connor Teague, Daniela Raytchev, Ella Prakash, Emanuele Taglieri, Frederic Gedovius, Hector Sandoval, Ireneo Frizzarin, Chris Dear, Gabriela Tolomei, Klara Cecmanova, Lia Ikkos, Liran Fisher, Lucy Namayanja, Marina Ard, Mary Osinibi, Michelle Hold, Sassan Behnam Bakhtiar, Toby Brown, Valnius Naurekas, Guy Portelli, James Chinnery, Barry Martin, Surbhi Modi and Rajesh Srivastava.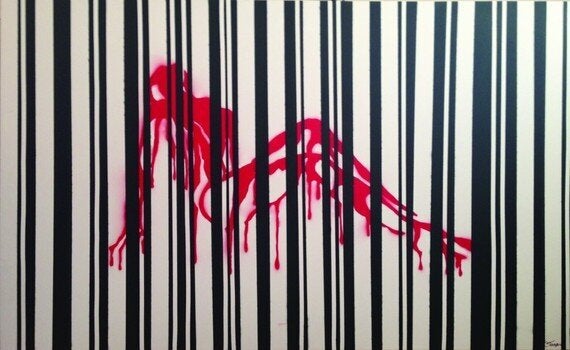 Sex Society by Connor Teague. Courtesy Debut Contemporary and the artist.