When Picasso died in 1973, Spanish painters complaint that he had left a bitter legacy: the void. They felt that after a genius the avenues of experimentation were closed. Chillida's death, the most prominent Spanish sculptor from the last century, had the opposite effect: a blossoming in the sculptural field. Although moving towards figurativism rather than abstraction, Spain enjoys a Golden Age with the most clear example of Juan Muñoz. He was invited to the second commission at the Turbine Hall and had, later, a retrospective at the Tate Modern. Manolo Valdés and Xavier Mascaró are part of thisaccidental figurativism. These three artists share a similarity with an obsession that was typical of the Baroque and I would describe as expressing the underlying tensions of human life - opulence versus asceticism, pleasure versus fear - in which the presence of the figure could be considered a mere accident. Rather than individual sentiments; the whole of Society is packed in each work.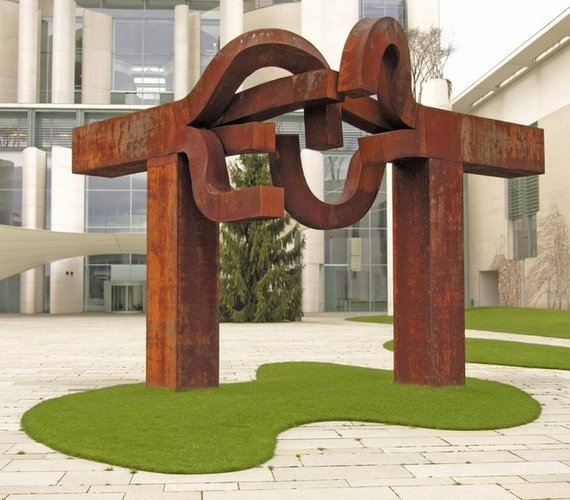 Eduardo Chillida sculpture Berlin for the Bundeskanzleramt in Berlin. Photographer, Hans Peter Schaefer. Licensed under the Creative Commons Attribution-Share Alike 3.0 Unported license.
Mascaró, born in Paris in 1965, who has developed his career between Europe and NorthAmerica, uses figures, be it a guardian, a warrior or a Hindu goddess, as a blank canvas to express the contradictions within the human soul: strength and fragility, the mask we wear everyday versus the need to open up and to share, locality and globality.
Last September, he had a solo show at the Saatchi Gallery receiving rave reviews. Alastair Smart, the arts editor and chief art critic of the Sunday Telegraph, described his sculptures as: eerie, timeless and evocative. Mascaró has also participated in public art projects and heavily borrows elements of ancient cultures and the human body just as Moore did. He is currently working on a project as the guest artist of the El Mundo stand in ARCO2015, curated by Rafa Sierra. The most important art fair in Spain which takes place from the 25th of February to the 1st of March in Madrid.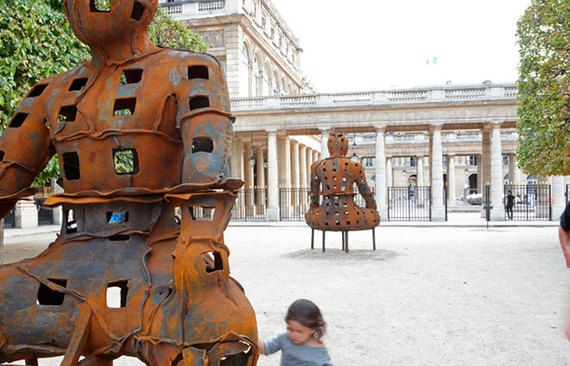 Guardianes, Xavier Mascaró. Paris, Jardin du Palais Royal. Courtesy the artist
Meryl Rose, an art collector who sits on The Rose Art Museum Board of Advisors, says:
Xavier Mascaro's work is powerful and strong, yet it has a softness and serene beauty and elegance that is undeniable. It evokes ancient times, cultures and thought; and still it is completely contemporary and relevant. The man himself is a beautiful human being.
Kosme de Barañano, ex-museum director, full-time professor and one of the most respected art critics in Spain today, adds:
Mascaró follows the tradition of the history of Spanish art, from the realistic imagery of Gregorio Fernández to the Baroque painting of Valdés Leal. His language is figurative but it addresses the in-visible, presenting pieces of bullfighting life (saddles, tack, horses, ropes) or everyday life (toys, crosses, reliquaries) which always imply the presence of a human being, or as Maurice Blanchot said, his passing, his absence. An absence that is tinged with a tragic feeling of life.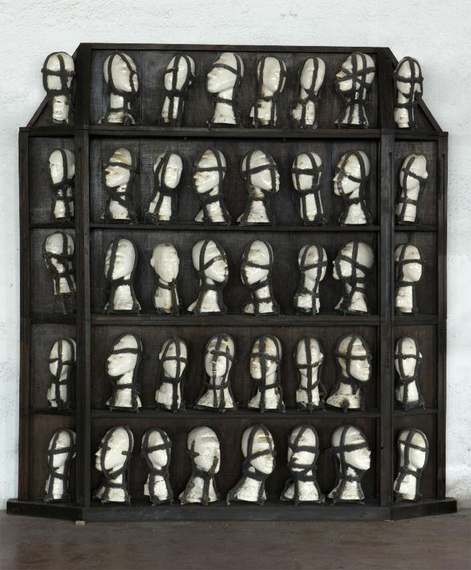 Bookshelf by Xavier Mascaró which will be exhibited at ARCO2015. Courtesy the artist.
Mascaró had kindly agreed to respond to the following questions:
1. Born in Paris, Rumanian grandmother, Spanish father, French mother, brought up in Barcelona, studios in Madrid and Mexico city and planning a new one in Los Angeles. Do you consider yourself as a citizen of the World? Is that the main reason why some of your works are deeply rooted in a specific culture such as Egyptian, Greek or Mayan, but somehow become International?
I feel like as being an amalgam of different cultures. For years I have been living in more than one place at the time. I like the distance and perspective that you get when you are abroad from where you grew up. For instance, the first couple of years that I spent in New York, where I had a studio for 15 years, I fell deeply connected to my roots, to Spain and its recent history. Some of my recent works are inspired in the strength that I can feel in works from Pre-Columbian civilizations, as it has been the case in my work with other cultures distant in time such as Nubian, Egyptian or Cycladic. I am currently fascinated by the people, the culture and  the energy that I find in Mexico. Some of my recent works are inspired in the strength that I can feel in works.
2. What do you mean when you say: I wanted to create a piece in which I was able to incorporate the serenity of the Eastern Budha with the strength of the medieval warrior?
I have been interested for some time now in producing works that are some sort of icon. They might be considered figurative because there is a recognizable shape represented, but in my mind they are more abstract. They are symbols in the shape of an icon. My Guardians originated from a will of combining serenity and strength in one image. These were emotions that I could feel for instance in the presence of representations of the Buddha, or in ancient armours, and I sort of combined them in my mind.
3. Although you are a figurative sculptor, would you say that you are highly influenced by Abstract Expressionism because you are constantly attempting to express emotions?
I don't think of myself as a figurative sculptor. Although my sculptures represent shapes that you can recognize I think that this is accidental. In fact, I consider them abstract, because to me they are some sort of vehicle to express the energy that I feel inside, in my inner self, which has no shape.

I never thought of a connection of my work with Abstract Expressionism, but now that you point it, I would think that there is something about expressing the inner-self and the energy inside, that might relate my work to the ones of those artists. I deeply admire them, they were so brave...They have a heroic dimension.
4. Can you introduce us to your next exhibition at the stand of the newspaper "El Mundo", at the next Madrid Art Fair ARCO?
I will be showing a group of sculptures and drawings: Queens, an installation that consists of 5 iron large heads, together with Bookshelf a wooden structure that holds 40 smaller heads in ceramic and iron, and some drawings on one of the walls. I think it will be interesting to see this combination of gravity and lightness, of sculptures and drawings.
For more information about the Madrid Art Fair ARCO2015, please visit the website: www.ifema.es/arcomadrid_06
For more information about Xavier Mascaró, please visit the website: www.xaviermascaro.com