Urban sketchers and the small black notebook became inseparable since artists such as Picasso and van Gogh and writers such as Hemingway started using them in Paris at the beginning of the last century. A notebook is a battery that stores ideas and feelings, releasing its energy over time. Unfortunately, it went out of fashion in the 80's and vanished from the literary and arts scene. In 1997, a small Milanese publisher brought the legendary notebook back to life. And with it a whole community of urban sketchers.
Moleskine has reinvigorated the pleasure of recording the wonderful architecture and people that surround us everyday. Last Saturday, City Stories was launched and four artists were invited to draw life and to provide free workshops in Covent Garden, London.
The Moleskine Store at 40 King Street and nearby London Graphic Centre acted as event hubs where artists of all abilities dropped by to meet the sketchers and take part in one of the Learning Sessions; at which the Urban Sketchers weaved in their own experiences to talk about what sketching means for them while offering guidance as participants undertook their own drawings in and around Covent Garden.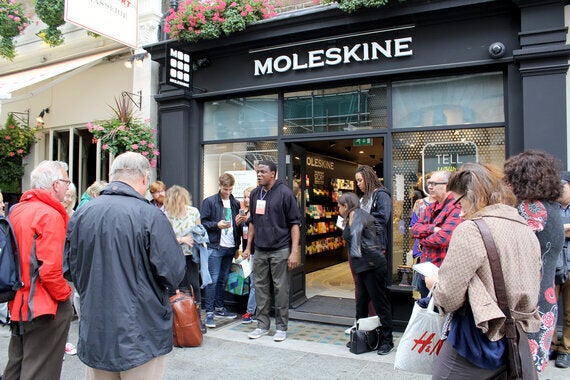 Courtesy Moleskine. Adebanji Alade giving a sketching workshop.
As Zosia Swidlicka, Spokesperson for the brand at Moleskine, says:
"We had been providing tools to the Urban Sketchers network for their global symposiums for several years and then an opportunity came along to actually organise something together. City Stories is all about reclaiming the urban environment through sketching in the streets; just like the flaneurs of the nineteenth century did and like the Urban Sketchers do now. They encourage each other to show their sketches to the world, which is something we also facilitate through myMoleskine, a free online platform for anyone to share their creativity with their peers and most importantly to let their sketchbook live."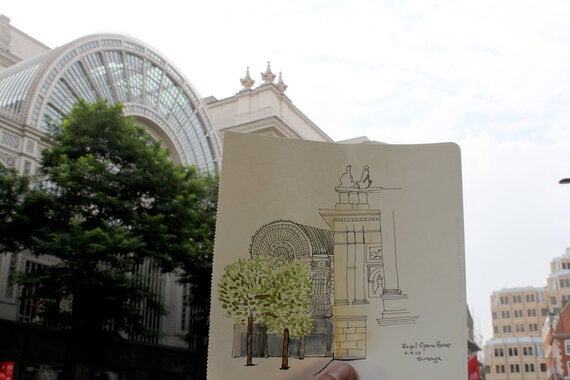 Courtesy Moleskine. Royal Opera House by Sunaya
Adebanji Alade was born in London and spent part of his childhood in Nigeria. An experienced art teacher, he has won many awards in representational art; the most recent being the winner of the First Plein Air Competition in London, called "Pintar Rapido", in July 2013. His meticulous graphite drawings bring an element of lines and forms and allow us to concentrate on size and perspective. Also he is passionate about people and the way we relate to each other in big cities.
Olha Pryymak, who has exhibited at the National Portrait Gallery and the Royal Academy, says:
"sketching is a basis for my practice, which includes producing one small painting a day, depicting subjects in their architectural surroundings inhabitants of East London where I have relocated in 2008. Figures and places in my work are based on direct observation and photographs I have taken of ordinary environments and people in them."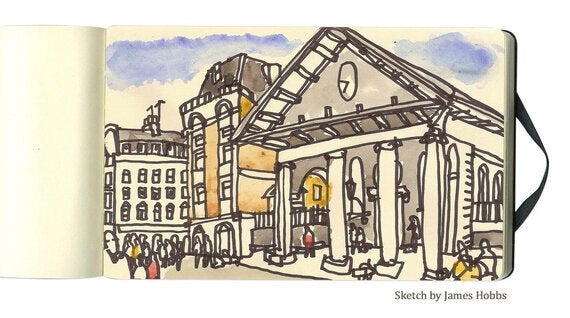 Courtesy Moleskine. Sketch by James Hobbs
James Hobbs is a London-based freelance journalist and artist who started drawing in sketchbooks at art school 30 years ago. His book Sketch Your World was published this year, and prints of his London scenes were on sale globally throughout the city's Olympic and Paralympic year. His work was selected for the Jerwood Drawing Prize exhibition, and he is a founder member of London's Urban Sketchers.
Finally, Andrea Joseph, a self-taught illustrator from Wales now living, and drawing, in the Peak District. Andrea picked up his pens eight years ago, after a long hiatus, and have not stopped drawing since. She began by drawing at home, in secret, then after a few years of doing that she came out of the sketching closet and these days Andrea can be found drawing absolutely anywhere. And everywhere! As she enthusiastically comments: "I now make a living (just about) out of what I love doing the most". A very proactive and community orientated artist, her recent projects include teaching in Sketchbook Skool (an online school with thousands of students from all corners of the globe) and she has also created a BookBench (a bench in the shape of a big open book!) for Books About Town, in collaboration with the National Literacy trust, celebrating the city's links with literature.
Art making can be seen as intimidating, but these sort of events uncovers the myth and just let you jump to what you love most. Making mistakes is just part of the learning process and the benefits of expressing ideas, and recording what it is around us, should be the main drive to join such a magical journey. So, what are you waiting for?
Popular in the Community