Think of Art in South London and Battersea instantly comes to mind, which is why Caiger
Contemporary Art is excited to be holding its first ever Showcase exhibition at Battersea's The Gallery on the Corner which opens on the 25th ending on the 31st of March.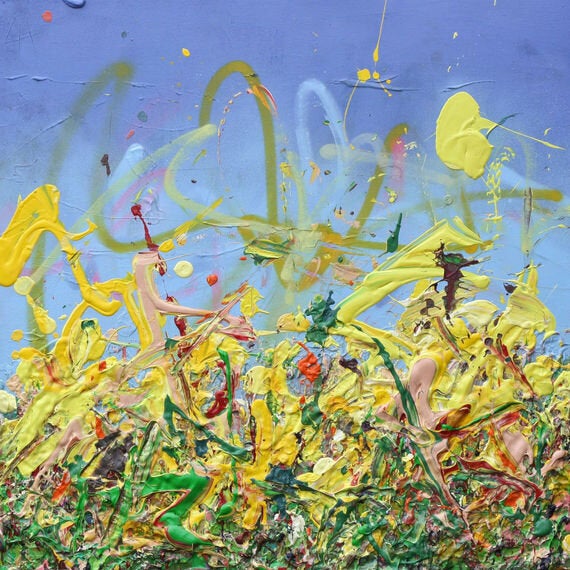 Blustery Morning by Lee Herring
With Spring on the horizon, a brand new piece of artwork is one of the best ways to breathe new life into home interiors. New to the art scene, Caiger Contemporary Art is showcasing the work of 14 exciting artists in an exhibition set to be full of the joys of Spring. The Spring Showcase will feature 50 original artworks including paintings, photographs, mixed media and sculpture. With prices ranging from £150 to £3000, the exhibition offers room transforming art for first-time buyers and affordable art aficionados alike.
Caiger Contemporary Art is a London-based online gallery, offering original art by talented emerging and established artists. The family business, led by Amy Caiger - an experienced gallery and museum professional - is passionate about bringing original artwork to as many homes as possible. She has very kindly agreed to respond to the following questions:
1. What makes Caiger Contemporary Art special when compared with other galleries?
We are a friendly, non intimidating gallery where you can buy some great art from handpicked emerging and established artists. We are predominately an online gallery which is great because you can view and browse our whole catalogue at your own pace alongside lots of extra bits on our artists, interviews, news stories, buying tips etc. If you want any further information then we are on hand to answer any questions you have. We want to break down the facelessness sometimes experienced on websites and give you the same kind of service you would receive if you were actually in a gallery space. As well as online we hold exhibitions and attend art fairs which gives you another chance to see the works and come chat to us. So in a way we have managed to combine the best of both worlds!
2. What is your background?
I was born and grew up in Surrey and later moved to London. I have always had a love of art and studied History and Theory of Art BA at University of Kent, after this I took an MA in Gallery Studies at University of Essex. My career began working in small public galleries, curating and organising exhibitions at Canterbury Cathedral, Art Exchange in Colchester and site specific exhibitions in Chapter Arts Centre in Cardiff. It was great to be hands on, working directly with the artists and artworks to create something to show to the public. I then went on to specialise in arts marketing, working in some amazing British institutions such as the National Gallery and the Natural History Museum, promoting temporary exhibitions, the permanent collection and events. Which leads us to now...
3. Are you spotting any tendencies in the Art Market at the moment?
Going to a lot of art fairs and events throughout the year you do really see similarities that start to appear, either over the course of the year, or specifically to that fair or event. This year I think there will be an uplift in works inspired by old masters and derelict grandiose buildings.
4. How do you want to make Caiger Contemporary more accessible to first-time buyers?
We want first-time buyers to feel relaxed when buying a piece of art. We have handpicked our artists so you know the quality is there, so the buyer doesn't have to worry about if the artist is 'really' any good. We have a selection of price ranges so people can enter in at what ever level they feel they can. We are also looking to introduce a 0% finance scheme which will allow you to pay a bit each month rather than having to pay the full amount in one go which can make things easier.
5. What made you decide to set up your own gallery?
After working in arts marketing for several years, I really wanted to get back to my roots and become more involved with working directly with artists and curating exhibitions again. There are so many talented artists out there that produce fantastic artworks that don't cost the earth, people really should know about it and have them hanging in their home!
The Gallery on the Corner, 155 Battersea Park Road, London SW8 4BU
Tues to Sun (8.30-18.00); Fri (8.30-21.00), Mon (8.30-12.00)
Visitor enquiries: 020 3287 4411; info@caigerart.com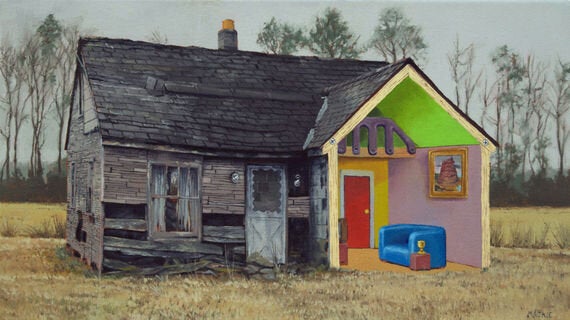 Abandoned Dollhouse 3: The Tower of Babel by Mackie