Ida Ivanka Kubler, an artist born in Bulgaria, is overwhelmed by the great interest her cocoon paintings are having after exhibiting at the New York and London Affordable Art Fairs. Ivanka makes sculptural paintings using silk cocoons as the main material for her works which are highly influenced by Abstract Expressionism. Huge, exquisitely crafted canvasses dominate the space in a quiet subtle manner. Their presence is noted as when you invite your glamorous friend to a VIP party and she makes you feel elegant too at the same time. Kubler is opening a new exhibition, titled Introduction of The Thing series, at The Chance Gallery, in Chelsea, in the evening of the 12th of September.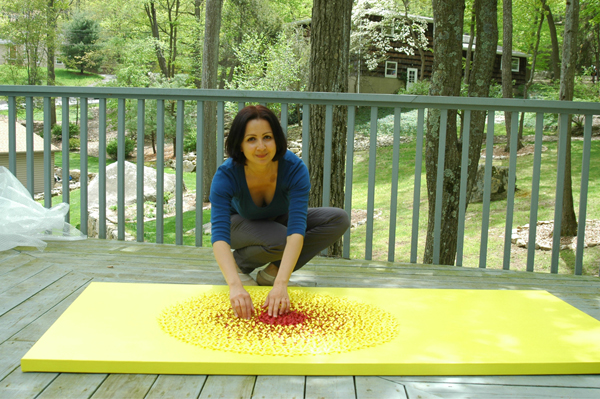 Ida Ivanka Kubler in her studio
This original idea came to Ivanka when growing up in rural Bulgaria where sericulture, or silk farming, used to be quite common. It has been part of the landscape for centuries; always under the silent presence of Mulberry trees. Silk has been a precious commodity since the Venetian Marco Polo rediscovered the Silk Road by late 1200s. A route which connected three continents and satisfied the need for a such a beautiful textile.
The demand for her works has grown so much that she had to spend last summer exploring new silk farms in Europe. It is a process that has become part of her practice: the search of a specific type of cocoons that are the only ones that can be used for her works. Ivanka, an expert in silk farming, is even considering one day to grow her own cocoons again!
The three-dimensional paintings, which the artist likes to call half-objects, belongs to The Birth of an Idea series. The cocoons, once the moth leaves the capsule and flies away in the search of a partner, are re-used, painted, and positioned. In doing so, Ivanka gives them another identity. They are transformed into an evocative landscape. A piece of art that allows us to meditate, to pause, to gather energy in such uncertain times. Her works reflects the tranquility enjoyed under the shadow of the Mulberry trees on a hot summer afternoon.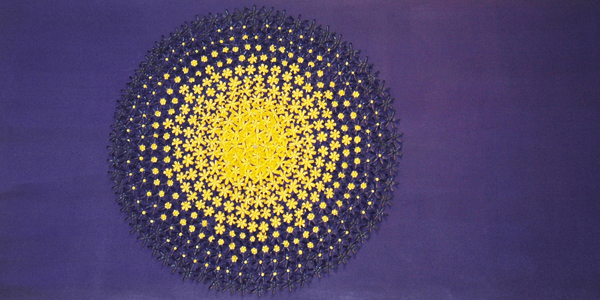 The Birth of an Idea by Ida Ivanka Kubler
As Ivanka says:
"When I was a child I wasn't given toys, so I had to find my own way to play. And growing up in the sericulture for silk cocoons I was surrounded by cocoons. A new era in my life began when I found out that I can paint them with pulverised orange bricks mixed with water. Funnily enough the main colour in the first artwork of "The Birth of an Idea" series was orange, but not from bricks anymore. Over the years I used cocoons and then I left them for a while, and over and over again. During my studies in Chelsea College of Art and Design in London I was given a commission, where the requirement was to create something quiet, relaxing, inspirational, positive and abstract. After this I started using the cocoon artworks as relaxation in-between my representational artworks until it became an obsession. Each cocoon is unique just like an individual. As a whole they create a strong unity, which has as many meanings as many people look at it. It could be warmth, light, beauty, propaganda, a group of people, flowers, open hands, stage... and many others. I intend to achieve that individuals don't lose themselves in my artwork, but through this tactile thingness become conscious of themselves, and get to feel their own mirrored inner".