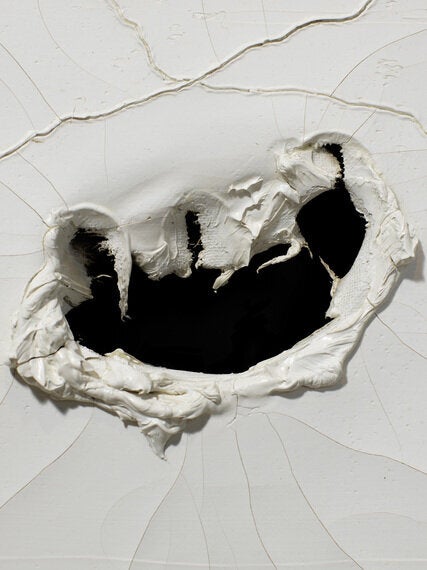 Lucio Fontana, Concetto Spaziale (detail), 1964, Oil on canvas, 46x38cm. Courtesy Dominique Levy Gallery.
At some era, different artists from different parts of the globe seem to be working on the same wavelength, even if they are not in contact with each other. Sotto Voce, an art exhibition at the Dominique Levy Gallery on until the 18th of April, in Bond Street, London, had the ambitious idea of investigating these simultaneous events when artists started experimenting with the abstract white relief with a focus on the 1930s to 1970s.
Alongside Laurens and Camargo, the exhibition will feature works by Jean Arp, Ben Nicholson, Lucio Fontana, Piero Manzoni, Enrico Castellani, Fausto Melotti, Gunther Uecker, Luis Tomasello, and Mira Schendel, amongst others. While the white palette may give the works a soft voice, their messages are loud and clear, whether they may be a cry of hope, an attempt at nothingness, an expression of aesthetic idealism, or a surge towards transcendence. Sotto Voce demonstrates how this subtle yet forceful dialogue was carried out internationally through the language of the white relief by artists at the forefront of their respective movements, ranging from Surrealism to the Zero Group, Spatialism to Minimalism, and Conceptual Art to Constructivism.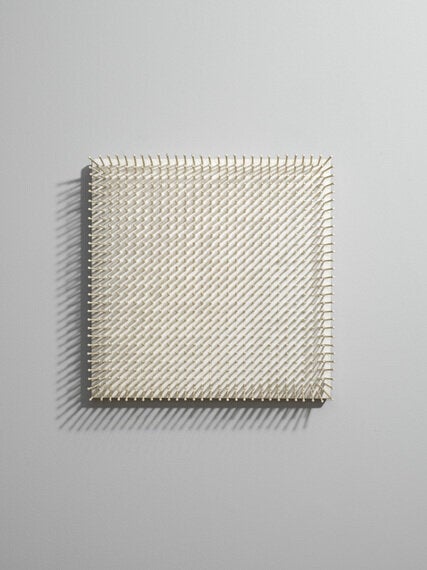 Günther Uecker, Untitled, 1967, painted nails and canvas on board, 43x43cm. Courtesy Dominique Levy Gallery.
Lock Kresler, director and curator of this show, has kindly agreed to respond to the followings questions:
1. Can you please tell us a bit about your background?
Before joining Dominique Lévy in June of last year I worked at Christie's Auction house for 10 years. After starting my career in New York, I moved to London in 2008 to co-Head the Day Auction for Post-War and Contemporary Art. In 2011 I started the Private Sales Department in London, which was a great bridge between the auction and the gallery environment. I had admired Dominique's pre-eminence in the art community and her incredible program of 20th century art and artists. I was delighted to join her team as the director for the new London gallery which had its inaugural exhibition in October 2014.
2. Where did the idea of the white abstract relief as a link among artists from different artists of the world come from?
The idea really began serendipitously during a lunch with a London-based collector and his son. We were discussing an artist whom we are both passionate about, Sergio Camargo. A Brazilian artist, Camargo embodies the connectivity that we were striving to make apparent in the curation of the show. He lived and worked in Argentina where he studied under Lucio Fontana, had a studio in Paris, exhibited in London in the 60's and moved for a time to Carrara, Italy to work with marble before returning to his home of Brazil. This travel allowed for a great amount of influences on his work and thereafter on other artists.

When we examined other artists experimenting in white relief during this same period, the interplay and connections gave rise to a fascinating dialogue between the artists, whether intentional or accidental. In looking at the works jointly and severally, there is this incredible energy to the theme and one can really appreciate how different artistic movements can inform or inspire another.
3. Where did the title: "Sotto Voce" come from?
The title, translating from the Italian "under voice" means intentionally lowering the volume of one's voice for emphasis. Whilst all of the works in our exhibition are "colourless" they imbue both a calm and serenity as well an impactful reverberation within the gallery. However, on closer examination the space and movement created by the simple abstraction of white relief takes on myriad interpretations and materials. Seeing a simple quiet idea gain an impactful voice is the 'sotto voce' that we wished to highlight.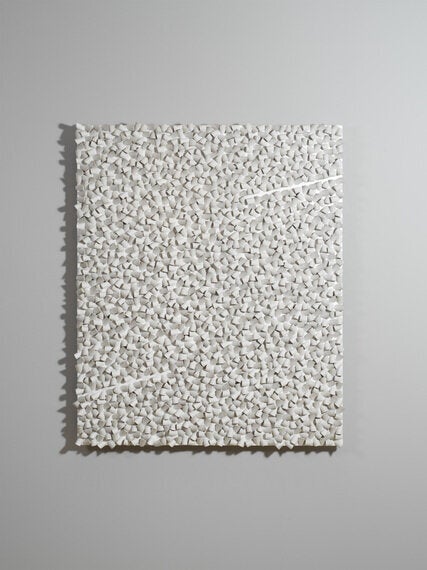 Sergio Camargo, Untitled (288), 1970, painted wood, 120x100cm. Courtesy Dominique Levy Gallery.
4. Has it been challenging to research and put together such a vast array of artworks?
The curation of any show depends on the generosity and trust of our clients. It was inspiring to work alongside a number of international curators, collectors and artist's estates. I was delighted to find the inspiration for the show from a conversation with a client and rather organically I started to map out a 'wish list' of all the artists I thought highlighted this theme. When the Dominique Lévy team started to do more research into the connections in this style of abstraction we made some really wonderful discoveries. What makes this show particularly exciting is that we are introducing some artists not particularly well known in the London market alongside some established ones.
5. Why do you think people should come to see Sotto Voce's exhibition?
Each work stands alone in a quiet, powerful way, but seeing all the works together, one can appreciate the magnitude of this 'idea'. Abstraction can sometimes be overwhelming, but seeing the interpretation of this theme in a singular color is a delightful experience. The 'soft voice' of each work beckons a closer inspection.