English National Opera Music Director Edward Gardner will lead the world-class ENO Orchestra and Chorus alongside an outstanding cast of 89 orchestral musicians, a chorus of 90 and 17 principal singers in Wagner's comic masterpiece The Mastersingers of Nuremberg. Known for championing British and British trained talent, ENO will field a predominantly British cast led by one of ENO's major discoveries of recent years, Iain Paterson, making his role debut as Hans Sachs. His charisma, exquisite voice and profound humanity perfectly holds such complex opera.
As it happens with many artists, private life permeates through the narrative of his works. Wagner had to spend some time in Zurich where he met what perhaps was the love of his life: Mathilde Wesendock. A married woman and, therefore, beyond reach and idealised. The relationship with his next-door neighbour blossomed and, although unlikely to be consummated, made it all the more intense. A sentiment he shares with the character of Hans.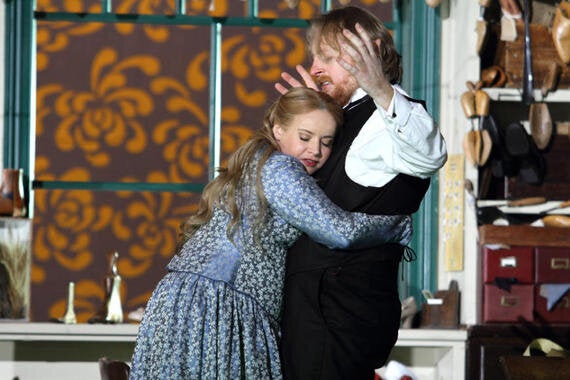 Rachel Nicholls and Iain Paterson. Courtesy ENO and the photographer, Catherine Ashmore.
Originally created for Welsh National Opera in 2010, Richard Jones's spectacular staging of Mastersingers comes to London for the first time. Jones provides a rather amusing retelling of Wagner's drama about the 16th-century guild of amateur poets and musicians called The Mastersingers. The tensions between creativity and conformity are played out in a society obsessed with rules and regulations.
This production originated at Welsh National Opera where Richard Jones's interesting presentation was enthusiastically received. The Mastersingers of Nuremberg forms part of a series of works that Richard Jones will direct as part of an ongoing collaboration with ENO. His recent productions for the company include Rodelinda and The Girl of the Golden West, both of which received an outstanding critical and audience response. Richard Jones has been made a CBE for Services to Music in the recent New Year Honours List.
Leading Wagnerian bass-baritone and former ENO Company Principal Iain Paterson will sing his first Hans Sachs. This will be his second Wagnerian role debut this season, following on from his success as Kurwenal in Christof Loy's production of Tristan und Isolde at the Royal Opera House.
Brilliant singing-actor Andrew Shore, whose ENO triumphs range from Donizetti to Britten, makes his stage role debut as the pedulant Beckmesser. He was most recently seen at ENO in the twin cameos of Benoit and Alcindoro for La Bohème, and will return to the London Coliseum in May as Major-General Stanley in Mike Leigh's new production of The Pirates of Penzance.
British soprano Rachel Nicholls, an exceptional and experienced Wagnerian, sings the role of Eva regaling such beautiful and delicate notes that you wonder if she comes from another planet. She sang her first Brünnhilde in Götterdämmerung for the 2012 Longborough Festival, returning for three complete Ring Cycles in 2013. Her performances as Senta in Scottish Opera's 2013 production of The Flying Dutchman were very well-received by the public and the critics.
Welsh tenor and ENO favourite Gwyn Hughes Jones sings the role of Walter. American bass James Creswell sings the role of Pogner. Both are impressive. Joined by ENO Harewood Artist Nicky Spence as David and former ENO Young Singer Madeleine Shaw as Magdalene. Completing the cast is baritone David Stout as Kothner. He recently performed at the London Coliseum in the title role of Fiona Shaw's The Marriage of Figaro.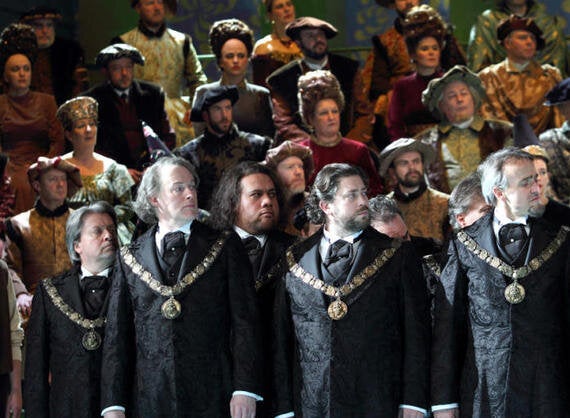 Nicholas Folwell, Quentin Hayes, Jonathan Lemalu, David Stout, Timothy Robinson. Courtesy ENO and the photographer, Catherine Ashmore.
2014/15 will be Edward Gardner's final season as ENO Music Director. Gardner was nominated for an Olivier Award for his 2012 performances of The Flying Dutchman. Gardner will return in June to conduct his final production as Music Director, The Queen of Spades.
The creative team is completed by set designer Paul Steinberg, wild imagination by the costume designer Buki Shiff, lighting designer Mimi Jordan Sherin and choreographer Lucy Burge.
The Mastersingers of Nuremberg opens at the London Coliseum on Saturday 7th February for 8 performances - Feb 7, 14, 21 & Mar 7 at 3pm, Feb 18, 25 & Mar 3, 10 at 5pm.
For more information, please visit the website www.eno.org
Popular in the Community