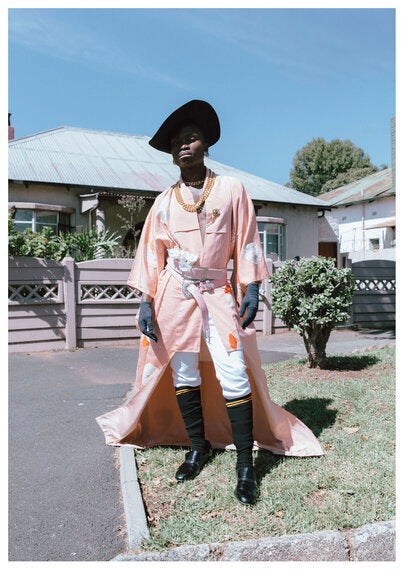 2026 © Ibrahim Kamara and Kristin Lee-Moolman
Utopian Voices also exhibits works by Matthew Stone (digital artist), Rosie Hastings & Hannah Quinlan (Film), Project O (performance) Angel Rose (Film) and Glacier Girl (Interactive Media), all selected by Curator Shonagh Marshall. Together they share their utopian visions inspired by the issues of gender, the body, sexuality and race today.
I heard about Ib's work when interviewing another of his collaborator's, photographer Campbell Addy. Both graduating from CSM, they share the ideal to create an alternative representation of the black male, ideas encompassing sensitivity and pride; in turn offering the media that represents them a more compassionate view than that which currently exists.
The representation of black masculinity is challenged by Ib with '2026', where he and Kristin escape the policing of masculinity and create images that depict how menswear could look in a decades time. They sourced garments from thrift stores and skips in Johannesburg, where the images were shot, to construct visual alternatives that challenge traditional gender norms.
Creating images that depict vulnerability and sensitivity, as well as pride, are the sorts of things I want to shine a light on in my work. Through it I believe black males are not powerless; they communicate even more strength.

2026 is an escapism; it's all the things I long to be, it's the black man I aspire to be; expressive, confident, not holding back, regardless of sexual orientation, gender or race.
Utopian Voices Here & Now 6th July - 29th August 2016. Site Wide Somerset House Free Entry
UTOPIA 2016 is four seasons of activity celebrating the 500th anniversary of the publication of Thomas More's Utopia. Published in Leuven in December 1516, More's Utopia presented an imaginative and playful vision of the world as it could be at a time of great change. More's Utopia is deliberately ambiguous: both "no place" and "good place", he is clear that many other visions for society are possible. Through a series of exhibitions, events, new commissions, talks and workshops, UTOPIA 2016 will explore the broad cultural history of the idea of utopia and its relevance to 21st Century cultural, ecological, and social challenges and opportunities. The year celebrates the pivotal role of the arts and culture in creating spaces where utopian dreams are possible.