>Lucy-Anne Holmes, founder of the now famous No More Page 3, visited Warwick last week to motivate and inspire the already-active Warwick campaign.
The founder of the nation-wide movement made a humble visit to Warwick to talk about the campaign and the protests that have erupted nationally since its conception.
Writer and actor Lucy-Anne Holmes started the campaign in the wake of Jessica Ennis' incredible gold win at the 2012 Olympics, an amazing feat by anyone's standards and a rare opportunity for a woman to be recognized for sporting success in a world where newspaper sports pages are dominated by the boys.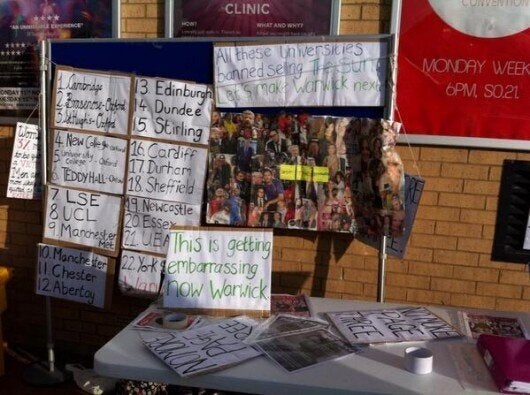 In The Sun, however, the largest image of any woman was still the one standing provocatively on Page 3, topless and passive.
"It was like being slapped in the face and reminded that it's a man's world," said Holmes.
She grew up with The Sun in her house, as a developing 11 year old, walking into the living room to hear her brother and his friends talking about 'the tits on that', in reference to the Page 3 model. 'She' became a 'that' - an object, a consumable item. As WASS member Lily Huggins noted in the discussion, this kind of objectification means that 'a woman's body can be sold for profit, but you can't walk around topless or breastfeed in public.' At least, not without 'inviting' unwanted sexual attention or accusations of indecency.
Accusations of censorship don't really hold up - where is the anti-censorship brigade rallying for an end to the oppressive television watershed, which means no nudity can be shown before 9pm? In any case, Holmes wants to challenge the sexism of the press, not the freedom of the press.
Neither do comparisons to Heat magazine's 'Torso of the Week' feature; there is simply no equivalent to Page 3 in our society. We frequently see topless men in our society, and there is no inherent implication that a topless man is for sexual consumption.
'You'd have to see the male scrotum for an equivalent,' said Holmes. 'Then imagine starting a campaign to get the scrotums out of the papers, only for the male activists to be told they're just jealous of all the young, perk scrotums, or that if they don't like it, they shouldn't buy it.'
The next stop on the Warwick campaign is to debate the question of Page 3 at an All Student Meeting (ASM), where ironically we won't even be able to show a picture of Page 3 under the university's by-laws which forbid the display of 'pornographic or offensive material.'