As a reporter for TV and radio, showbiz parties are always a funny thing. They're brilliant to attend - but more often than not, I'm on the red carpet - working, cold and wondering which of the latest batch of reality TV stars are heading in my direction, before slapping on a fake smile and listening to them chat about how they "want to show the world the real me".
By the time the footage is cut and the story filed, the last thing I want to do is slap on more make-up and stagger into the party in ridiculously high shoes.
Apart from one night of the year. ONE party that is the highlight of my social calendar.
The Glamour Women of the Year Awards.
It's hard to explain why I love this night so much.
The venue, in Berkley Square Gardens, is always stunning.
There is a copious amount of free-flowing tasty cocktails.
The sparkly guest list full of inspiring high achieving people.
And the goody bags are out of this world.
So as June 2nd rolled around, I was delighted to be once again attending my favourite night of the year.
With tan, nails and hair complete, the perfect dress finally on and the spangly invite in my clutch, I was ready to party my shoes off.
The guest list at this year's awards ceremony was particularly A List. Kate Hudson won Entrepreneur of the Year Award, Suki Waterhouse nabbed the gong for Next Breakthrough, Kaley Cuoco was named Best Comedy Actress and Amy Shcumer had the crowd in stitches with her acceptance speech for Trailblazer.
The Brits did well too, Claudia Winkleman and Tess Daly were named Presenters of the Year, Rita Ora got TV Personality of the Year and Caitlin Moran picked up best Columnist.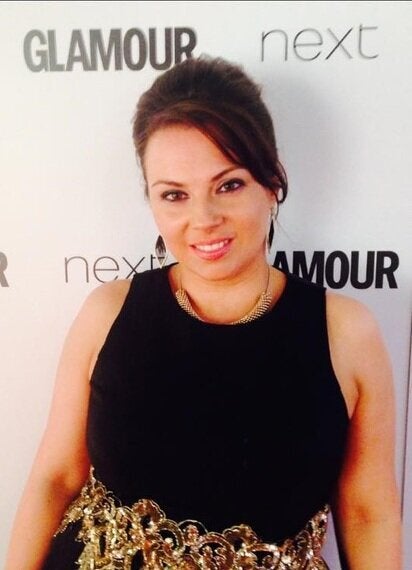 It was lovely to catch up with my old Radio 2 colleague Dermot O'Leary - owner of the best hugs in Christendom - and Gabby Logan, who presented a show on Channel 5 which I reported for.....assignments for that included sitting my driving test on telly, getting a "tattoo" and investigating the issue of homelessness. A great job which I loved and it was brilliant to see Gabby.
The best thing about the Glamour Awards though, is the fact it's a celebration of all things woman.
Once the meal is finished, the ceremony over and the party is in full swing - all the many myths which follow women in the public eye are once again proven to be utter rubbish.
It's a night of women eager to congratulate each other, to laugh, to celebrate and to acknowledge our successes.
I love it and will attend for as many years as I can wear those damn heels!
Even if I did completely miss the goody bags this year......