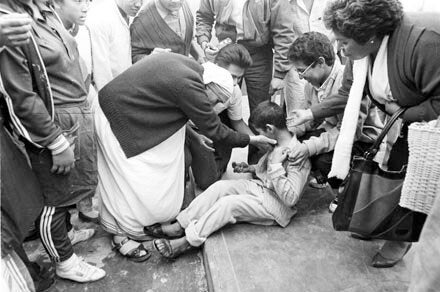 Mother Teresa during a 1989 visit to Callao, Peru
(photo from: www.flickr.com/photos/lavila64/13492000313)
On this warm Roman Sunday Mother Teresa of Calcutta was canonized a saint by Pope Francis, amidst a crowd of 120,000 in St. Peter's Square. Maybe it was just a little less warm than the summer in which I had the opportunity to volunteer in the Bronx, New York, with Mother Teresa's nuns (the Missionaries of Charity) some years ago.
In the Bronx, the Missionaries of Charity have a convent, operate a walk-in soup kitchen, a shelter, and a school. During my time with them, I taught in their summer school program for children in the daytime and slept in the shelter at night, alongside a group of volunteers from all over the world. Besides the care and dedication the nuns and those helping them showed, there is a memory that still pops up when I think of this Bronx experience.
One day I was coming back to the shelter and once I approached its first floor, where the soup kitchen was located, a nun of minute figure was vigorously chopping food (with quite a strength considering the sound of the knife on the board that resonated throughout the space), while quietly reciting the Hail Mary prayer in a musical Indian accent. The earthly and the spiritual as one dimension in a simple moment: praying and chopping food to create a meal for what Mother Teresa called the "poorest of the poor."
Today Mother Teresa has been recognized, not so much "made," a saint. In each convent of her order there still is a crucifix (a representation of Jesus on the cross) with a writing next to it: "I thirst." Mother Teresa saw it as symbolizing God's cry for love, made manifest in the poor, encouraging to love people even when not comfortable or easy, to "love until it hurts" as she used to say.
The legacy of Mother Teresa, born Anjezë Gonxhe Bojaxhiu in 1910 in present-day Macedonia, still lives throughout the world and her image is a source of encouragement and inspiration for many, but also of skepticism and criticism for some. There is a simplicity of service towards the poor that can be learned from her example, without having to idolize her. Human beings have limits, light and shadow areas, and it is not surprising their legacies do, too. A rich understanding, appropriate contextualization and constructive criticism can be a positive input for their future developments.
Too much focus on Mother Teresa, however, might be limiting in the first place. Her life inclination was towards people who were marginalized and poor. Who are the "poorest of the poor" in our own reality and in our own contexts? Maybe, after all, the focus should go to them.