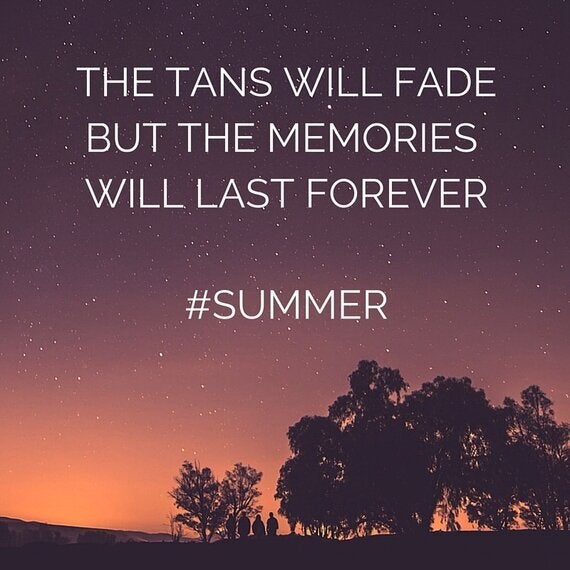 Living in the UK you learn from an early age that summer is a special time, to be savoured, cherished, enjoyed, worshiped even?
It's a time for BBQs, festivals, parties in the park, softball, families, ice cream and fun.
And it's important to me to spend time outside. I love the sun, the air and being in nature.
But I missed last summer completely.
I was working like a crazy person and turning down every invitation I got - birthdays, baby showers, festivals - I said no to them all and spent the hottest days of the year in my home office (aka basement) strapped to my laptop, pleading with the work gods to give me a break, of any kind. My prayers were not answered and summer passed me by.
On top of that I was having some stomach issues and insisted on doing an elimination diet right the way through July which meant I could only eat certain foods (nothing fun), so any invitation I might have said yes to that involved eating got immediately complicated and gave me another reason to pass.
A lot has changed since then.
Firstly, I discovered I have a dairy intolerance. Bye cheese. Hello 'do you have dairy free milk?'. Oh joy.
Secondly, having poured my heart, soul, sweat and tears - literally - into a business that didn't see fit to return my efforts, I now know, from an experience I am extremely grateful for, that there is so much more to life than work. And money, or lack of.
A few months ago me and one of my bffs (aka sister in law) agreed we would do this summer properly, get the family together and have loads of fun.
Now the summer months are upon us it's time to start making plans, so I started writing out a bucket list, here goes:
Have a BBQ
Play softball in the park
Visit a museum
Have a sleepover
Do a car boot sale
Sunbathe in the park
Watch an outdoor movie
Go to a music festival
Go to the seaside
Watch a sunrise
Watch a sunset
Go to the fun fair
Have a midnight feast
Make cookies and dip them in milk (non dairy obv)
Have a bring a bowl (and bottle) party
Explore a local park
Dance like no one's watching
Make a summer playlist
Swim outside
Have a clothes swap party
Visit an elderly relative
Plant something
Treat yourself to something you really want
Go somewhere posh and have champagne
Sit outside and have coffee (and cake) on your own
Go to a yoga class
Go for a drive with no destination in mind
Call your mum
Call your dad
Go for drinks at a rooftop bar
Sleep naked
Have breakfast in bed
Eat ice cream from the ice cream truck
Let the diet go a little (but not the exercise ;))
Go for a walk in the woods
Go camping
Go horse riding
Eat lots of fruit
Tell your family and friends you love them
Do something kind for a stranger
Buy some food for a homeless person
Thank someone who works at a place you go every day
Spend time with someone else's children
Have a water fight
Organise a street party
Have a social media black out day
Do kartwheels
Buy something from a charity shop
Laugh out loud
Smile at strangers
How will you be spending summer?
Related