I am the co-founder of Manchester's chapter of the Women's Institute. When this crops up in conversation there is often a little bit of confusion. Perhaps because I am in my twenties and have neither a blue-rinse nor a twinset (although Lex, my co-founder does currently have turquoise hair). People are often intrigued as to what the 'new breed' of modern WIs' actually do during their meetings. Do they bake cakes, sing Jerusalem or perhaps hate on men? The answer is none of the above (I do eat cakes that other people make though). There really isn't a typical meeting! Each has a different theme.
Here is an insight into my top three WI meetings. It has been so difficult to decide!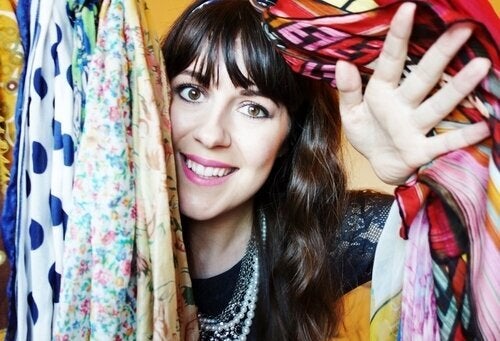 Ethical Fashion: Clothes Swap Party
My favourite meeting was the sustainable fashion event. We live in a world of disposable fashion and the focus of this meeting was to explore some green and ethical ways of updating our wardrobes while keeping our carbon footprint dainty. Each member was invited to bring along three unloved, quality items to swap at our huge clothes swap party. The clothes were amazing; I bagged a Megan from Mad Men style 1960's dress and one of the other girls got a Vivienne Westwood ring!
We also had stylists and designers speaking about the effects of disposable fashion. One of our members is an independent designer who creates beautiful, handcrafted evening gowns and so we invited her to showcase her designs in a catwalk that evening and some of the other members modelled her dresses. An independent hair stylist and makeup artist did the styling. It was so much fun!
We chose to host the party in January, the ideal month for a clothes swap. Everyone has unwanted sequin numbers leftover from the Christmas party or presents picked by partners that don't quite fit their style. As the saying goes, 'one person's trash is another person's treasure'.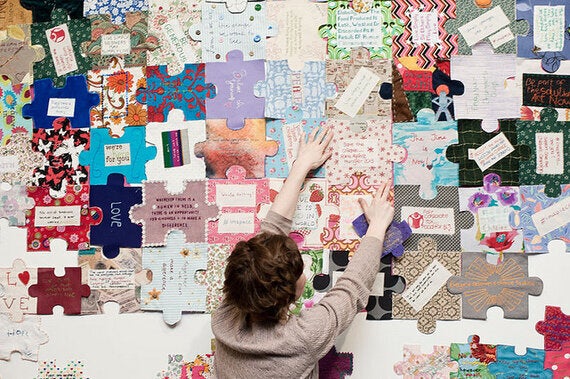 Craftivism: Making A Change, One Stitch At A Time
The Craftivist Collective is a group of activists using craft as a peaceful form of protest to draw attention to global issues like poverty, famine and unethical working practices. The aim is to enact positive change in the world - one stitch at a time! Sara Corbett, the founder of the London based Collective hosted a workshop for us.
The focus of the workshop was 'The Jigsaw Project', a campaign launched by The Craftivist Collective in support of Save the Children's Race Against Hunger.
We were each given a craft kit and together made jigsaw pieces, stitched with provocative and encouraging messages to show solidarity with people around the world wanting a world where no one goes to bed hungry and children can fulfil their potential. The final pieces were used to as part of a giant art installation to raise awareness of the issues of world hunger and injustice.
It was so inspiring to meet Sarah and see how she has dedicated her life to the cause. The final, completed jigsaw was spectacular, thousands of people from around the world contributed. It felt fantastic to be a part of this project #ImAPiece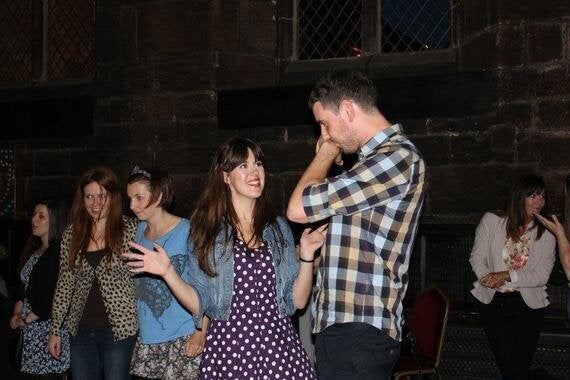 We got our waists a wigglin' and toes a tappin' with Manchester Lindy. For those that aren't familiar with the dance craze, Lindy Hop originates from the Swing Era of the 1920s to 1940's. To really get us in the spirit of a bygone age, the dress code was vintage, anything from the 1920s to 1950s. We had so much fun!
Continuing our vintage theme, make-up artist Bethany Jane Davies joined us and demonstrated how to recreate the lost glamour of decades gone by. Bethany was personally trained by Versace's head stylist and has an in-depth knowledge of hair and make-up styles from the 1920s through to the 1960s. She created two looks: a 1930s Hollywood screen starlet and a 1950's pin-up pout.
My time as the W.I president took me to fantastic places and I was lucky enough to meet some seriously interesting characters. All of these experiences inspired me to create my blog LedByLucy, driven by my love of meeting new people and sharing stories with them.