Last December, I returned to Madrid for the first time since I lived there in 2006-7. Obviously, I went back with a mixture of excitement and fear - the excitement of rediscovering oft-frequented haunts and reconnecting with old friends, the fear that some of them would have disappeared or changed for the worse. This was not an unreasonable fear, after all: since the year I lived in Spain, Madrid had been badly shaken by what the Spaniards refer to quite simply as 'la crisis' - the global economic crisis which has brought to Spain record numbers of household and business bankruptcies, rocketing levels of unemployment, thousands of evictions, a vast increase in homelessness and poverty, a wave of outward migration, and so on.
My return visit brought both leap-with-joy surprises and stomach-churning shocks. Much was my delight, for example, when I went back to a place that I knew as 'mi bar' ('my bar') because of its proximity to my flat, my all-too-frequent visits and my familiarity with the waiters (who knew me as 'rubia' - 'blondie'). The Galician mesón (inn), which turned out to be called Ondiñas do Mendo and not Lucy's bar, was teaming with regular customers (some of whom were still the same) and serving the same delicious traditional dishes. Most touchingly for me, the owner (Miguel) and waiters (Luis and Juan) were still there, welcomed me back with open arms, and even remembered my aversion to oreja (pigs' ear) and my love of pulpitos (little octopuses... or octopi?) and boquerones en vinagre (fresh anchovies in vinegar). They told me that they had 'gone through hard times' after the crisis, but that 'this kind of place' - a local jewel with a strong base of loyal customers - can survive anything.
Not everything had survived untouched, though. The streets of Madrid were now filled - much more than when I lived there - with visible signs of poverty, unemployment and homelessness. A huge number of beggars, people sleeping rough and street sellers were just some of these signs. The most shocking thing was the number of children and young people among these, suggesting not a temporary situation but a long-lasting social problem. Given all the news about the social consequences of the economic crisis in Europe in general, and in Spain in particular, I found these signs of poverty shocking, but not surprising. For years now, we have been hearing that over 50% of under-25s in Spain face unemployment. Most recently, data collected - no doubt ironically - by La Caixa suggest that one in three children under 17 is living below the poverty line in Spain, and that one in ten of these represents a case of 'severe poverty' (defined as a family that subsists on under a third of the average income).
Something that was equally visible, but that has attracted less press attention, is the rise of corporate power, which constitutes the other side of the neoliberal economic spectrum and correlates (perhaps indirectly, but no less significantly) with the increase in poverty. Aside from the Apple Store that now occupied pride of place on the Puerta del Sol - forcing the historical, family-owned Spanish business Tío Pepe to move its iconic advert to another side of the square - I was most taken aback by the change of name of one of the busiest and most important underground stations in Madrid. Sol (Sun) had been renamed as Vodafone Sol following the government's agreement to sell sponsorship rights to metro stations.
In 2013, the President of the Community of Madrid, Ignacio González, celebrated the fact that, for the first time in Europe, 'a whole metro line is changing its name as a result of a commercial agreement'. At the same time, many lamented this further turn towards the privatisation of public services, spaces and symbols. According to Madrid-based professor in urban studies, Ramón López de Lucio, this take-over represents 'not just a change in name, but the fact that, through this act, they are obliterating the identity of the sponsored station and metro lines'.
The Puerta del Sol (so named because it was originally an East-facing gate that let the sun stream in) has been centre stage in Spanish public history, from its centrality as the meeting point for news couriers between the 17th and 19th centuries to its very recent role as the emblematic site of the Indignado (Indignant) protests in 2011, the heart of the 15M anti-austerity movement, and the 'Take the Square' #spanishrevolution. Seeing this site of democracy and citizen activism - so important in Spain, which only 40 years ago emerged from decades of dictatorship - taken over by a multinational corporation was upsetting, disturbing and ominous.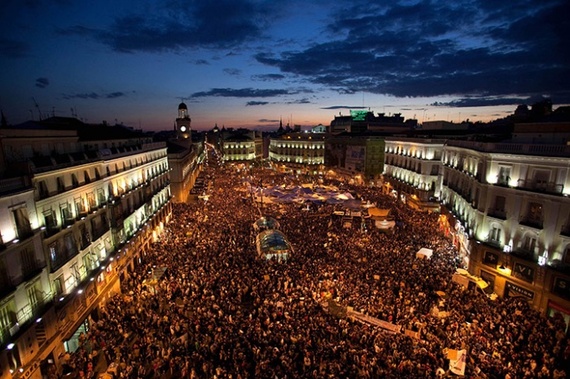 But the madrileños, needless to say, have not sat back and accepted this drastic take-over without a fight. The assault by Vodafone has led to a counter-assault by Madrid's citizens, with the emergence of a movement called tapalamarca (cover the brand), which encourages tube-users to 'intervene' on the adverts with their own messages and images.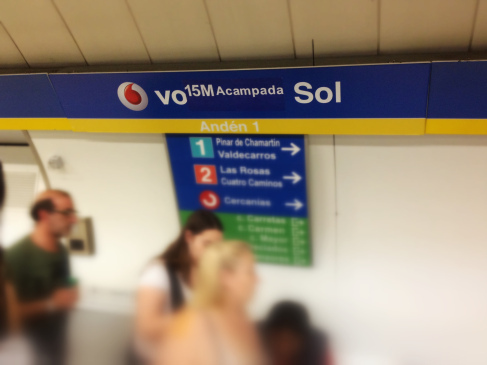 It was only a few months after my visit to Madrid that, on my way to support some friends running the London Marathon, I almost missed my tube stop because Canada Water had been renamed Buxton Water, the Nestlé-owned event sponsor. This was the first time in the underground's 152-year history that the naming rights to one of its stations had been sold to a private corporation. On that occasion, the rights had been granted for one day, and one day only, as part of 'an effort to raise £3.4bn of non-fare revenue over the next 10 years for investment in London's transport infrastructure'.
But the seed has now been planted for the London government to follow in Madrid's footsteps. Indeed, in 2013, a report by conservative members of the London assembly argued for station sponsorship in 2013 - a proposal that was dropped because TfL argued that costs made it unviable. With a newly elected Tory government, it is ever more likely that these plans will be taken forward.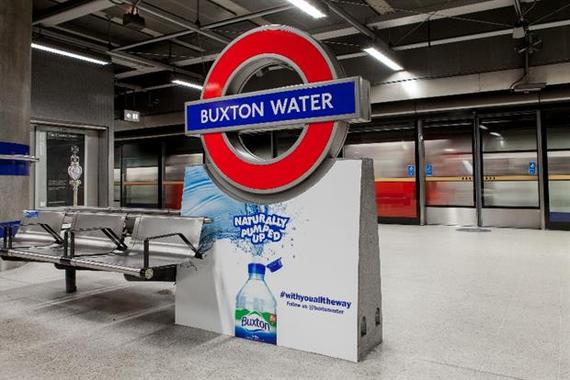 So watch this space - your space, our space. You might say that so-called 'public transport' ceased to be public in the UK under Margaret Thatcher. But this is a further threat to public space, collective memory and shared symbols. Fighting against growing levels of precarity, unemployment, poverty and homelessness - in Spain and, contrary to what our government claims, in the UK - also requires us to reclaim what should belong to the state and its citizens, to us.
Image attributions:
1/ http://www.abc.es/tecnologia/20130602/abci-estacion-vodafone-201306022339.html
2/ http://www.theguardian.com/world/gallery/2011/may/21/spanish-defy-protest-ban-in-pictures
3/ https://tapalamarca.wordpress.com/tag/tapalamarca-tapamoslamarca-metrodemadrid-metro-madrid-sol/
4/ http://www.marketingmagazine.co.uk/article/1344609/canada-water-tube-station-renamed-buxton-water-london-marathon