When I was 11, I went on holiday with my cousins. We were each allowed to purchase a CD, and, being desperate to firmly establish my credentials as 'the cool cousin, I chose 'Parklife', by Blur. I was, it must be admitted, no longer a CD-buying novice, already owning 2 CDs- The 'Men in Black' OST and an Impulse-sponsored single by Louise. I knew Blur was cool because I saw a teenager buying their CD, so happily spent the rest of the holiday yelling:
HAND IN HAND THROUGH THEIR PARKLIFE
At my beleaguered and slightly alarmed family. I have only the fondest memories of both the album and the holiday, so when my little sister invited me to 'Parklife Weekender' in Manchester, the weekend of June 8th and 9th, I naturally assumed that she wished to recreate the wonderful time we had spent in 1997.
'I knew I was the coolest cousin,' I yelled down the phone at my little sister. As is her wont, my little sister ignored me completely. 'So listen,' She continued. 'Weekend tickets start at £69.50, and the line-up looks ridiculous.' 'You're asking me to pay to spend a weekend with you?' I asked incredulously. 'But I am the originator of the whole idea! Do you think they ask George Lucas to pay to visit a Star Wars exhibition?' 'What are you talking about?' My little sister asked. 'Our Parklife Weekender,' I replied crossly. 'And your newfound unpleasant mercenariness.' 'Look,' My little sister said firmly. 'You seem to have lost your mind. I'm going to book us tickets now. You can thank me later. And give me £69.50.' She then hung up abruptly.
'How rude,' I thought. A few moments later a friend emailed me, asking if I wanted to go to Parklife Weekender with them. Assuming by now that this Parklife thing was not actually a loving recreation of a family holiday I took nearly 10 years ago, but still clinging valiantly to the hope that it just might be, I did some quick Googling.
Parklife Weekender is a two day music festival in Manchester.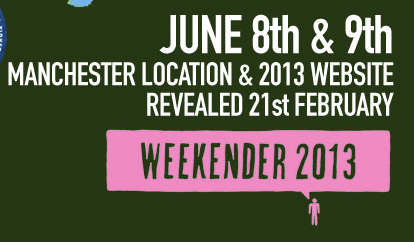 It has already confirmed Plan B, The Horrors, Rita Ora and Jessie Ware, as well as Mark Ronson and Sub Focus on the DJ stage. I reluctantly called my little sister. 'This looks rather good,' I told her quietly. 'And I'm hoping there will be some time for us all to have a little Blur sing-along.' My little sister hung up the phone again as I began with 'All the people, so many people', but I'm pretty sure all will be forgiven by June. Or at least that the sound-systems will be loud enough to drown out her complaining (or my singing).