'There's no 'I' in team. Although there are five in individual brilliance,'
I say thoughtfully. I'm talking to Ross Samson, the London Irish and Scotland rugby union player. I'm not just helping him with his international sports career. I'm helping him with everything.
Ross is one of the organisers of RugbyRocks, an annual mass participation sports and music festival, and I've pointed out that they don't have a slogan. http://www.rugbyrocks7s.com/london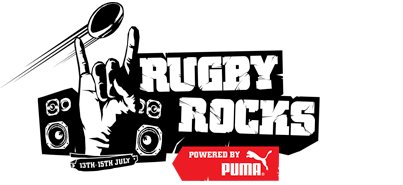 'You know,' He says politely. 'If you want to come up with a slogan, we'd be happy to use it.' I believe Ross regrets this as soon as he has said it. 'Teamwork,' I tell him promptly. 'Less me, more we. Though, there is camping at the festival, isn't there? Possibly best to keep 'wee' messages to a minimum.'
'You know we've got Zane Lowe headlining?' Ross asks desperately. 'And international rugby players, like Olly Barkley (Bath and England player) are doing DJ sets.'
'I see what you're saying,' I reply thoughtfully. 'RugbyRocks is not only about watching and playing all different types of rugby.' 'Well,' Ross interrupts. 'There's netball too.' 'Ah, yes,' I say. 'I'm actually rather good at netball. But I meant in regards to the slogan. We've got to remind people that they will see rather excellent music acts as well.' Ross is silent. 'How about, "TEAM=Together Everyone Achieves Music?"' There is no response from Ross. 'Do you see what I've done there?' I ask him proudly. I'm pretty sure that next year I'll be RugbyRocks London7s' head of marketing. In which case, I suddenly realise, I need to check a few facts.
'So we're there having fun all day, and Puma is your sponsor, and Prostate Cancer is the chosen charity,' I explain to Ross helpfully. 'What are we going to do about food?' I am not sure if I want my new position with RugbyRocks London7s. What am I going to do with all these hungry sportsmen? There's 40 teams entered. I'm pretty strong (I don't want to boast, but I lift 6kg in each hand) but I don't like my chances. 'Well, Nandos are one of our partners,' Ross tells me. Nandos?
I bloody love Nandos. One of the best Valentine's Day gifts I ever received was a fully-filled out Nandos loyalty card. There is no greater sign of love than giving someone else your free whole chicken.
'How about this?' I ask Ross. '"Don't be a chicken. Eat one." That will encourage people to play hard on the field, knowing that Nandos will reward them afterwards.'
In the seconds that follow, I can feel my new head of marketing position slipping away from me. 'Fun in the sun!' I yell desperately. 'A weekend to remember!' It seems Ross has forgotten about some vital training he simply has to do. 'I'll email you some more slogan suggestions,' I tell him enthusiastically. After all, "quitters never win, and winners never quit."
Info: RugbyRocks London7 takes place on the 26th-27th May, at Richmond Athletic Ground
Kew Foot Rd, Surrey, TW9 2SF. Tickets (for participants and spectators) can be purchased from