The news amongst the tapas loving, tinto de verano sipping travellers is that Malaga is now a 'foodie' hotspot. The Spanish city that thousands of Brits fly into en route to their seaside resorts on the Costa del Sol is no longer seen as, well that - a city you fly into and promptly leave for the more appealing tourists traps of Southern Spain.
So, I was mightily pleased to have a three day jaunt booked to Pablo Picasso's birthplace to investigate these claims myself. The last time I was here as a teenager 'avec parents,' I remember no more than a slightly grubby port. This time around, I was armed with some insider tips, a hungry man and a probing eye for the best Andalusian cuisine out there.
Here are some highlights. Oh, how this city has changed.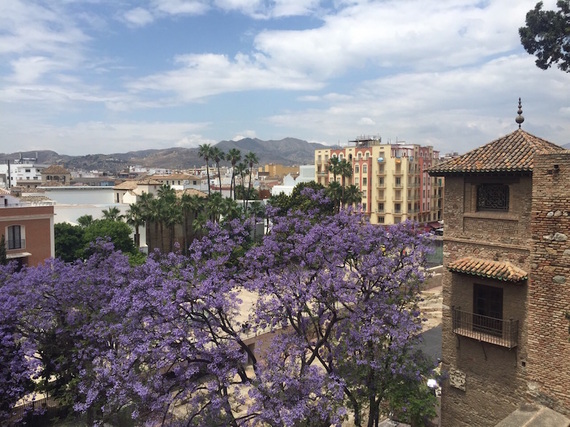 Pastries and churros
I guess we should start with breakfast. And if you're looking for a indulgent breakfast of these naughty little morsels of dough, head to Casa Aranda Malaga - undoubtedly the best churros in Malaga, and arguably the best in Spain (from what I have read).
Alas, we never did try those churros but Granier - a bakery packed with every bread and pastry you can imagine - was great. It was fantastic value for money and their croissants and coffee were delicious.
If you're looking for something a little more special though, do head to the cafes of Plaza de Constitution.
Only afterwards did I find out that Cafe Central is the most famous here. Damn. It turns out, we went to a little place next door to Cafe Central and it had a fabulous balcony where we enjoyed, yes more coffee and croissants (there's no restraint when you're on holiday).
This place was perfect for people watching over the Plaza de Constitucion where you can see the Fountain of Genova and some interesting bronze plaques fixed into the floor. They're the front pages of five Spanish newspapers from 7th December, 1978, when the Spanish Constitution was implemented. See what you can learn over breakfast...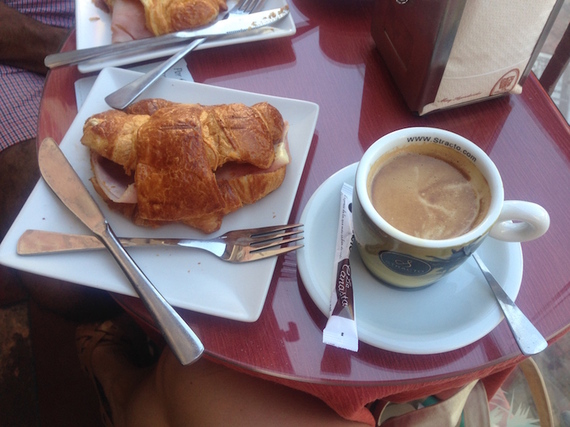 Iberian charcuterie and cheese
You can't beat a smorgasbord of authentic Spanish iberico ham, various other cured meats and cheese. We found a brilliant example of this at La Taberna del Obispo in Plaza del Obispo. This is the square in front of the city's majestic cathedral - The Catedral de la Encarnacion de Malaga.
Sardines
The sun was shining and we were in the mood for some beach action, so we headed to Malaga's seafront for traditional sardines. Our Airbnb host told us that in other parts of Spain, the Malaga people are actually known as 'sardines'. We had to see what the fuss was about with these teeny tiny fish so we headed to Chiringuito La Farola, a contemporary and sleek restaurant with outdoor seating, right on the La Playa de la Malagueta. If you like fish and appreciate chargrilled flavours, a good helping of rock salt and a squeeze of lemon - and don't mind swallowing the odd fish bone - you'll love them. They did brilliant Spanish tortilla too.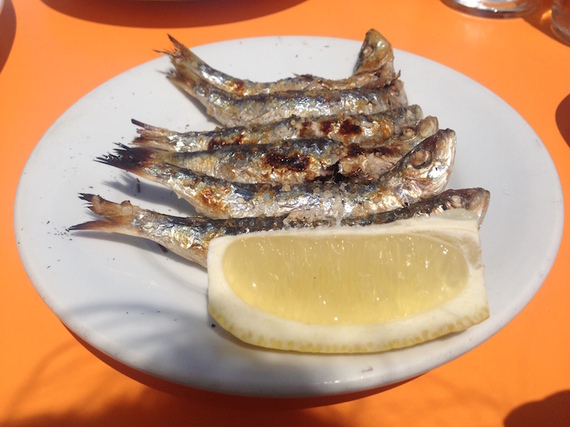 Tapas in Los Gatos
Los Gatos means 'The cats' in Spanish. And once you know this, you probably won't miss this local's haunt, thanks to the cat logo on the outside.
It's obvious when you arrive at this place off Plaza Unciba that locals genuinely come here. After an interesting conversation in Spanglish, our waiter served us some Iberian pork cheek and chips doused in gravy (looked a bit like school dinners but tasted great) and some potato and iberico pork croquettes. The Malaga red wine here was pretty good too.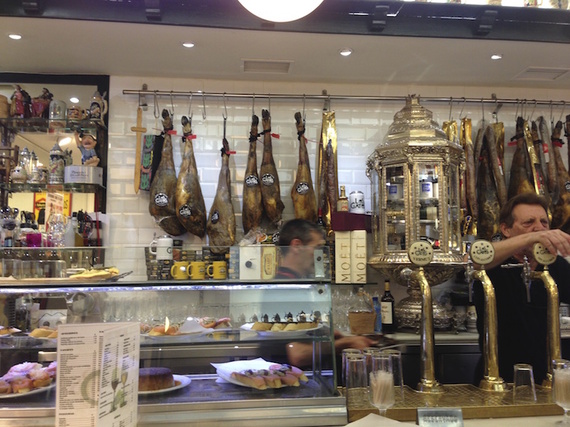 Tapas in Gorki
Gorki has a slightly more contemporary and upscale vibe than Los Gatos and is all sit down rather than perching, but we were impressed with the food. The highlights included a sausage-topped 'pizza' with quince, canopes topped with pork and white fish, and the most delicious aubergine and sun dried tomato on crisp bread. It's a bit pricier than Los Gatos but is generally worth paying a little bit more for.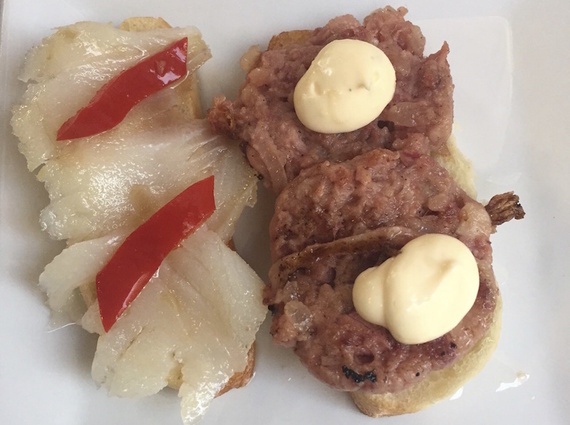 Dorada fish at Miama
"Miama' was a beachfront restaurant we stumbled upon, a few hundred yards down the beach from Chiringuito La Farola.
Don't be put off by the bright pink exterior, this seafront café has a relaxed vibe and delicious food. It's a bit pricier than you might expect but it's worth it. The Dorada and deep fried baby squid were brilliantly cooked. It was a great place to bask in the sun over a glass or two of 'tinto verano' - a chilled red wine with sparkling water or lemonade. Trust me, it works.
Bodega de El Pimpi
A few people recommended Bodega de El Pimpi to me as it's one of the oldest bodegas in Malaga. You come here, it turns out, more for the experience and the history than the food, but it's worth it for the elaborate interiors, pictures of Spanish celebrities and lively entertainment over a glass of muscatel upstairs.
Vermouth on tap
To get a feel for a real Andalusian vermouth bar, head to Casa Lola on Calle Granada or Bodega Antigua Casa de Guardia on Calle Peinado where you'll get vermouth on tap.
The first is brilliantly colourful and traditional while Casa de Guardia looks absolutely ancient (well it is, 175 years ancient). Join the old guys standing at the bar eating plates of cold, fresh seafood. It doesn't get more authentic than this.
Roadside snacks at Malaga's Central Market
We were sweltering in the midday heat, so the cold glasses of beer and cones of deep fried squid on the pavement outside Malaga's Central Market were a god send. We also used the opportunity to enjoy a quick gawp at the various butchers, grocers and incredible amount of fresh produce in the market.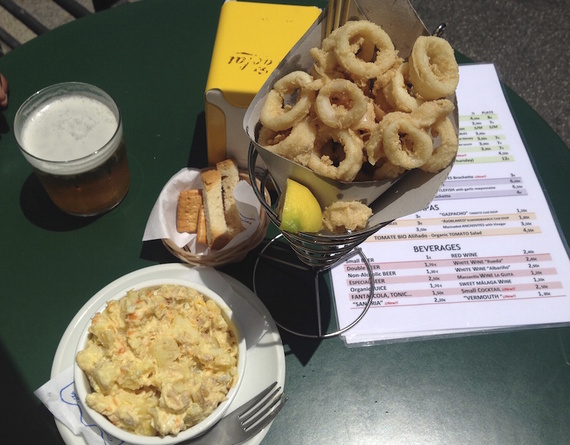 Bellies full, we made a dash for our train to the airport. The only regret was not paying to check in our bags - I'd have done a mad supermarket sweep of their amazingly cheap cava. You live, you learn.
Malaga, I'm impressed.
This post is an excerpt from Eating Our Way Around Malaga: A Foodie's Guide published on OhSoLondon.com. Read the full post here.