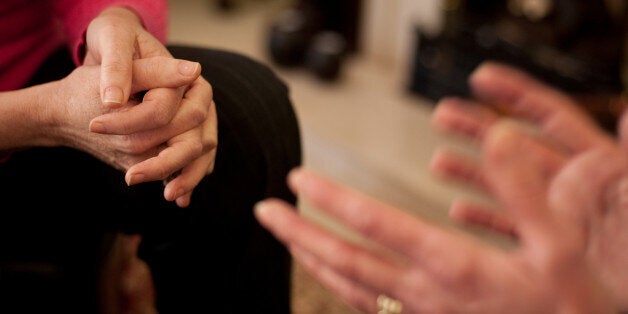 Love him or hate him, reports that Simon Cowell donated £100k to the Grenfell charity can only be met with positivity. It's the latest example of a celebrity using his or her privileged position to help others.
But what about the unsung heroes? Everyday folk who use their own money to plug a gap in public services. People like Eddie Dean from Newcastle, who used his war pension to set up a mental health charity. Given he doesn't own a hugely successful entertainment production company, I'd say his contribution, in relative terms, is at least on a par with Cowell's. But I bet you've never heard about it.
Why Eddie invested his pension into a new charity
I met Eddie recently after I was lucky enough to hear about his North East-based charity, Anxious Minds, from mental health campaigner, Denise Welch, who is also a patron of the charity.
As the owner of one seriously anxious mind myself, I knew I'd be interested in Eddie's work. But I had no idea how or why the charity came to be - and it turns out it all stems from a frustration that will be familiar to the many people sitting on NHS mental health waiting lists.
Eddie, a veteran, has PTSD and clinical depression. He was on a waiting list for therapy but was just not getting that first appointment. NHS services are squeezed, perhaps especially so in the North East, where an NHS study last year found that the region has a higher prevalence of common mental health problems than anywhere else in England.
So Eddie decided to do something about it himself. To support himself, and others like him, who were also on NHS waiting lists for mental health support. He used his war pension to launch his charity and pay for professional counsellors, community venues and an online presence to let people know about the free services on offer - with no waiting lists.
Over 400 people have since benefited from these services which include peer support groups, counselling services, online communities, self help resources, mindfulness classes and more. It's proving to be a helpful stop gap as people wait for their NHS services. In fact, it's proving so successful that some NHS trusts are referring people in where appropriate for peer support while they wait.
The most recent NHS England Five Year Forward View mental health stats show that over 10% of people referred into psychological therapies are still waiting for their first treatment appointment after six weeks. It's certainly improving, but there is still a way to go.
Natalie* has been waiting for a referral since 2015. She was barely awake for two hours each day, had been signed off work and could manage only two or three sentences before bursting into tears. Then she found Eddie and the Anxious Minds community.
Now, she has come off all medication, is preparing her return to work and is keen to train as a volunteer peer support worker for the charity. She still hasn't heard back about her NHS referral.
Natalie said: "I found Anxious Minds in desperation. I was living with a range of physical symptoms as well as problems with my rollercoaster emotions, perfectionism and my relentless ability to put myself under huge amounts of pressure at work. Because of the severity of the physical symptoms, I ended up being diagnosed with fibromyalgia. I had severe aches and pains and I ended up spending five months in bed pumped full of prescription pills".
Eventually, after undertaking her own research and discussing her situation with her GP, it was agreed that anxiety was playing a big role in her increasingly challenging health problems and she was referred for counselling.
Natalie added: "Months ticked by and I hadn't heard anything about my counselling referral so I was feeling fed up and exhausted. I noticed somebody on Facebook had 'liked' Anxious Minds so I looked at their website and decided to make contact with them. I've never looked back."
Once she had referred in, Natalie started attending peer support groups. She said: "The beauty of peer support is meeting people who have been there and who have got themselves through the bad times. It gives you hope and inspiration."
Natalie no longer feels like she needs the NHS services she was referred into. So in the long run, Eddie's investment in Anxious Minds is saving the NHS money as people are feeling better able to support themselves, and each other, through community networks.
Eddie still works for Anxious Minds on an unpaid, voluntarily basis, but he has managed to secure small grants to support the charity that uses qualified counsellors to oversee its effective group sessions. He is also now able to pay the charity's manager a small part time wage.
However, Eddie is just one of the many people who are contributing to society's health and wellbeing every single day in a myriad of ways. Think about the unsung, unpaid carers who provide a free service as they support their loved ones with much needed care and support. This is estimated to be worth £132 billion per year!
These individuals are saving public money not only by investing their own funds to run support services or provide their family with voluntary care, but by providing interventions that reduce the need for ongoing NHS support. Natalie is proof of this.
Isn't it time we acknowledged the impact of their hard work and dedication? Isn't it time we acknowledged that they created the shared society a long time ago? It's not a new thing. It's just that we rarely hear about these big impacts that everyday people make.
And importantly, isn't it time we invested at least something in the free services that these people are providing. People who, incidentally, do not have a magic money tree but who see the health and wellbeing of the people around them as a priority. After all, they are saving the government a huge amount of money in the long run.
*Name has been changed to protect anonymity