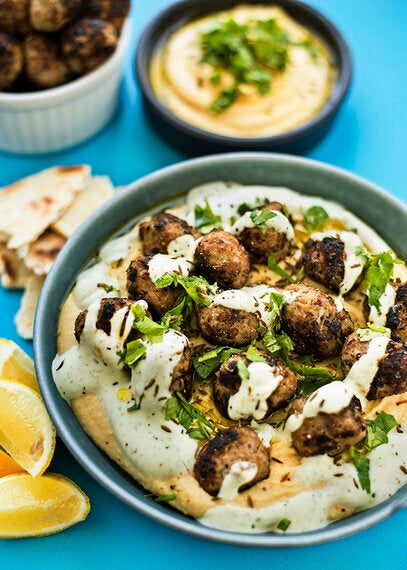 I've lived in London for most of my adult life - longer, in fact, than I lived in Athens where I grew up. I don't get nostalgic about Greece very often, but I do miss the food, especially when it's sunny. My mind wanders to the island of Skiathos and having mezedes at a favourite harbour taverna washed down with an ice-cold Amstel...
This dish brings together various elements of traditional mezedes into one lovely platter of yumminess. Fava is normally served as a dip, but here it serves as the perfect bed for these delicious garlicky meatballs. Share these with friends, preferably on a sunny day, and you'll find yourself transported to Greece, if only for a little while.
Note: I used a food processor to make the meatball mix but it can be made by hand - just chop all the ingredients until they're very small and knead them into the mince until thoroughly combined. It's a messy job, which is why a food processor is handy.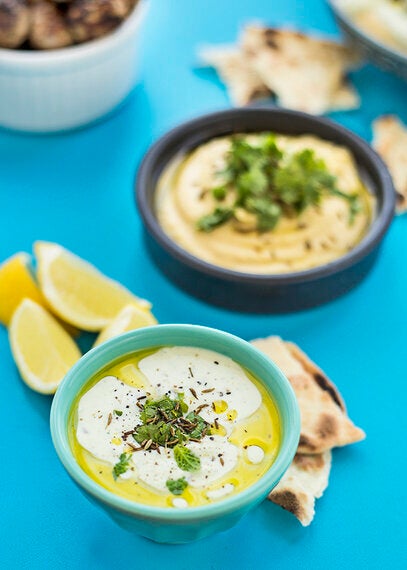 5 heaped tbsp Greek yoghurt
1 small garlic clove, minced (optional)
2 tbsp fresh mint leaves, finely chopped
3 tbsp extra virgin olive oil
Dry fry the cumin seeds in a pan over medium heat for a couple of minutes. Reserve a few to sprinkle over the finished dish.
Place all the ingredients in a mini chopper and blitz until combined or mix together by hand.
--------------------------------
250g yellow dal (yellow split peas can be used as substitute)
3 shallots, peeled and halved
4 tbsp fresh lemon juice (or to taste)
100-120ml olive oil plus more to cover
Rinse the dal with cold water, put in a medium saucepan and add plenty of water to cover by 4 cm.
Add the shallots, garlic, bay leaves and bring to the boil. If any white scum rises to the surface, skim it with a spoon and discard.
Reduce heat to a simmer and cook for 35-45 minutes, stirring occasionally and topping up with water as needed.
Remove the bay leaves and transfer the fava into a food processor. If there's a lot of cooking liquid, drain it and reserve.
Add half the quantity of olive oil, the lemon juice, salt and chilli powder and pulse until smooth. If the mixture is too dry keep adding the olive oil until you have the right consistency. You can also use some of the reserved cooking liquid instead of olive oil.
If you are storing the fava, cover the surface with a generous amount of olive oil otherwise it will dry out.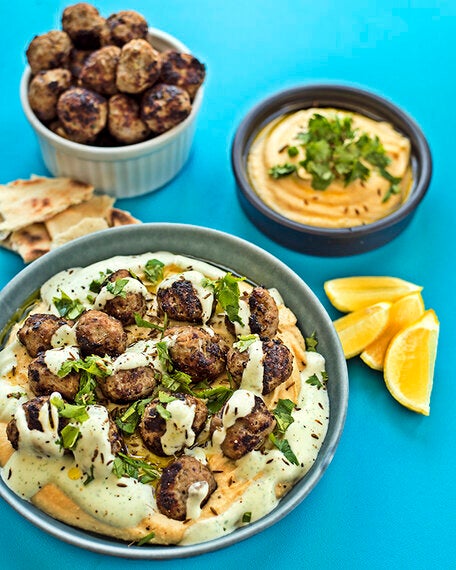 2 slices of bread soaked in milk
1-2 tbsp light olive oil for frying
Handful fresh coriander, roughly chopped, to serve
Salt and freshly ground pepper
Put the the onions, garlic, herbs and seasonings in your food processor and pulse until minced.
Squeeze the bread to get rid of most of the milk and add to the food processor together with the feta and lamb. Pulse until a paste forms.
Empty the mince into a bowl and with wet hands start forming small meatballs about the size of a walnut.
Once all the mince is used up, heat a tablespoon of oil in a large pan. Fry the meatballs in two batches for about 3 minutes on each side until browned.
Place the fava on a large plate and drizzle with olive oil. Heap the meatballs on top and drizzle with the yoghurt sauce. Scatter the coriander and a handful of the cumin seeds and season with salt and pepper. Serve with plenty of pitta bread.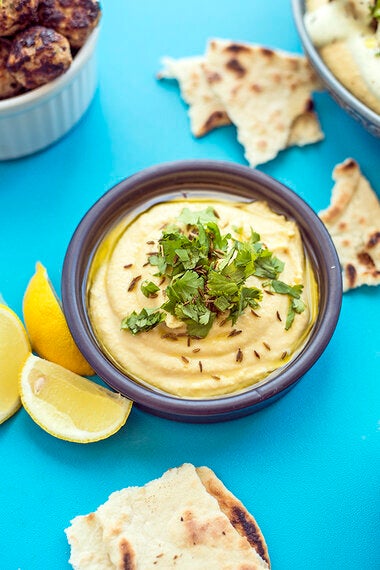 Photography ©Lucy Parissi
Related