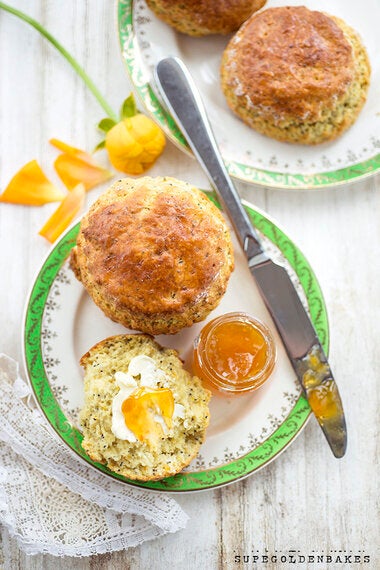 Scones are one of these fortunate recipes that yield great reward for very little effort. Both sweet and savoury scones are a doddle to make and a real joy to eat.
These orange and poppyseed scones are fragrant, slightly sweet and absolutely wonderful for breakfast or afternoon tea with a little orange or apricot jam.
50g unsalted butter, cold, cubed
1 egg beaten with 1 tbsp milk to glaze
1. Preheat the oven to 220C. Line a large tray with baking paper.
2. Put the flour, baking powder, salt, sugar, poppy seeds and orange zest in a large bowl and mix together.
3. Add the cubed butter and rub with your fingers until mix resembles coarse sand.
4. Mix the yoghurt, lemon juice and egg in a measuring jug. Add a third to the flour mixture and use a scraper (or spoon) to mix together gently. If the mixture is too dry add a little more yoghurt.
5. Dust your worktop with flour and tip the scone mix onto it. Shake off any dry excess and pat the dough into a rectangle at least 4cm (1 1/2 inch) high.
6. Use a small floured fluted cutter and with a twisting motion cut out the scones and place on the tray, spaced slightly apart.
7. Gather the dough scraps, gently pat into shape and repeat until you have used all the dough.
8. Cover the scones with cling film and rest at room temperature for half an hour (optional).
9. Glaze the scones with a little egg wash and bake for 10-18 minutes (depending on their size) until risen and golden.
10. Remove from the oven and cover with a damp tea towel for 10 minutes before serving. Split open and slather with butter and a little jam.