This week has been marked as anti-bullying week 2014. However, social media has been bombarded with hateful comments towards The Only Way is Essex celebrity, Gemma Collins.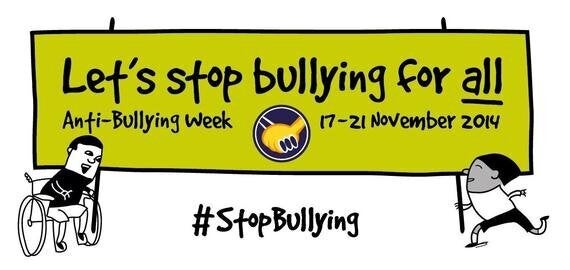 Studies carried out by The Anti-bulling Aliance show that people living with any form of disability or additional learning need are more likely to be a victim of bullying. Despite this, anyone can become a victim of bullying, and so this year's theme for anti bullying week is 'Lets Stop Bullying for All'.
Most people would agree that any form of bullying of the 'average Joe' is wrong, yet when it comes to celebrities many seem to have another view. Celebs are seen as fair game as they put themselves in the limelight. This year's anti-bullying week theme is aimed at ALL people. Including celebrities.
This will be no surprise to many, but this week Gemma Collins entered the jungle in Australia to take part in 'I'm a Celebrity, Get Me Out of Here'. Since here entrance, she has faced a social media storm onslaught.
Thousands have taken to social media to post cruel comments about her appearance.
How ironic many of those claiming to support anti-bullying week and campaign for an accepting community are openly supporting the comments aimed at Gemma Collins.
This would not be accepted in every day life, so why do we so readily accept it when hate is aimed towards a celebrity?
Is it any wonder there is such a pressure felt by members of society to look a certain way when it is so easy to make hateful comments without being held accountable for the affect they may have on an individual?
The affects of bullying do not just affect young people, but those of any age.
Whether you're willing to put yourself out there in full view of the world, or feel invisible to society, no one deserves to be made the way bully victims do.
You do not deserve to be bullied.
Think before you press send or speak.
If you are affected by anything mention in this post, or want to find more information, please contact one of the organisations below:
Anti-Bullying Alliance - Their website provides a wide range of information for victims, parents, carers. They also co-ordinate Anti Bullying Week.
Childline - Childline offers a confidential listening service where you can speak to a counsellor free of charge over the phone, or online.
Bullying UK - Offers information online, talk services and also a forum for anyone to discuss any issues related to bullying.
National Bullying Helpline - http://www.nationalbullyinghelpline.co.uk/
Related