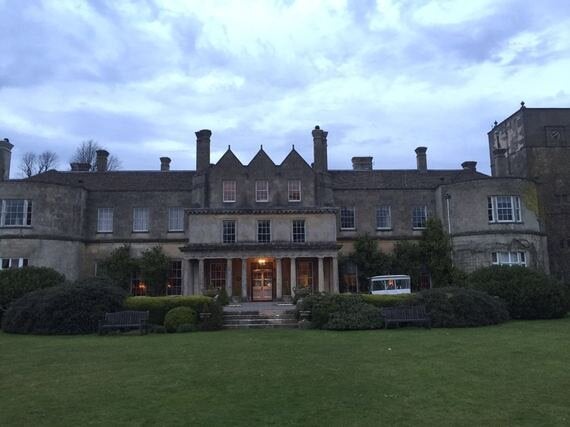 Lucknam Park (image blogger's own)
The BBC adaptation of Pride & Prejudice was a pivotal telly moment for me. I learnt that you can still be a strong sassy woman whilst obsessing over Colin Firth. Bore a lifelong love of corset-heaving period dramas. And gave me a bit of a thing about driveways.
The latter was cemented when Lizzie Bennet's carriage comes slowly round the corner at Pemberley and she catches that first glimpse of her potential inheritance flickering in the afternoon sunlight. Long before authors could titillate with sex and drugs, Jane Austin was doing it with a long driveway and a perfectly situated piece of real estate.
Lucknam Park, a five-star hotel and spa on the outskirts of Bath, might only have a mile-long drive but boy, do they know how to dress it up. We went in spring, when the tree-lined avenue was dotted with cheerful daffodils leading up to that first glimpse of the main house (build in early 1700's and a sight for sore eyes).
From here on out, ugly is not a word that exists. Everything from the entrance hall scented with mismatched bottles of wild flowers to the drawing room stuffed with tasteful antiques and posh people eating afternoon tea off them, is beautiful. Like one would expect in a country pile, the staircases sweep, which is what we do up to our first floor suite in the main house.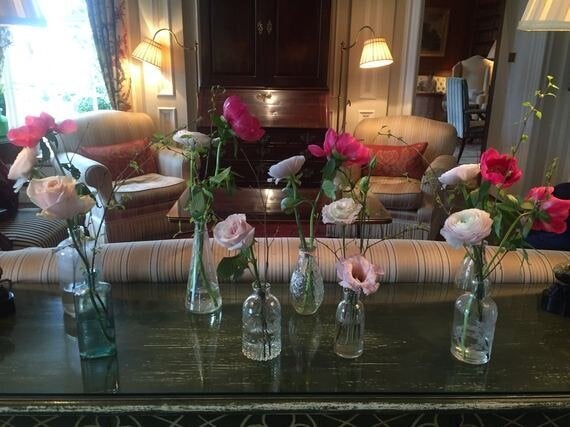 Floral displays in reception (image blogger's own)
There's a richly-dressed double bed with curtained headboard, a huge telly, a writing desk, a separate dressing room and the most-marbled bathroom I've ever seen. Some hotels have jaw-droppingly impressive public rooms but lose their luster once you get to the bedroom part. Here, the plush carpet keeps on rolling. It's so impressive, me and my friend chuck on our fluffy robes at speed and start instagramming the shit out of everything.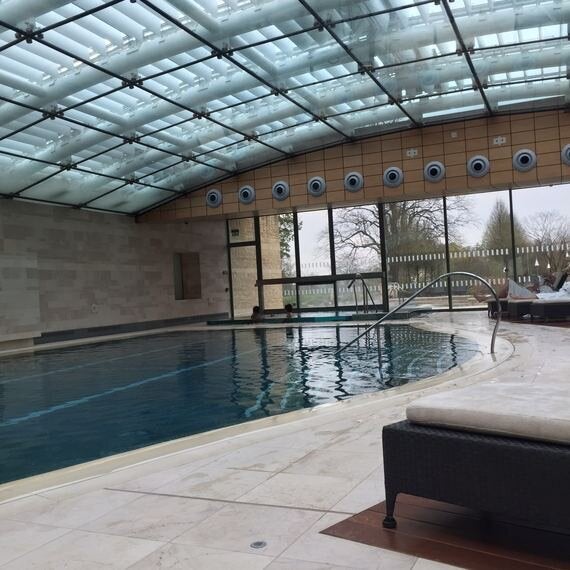 The Spa (image blogger's own)
After a social-media-hysteria-calming champagne, we head to Lucknam Park's spa, accessed through the the hotel's pretty courtyard. For many this is a huge part of the appeal, with list of body polishes and seaweed body envelopment's enough to make any Mother's Day/Hen Party package truly special. Our budget doesn't quite stretch a 'gold perfect face & body' treatment, so we settle with an afternoon of floating between the indoor/outdoor heated hydrotherapy pool which overlooks Lucknam Park's various acres; and various hot rooms (Japanese Salt, Amethyst, Aromatic Steam, Sauna and Tepidarium).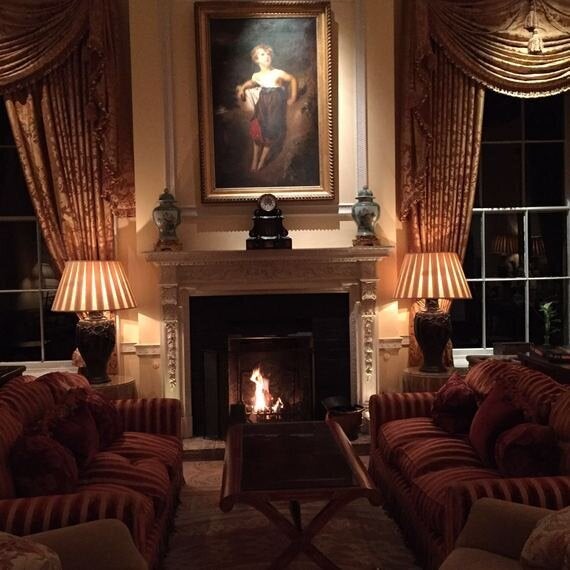 The Drawing Room (image blogger's own)
Blissed out and ready for the type of refined French-inspired cuisine that uses butter as its main ingredient, we head for dinner at The Park restaurant. Another draw of Lucknam Park is Executive Chef, Hywel Jones, who has held a Michelin-Star here since 2006, winning Hotel Chef of the Year in November 2007 with his mostly organic menu sourced from local suppliers.
As you'd expect from this calibre of restaurant, tables are dressed to the nines and service is silver as can be. Small touches such as potted herbs on the tables and a rowdy group of business-types celebrating the end of a conference with endless Châteauneuf-du-Pape, thankfully prevent any of the dreaded stuffiness often found in hotel establishments.
The Park Restaurant (image blogger's own)
Butter consumption starts early, with a perfect basket of freshly-baked bread we smear with the yellow stuff long before our starters arrive. Of course, my velouté of leeks and new potatoes is positively dripping in it too, which, along with a perfectly runny-yolked quails egg, makes for a gloriously fattening kicking off point. Marginally less indulgent but equally beguiling are my companion's Scottish diver scallops with carrot puree and spiced pork croquette, cleverly cut through with a raisin and caper vinaigrette.
Next a fat disk of Roundway Hill pork belly, glistening in a meaty cider glazed gravy and served with a sliver of pan fried foie gras and two golden halves of caramelised apple. Never one to veer away from a challenge, I order the mash. True to form, it's more butter than potato and will remain clogged in both my memory and arteries forever. A crisp-edged filled of seabass comes with a maple glazed chicken wing, celeriac risotto, wild mushrooms and confit baby onions.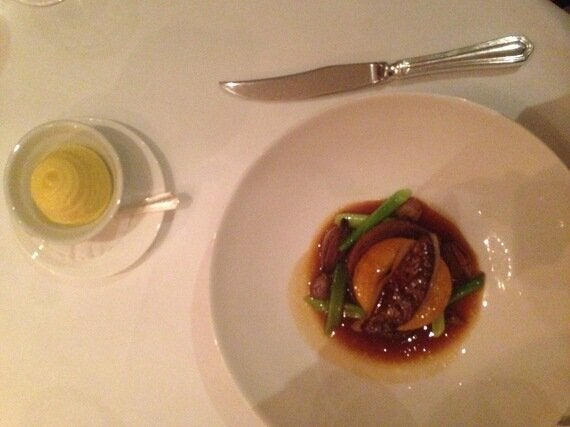 Slow Roast Belly of Roundway Hill Pork (image blogger's own)
Puddings hit a final high note. First a 'chocolate bar' far more complex than the name suggests with layers of paper thin dark chocolate filled with an air light mousse, crunches of honey roast peanut, glazed banana and salted caramel ice cream. And a croustillant of roast pineapple with rum and raisin parfait, pineapple sorbet and macadamia nut caramel which should be cloying in the wrong hands but is anything but in the right ones.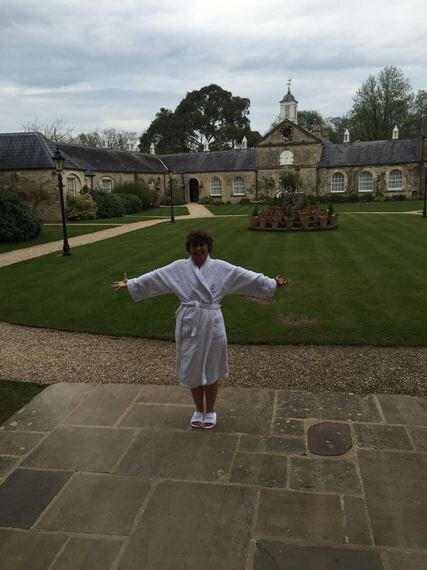 Social media tomfoolery.. (image blogger's own)
Before we check out the next day, we manage a five mile walk in the surrounding countryside, a breakfast of thick local bacon sandwiches and as many smug social media posts as we can muster. As our taxi draws away, I imagine I'm Lizzie departing in an Edwardian carriage, taking a last wistful look at Mr Darcy's family home. Then the taxi driver explains, due to hotel rules, cars can't exit down the main driveway and has to go round the side entrance.
I'm back to reality, but at least I know if I want to get away from it again, Lucknam Park is just few hours (train) ride away...