Once an escape from LA favoured by the likes of Frank Sinatra and Marilyn Monroe, the desert city of Palm Springs has been somewhat overshadowed of late by the painfully hip Coachella festival nearby.
Don't be fooled though, Palm Springs, which is situated in Coachella Valley, isn't a reprieve from LA's heat; in fact it's hotter, but it's a dry bearable heat which you can soak up lounging by your hotel pool or ascending into the mountains.
We stayed at the Hyatt; the city's only all-suite hotel. Don't expect modcons and glamour, it's old school desert-style decor. Orange interiors and huge open indoor spaces do have a slight conference centre feel but the room views alone are worth writing home about. We were dwarfed by the San Jacinto Mountains and overlooked a stunning golf course.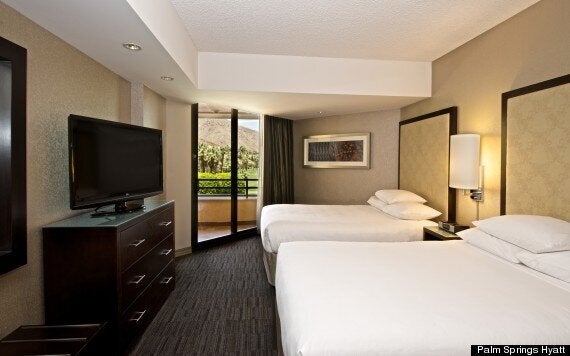 A double suite: The mountains make for imposing scenery
And if the views don't blow you away, then the food will. We ate in the restaurant and had an eye-rollingly good pork chop with chorizo and prunes along with the filet mignon - cooked to perfection and deliciously rich. Both were served with straight up no fuss potatoes and veg, and, set off by a tangy frozen margherita, and were just the tonic for hungry travellers.
Nothing was too much for the staff, who were overwhelmingly accommodating and gracious, and really made the hotel into something special.
If the relaxing by the pool or plunging into the whirlpool aren't enough for you, then escape the heat by heading up 8,000ft into the rugged Chino Canyon in an aerial tramway. It's the world's largest revolving cable car and an experience you'll never forget.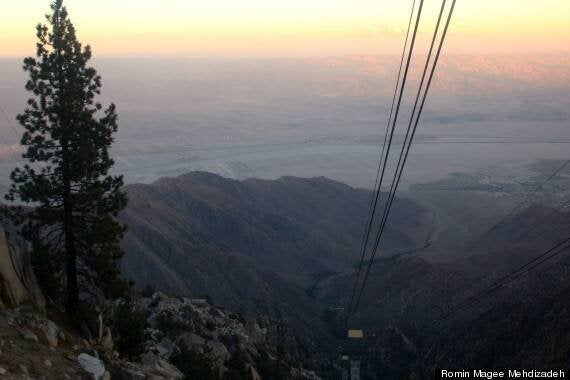 The gorgeous view - and being thousands of feet up - can leave you slightly light-headed
It takes around 10 minutes to complete the 2.5 mile ride up to the top, passing through several climates and sometimes dropping as much as 30 degrees.
Once you've reached the top, you can soak up the views - or you can set off on one of the many beautiful hiking trails.
If you time it right, you can catch the sun setting over the mountain peaks and casting its pinky glow over the desert. The food served in the cafe may remind you of your school canteen days, but is actually very good - and incredibly cheap to match.
Palm Springs is home to the oldest wind farm in the United States - San Gorgonio Wind Park, which boasts 2,700 of them.
Not that you could miss them, but the wind turbines can't fully be appreciated until you've driven up close to them.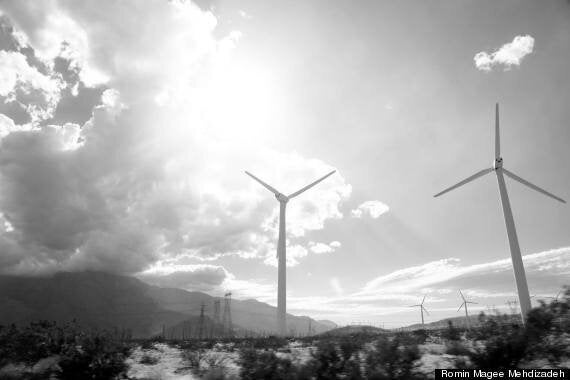 Rows and rows of majestic whirring giants, you can even jump out and wander among them on a guided tour - just make sure you hold onto your hat.
Even if you're not an aeroplane buff, the Palm Springs Air Museum is well worth a visit. Dedicated to the preservation of World War Two aircraft, it's one of the world's largest collections of flyable WWII planess, and many of the museum's guides are war veterans.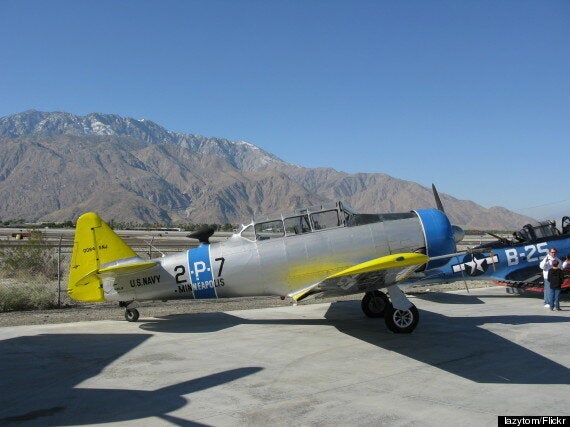 They're proud to display their exhibits with no ropes surrounding them - meaning the public are free to interact with the planes. A number of aircraft are also open for tours.
Another great day trip is Joshua Park. Make sure to pack your comfy trainers as there's so many off the beaten tracks to explore. Abandoned gold mines, homesteads and mind bogglingly-shaped rocks, it's seeped in history.

A moody sky over Joshua Park
On especially clear days, which are rare, the vista from Keys View extends past the Salton Sea and to Mexico.
Palm Springs also offers up hotels for the hedonistic holidaymaker, such as the Riviera, but if you're looking for bad music and loud crowds around a pool, then you may as well head to Vegas. The calm and chilled vibe is what I loved about both the city and the Hyatt; there's no pressure to party but plenty of time to wine and dine.
Take a stroll down the main strip, which the Hyatt is handily located on, and soak up the evening atmosphere, or meet the locals at the Thursday street market, which offers food, live music and good times.
Unless you're a golf fanatic you might not want to stay more than a few days in Palm Springs, but it's well worth the round trip from LA. And, if it was good enough for The Rat Pack, it's sure as hell good enough for me.