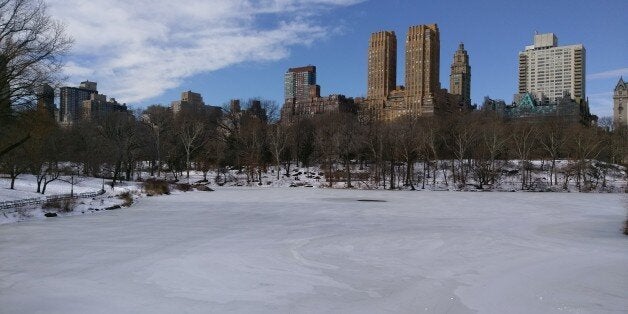 As I established in my first New York winter instalment, the city is even more stunning with a crisp frost, emptier streets and the added bonus of cosying up in your hotel when it's freezing cold outside.
As luck would have it, the city's second worst ever snowstorm hit the day I arrived in New York, so we had the chance of seeing the city two feet deep in snow, and strolling down Broadway without a car in sight - and few other people, either.
So, just in case you needed a little more persuading, here's a few more reasons to visit one of the most famous cities on earth during the out of tourist season.
Ice skating at Bryant Park:
The ice rink is still in full throes in late January, unlike in Britain where any signs of Christmas are taken down shortly after New Year. Whether you're taking to the ice or enjoying a mug of hot chocolate around the outside of the rink and indulging in some schadenfreude, the park is a beautiful spot to spend a few hours, especially as the trees are decked out in fairy lights.
Head to Brooklyn to catch the basketball: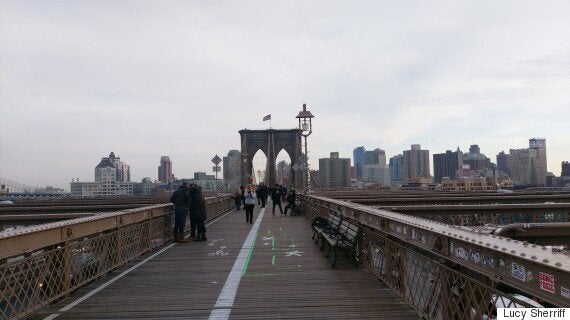 The walk from Wall Street to Brooklyn isn't exactly a gentle stroll, but it's well worth the achey feet. The route takes you over the Brooklyn Bridge, a majestic feat of engineering which provides a panoramic view of the downtown skyline. Unsurprisingly, its a lot less crowded during the winter months than it is at summer. It's pretty blustery up there though, so wrap up warm.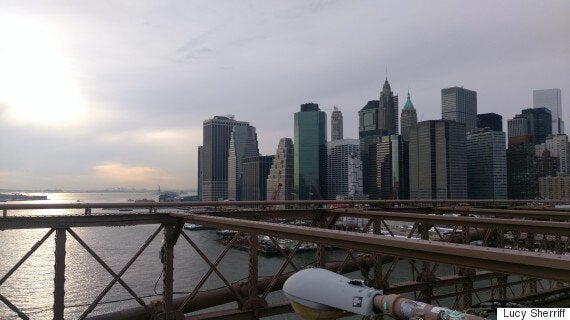 A view of Wall Street from the bridge
Once you're the other side, head on over to the Barclays Center, an all-purpose sports arena built in 2012. The atmosphere at a Brooklyn Nets game is fantastic; even though the team isn't particularly well ranked, they've got the crowd behind them, and that more than makes up for it.
Pretend you're in the Great Gatsby:
No film or literature lover can visit New York without spending at least one evening sipping on cocktails at The Plaza's lavish Palm Court. After all, if it was good enough for F Scott Fitzgerald to write into The Great Gatsby then it's sure as hell good enough for anyone else.
The iconic restaurant - which can't be altered without permission from the City Council, although to be honest, who'd want to change it anyway - has just started serving up an evening cocktail menu, so residents can opt to drink in the light, airy, elegant room over the darker, more opulent Rose Club.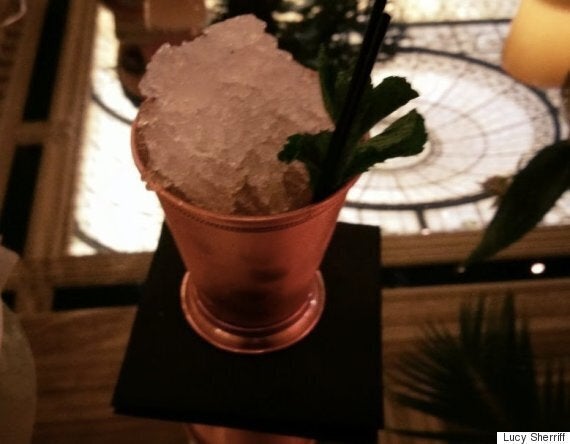 The room is adorned with caning, large potted plants, four soaring palm trees and an oval trellised bar as the centrepiece. But far from feeling stuffy and haughty, the Palm Court has a relaxed, laid-back ambience, reflected by its friendly, smiling bar staff.
When it comes to cocktails, the tipple of choice has to be the Gatsby Mint Julep, so named after Fitzgerald's character Daisy proposes having a "mint julep" at the hotel. A fresh, heady mix of bourbon, lime juice and topped with a cognac float, it's a classy drink with a kick. After one with more of a bite? Opt for the House Cider Rules; a fruity, powerful combination of tequila, agave nectar and fresh apple cider. If you're peckish, go for The 768, a platter of crudités, with the essential American twist - wings, meatballs and yukon gold potato chips.
Chow down on some New York pizza:
Or "pies", to use the correct term. There's nothing quite as satisfying as hunkering down in a traditional pizzeria and tucking into a pie fresh out of the oven.
John's Pizzeria on Bleecker St does pizza the way it should be - crisp, thin base, oozing with cheese, and whatever toppings you want on it. They don't let you order it by the slice, either, so make sure you've worked up an appetite first. Oh, and order a cream soda with your pie.
John's was founded in 1929 by an Italian immigrant, so it's the real deal. They only take cash, and they don't take reservations, so heading there in the off-peak season is your best chance of getting a seat in one of the old, wooden booths, and admiring all the signed sports memorabilia they've got hanging from the dark red graffitied walls.
Visit One World Trade Center: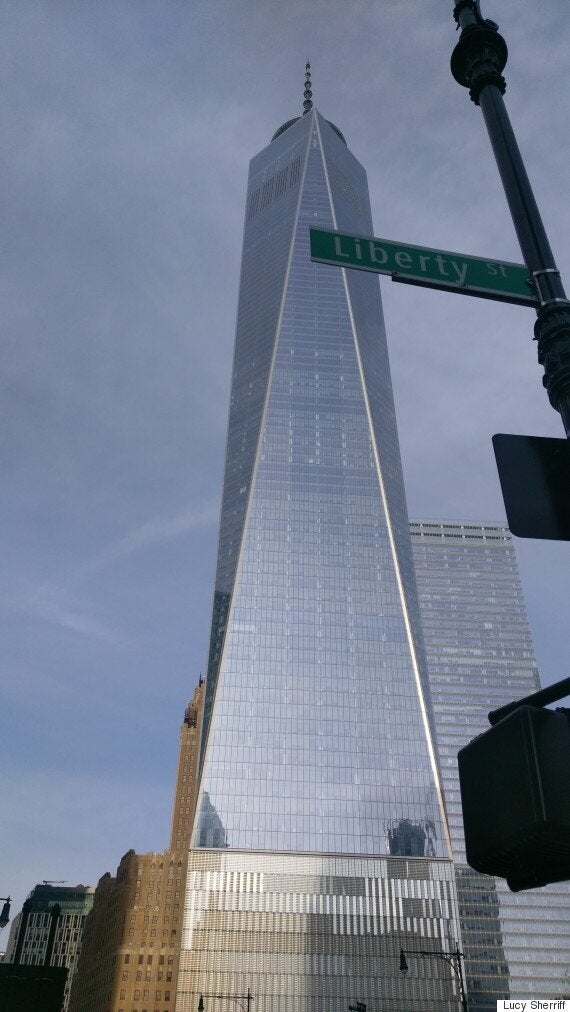 If you haven't seen the building, which is the sixth tallest in the world, then you really do need to. It's not necessarily a pleasant experience, but just the size of the office block is awe-inspiring. The 9/11 memorials, located next to the center, are incredibly evocative. The sheer scale of the memorials, as well as the number of names inscribed around the edges, is a humbling moment. Don't go to take a picture - as many other tourists have a habit of doing - just go to pay your respects.
Hunker down at the WestHouse Hotel:
The WestHouse is easily the kind of hotel you could forget to leave. Inspired by the private clubs of the 1920s and 30s, the hotel serves a cold continental-style breakfast, tea and biscuits, and crudités and light snacks at dinner time, as well as an open bar between five and 11pm. There is a residents' fee - $35 per night, per adult - which can really add up, but if you take advantage of all the benefits it provides then you'll find you can save money on buying food and drink out.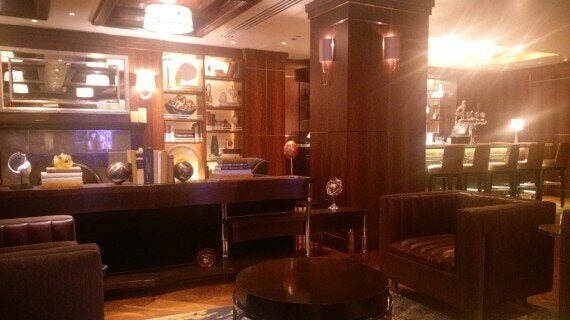 The speakeasy-style bar area
The hotel has a residents-only living room, which, when the candles are lit and the lights dimmed, feels super cosy and inviting in the winter. There's a fantastic intimate atmosphere in the evening, when all the guests get together to unwind after a long day, or have a tipple before heading out. The only disadvantage of heading there in the winter is the Terrace being closed - although you can still breakfast and have high tea in the luxurious, low ceilinged terrace room.
The rooms are spacious, light and modern, although with a throwback nod to an art deco townhouse, and a beautiful, albeit compact, marbled bathroom. With views of the city's skyscrapers and rooftops, you'll feel right in the middle of the action - without hearing any of the street noise. If you want to pretend you're a New Yorker living in an exclusive residential block, then this is the place for you.
This place doesn't come cheap. But it's well worth forking out for the weird and wonderful creations. Tuck into a $4 "bagel bomb", bagel dough filled with smoky bacon scallion cream cheese; a pricey $6 "volcano bomb", potato gratin, caramelised onions, bacon and gruyere cheese encased in dough; slurp down a cereal milk milkshake (yes, it does taste like the milk you get at the bottom of a cereal bowl), and rot your teeth with the "crack pie" - presumably named because it is so sweet, so buttery, that you'll crave more, even though you risk death by sugar if you have another slice.
Go all out and stay at The Plaza:
The Plaza is a fairytale hotel. Situated on the corner of Central Park, the century-old hotel has a castle-like exterior, with bright green copper roofing and a red carpet entrance. It is pure extravagance. The Louis XIV-style rooms come complete with a butler, although you won't get a Central Park view - unless you stay in one of the suites - and even then it's not guaranteed.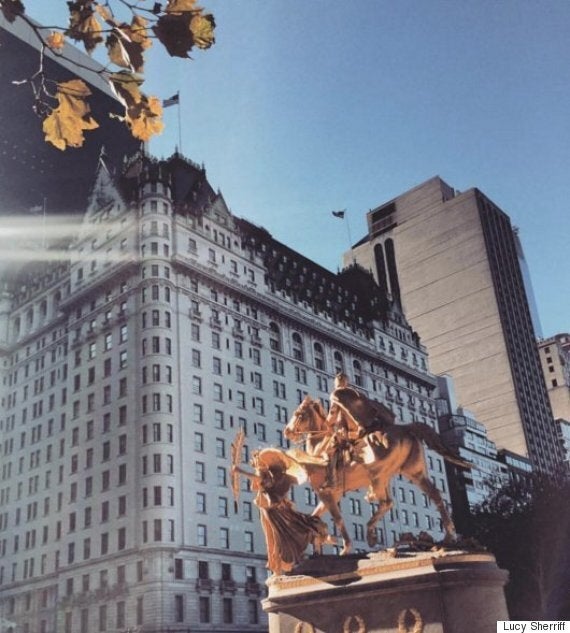 The bathroom in the room is one of the best things about the hotel. A bath so deep you can barely see over the edge, a heated floor tiled with intricate mosaic, marble topped everything, mother of pearl trinkets, gold plated fixtures, beautiful antique-style mirrors, and gorgeous double doors veiled with an ivory gauze with Plaza-embossed doorknobs.
The room was equally opulent. Velveteen armchairs with a marble die table, an imposing chandelier, gorgeous antique cabinets with gold embossed detail and a beautiful writing desk. Although there was a terrace, there was no view - it backed onto another building.
The huge beds were swathed in Italian sheets, while guests can request a range of pillows, including lavender, buckwheat and Tempur.
Unsurprisingly, the Plaza plays host to throngs of tourists who come to catch a glimpse of the legendary hotel; luckily they're not allowed any further than the lobby - the restaurants and bars are for guests only, so it still retains a sense of exclusivity.
Although a stay at the Plaza doesn't come cheap, it's worth it for a once in a lifetime experience.