Society and sport have long been linked together, with trends from one area of sport often making the leap into mainstream living and a lot of the time crossing over with fashion and lifestyle into more of a healthy living choice than an on-off interest.
Football is clearly the national sport, with it being the most popular and most played sport on the planet. However, one problem you've got with taking part it that you need a fair few people to play, let alone play successfully. After finding friends who are willing enough to play the sport, you've got to both plan and pay for the event, with the chance of 10+ mates being available at one time less likely than an England World Cup victory.
Where football falls down on the reliance of others to help you play an hour of sport a few times a month, individual sports and hobbies are often a little easier to play. Tennis, badminton and squash are all sports that you can play and get fairly good at in a quick space of time. It's easy to pick up a squash racket and a ball and learn the basic rules in the space of one game. The cost associated isn't much either, but then again, racket sports aren't always as easy to find other players for and besides, they're much less popular. So again, you've got a bit of trouble.
In the year 2000, British cycling wasn't a mainstay on the map of sporting heroics. During the Olympics in Sydney that year, Team GB won 1 gold medal. Compared to our haul over recent years, this is a small fish in a huge ocean. This medal - Jason Queally in the Kilo event - is actually no longer on the Olympic roster for cycling, having made way for BMX post-2004 Olympics. However, it was what happened in the silver medal race for Team Sprint that set the cogs in motion for nearly two decades of British cycling excellence. These small fish developed into almighty catches.
A young Sir Chris Hoy, competing in his first Olympics, was part of the three-man team that secured a medal in the Team Sprint that would be the start of his dominance and encourage the riders we see today such as Jason Kenny, Laura Kenny and Owain Doull to chase their dreams. It's hard to emphasise properly the exact influence this Olympic Games had on the future of cycling in this country.
"I think a lot of the young riders coming through now - and even people who started to do well in Rio are probably inspired by the Hoys and the Jason Queally's of the world" said Olympic champion Ed Clancy. "It tends to pull more and more people into the sport, that and the fact that everyone knows that British Cycling is a great medal factory if you like - success is breeding success."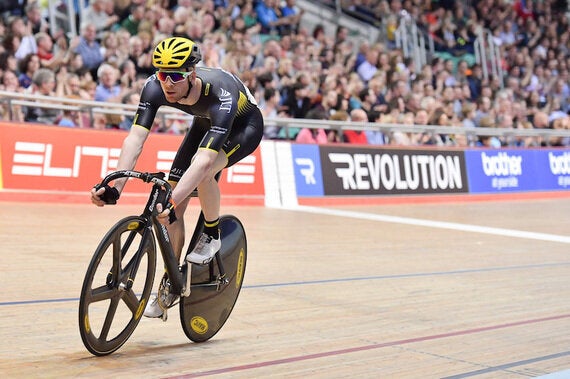 Following such an excellent display in the Olympics, we have seen an enthusiasm for road cycling from the general public, with more people enjoying taking the bike on the road - something which can be done alone or with a partner and needs no real, prior planning.
"I guess it just needs one person in the family, like there's a 50 year old bloke that's riding his bike on a Sunday with his mates and before you know it he's roping in all his other mates and then that filters down to his sons and his daughters and the whole family" said Clancy. "It's not just inspired sport, it's inspired people just getting a commuting bike to get in and out of work and save a bit of money, dodge the credit crunch, save on fuel bills whatever- it's just the go-to now!"
Following the excitement and popularity of cycling across the past 16 years, new formats of cycling competition have come about, one of which being Revolution Series cycling, of whose grand final takes place this weekend in London.
Revolution is all that you have come to expect from Britain's darling. Entertaining, thrilling and family-friendly, it's a show for the whole family, as James Pope, CEO OF FACE Partnership, in conjunction with Revolution, can vouch for:
"For us, it is really important that the fans can get close and meet their heroes - this is one of the reasons we created the track centre lounge area at Revolution. Olympic Champions like Ed Clancy and Laura Kenny are meters away and happy to chat and sign autographs. It's been really important for us to attract a family audience which is why we also host an afternoon race session on the Saturday which attracts more families than the evening session."
The aim of Revolution, the biggest league format cycling competition in the world is simple. "Our aim is to transform track cycling in a major world sport" said Pope, and it's easy to see this becoming reality. With star riders and easy access, coupled with approachable and thrilling races, Revolution is as exciting off the track as it is on it. Starting in 2003, their audience has grown from 10,000 to 40,000 and keeps getting bigger. They aim to have 4 leagues across the world, all feeding into the Cycling Champions League final where the best riders compete for the biggest annual track honours.
Revolution is taking advantage of the growing population of cycling across the board on Britain but the fact is competitions like this are going to help continue to grow the sport and inspire generations to come, and hopefully cement the long-term success of the sport in GB. "Riders like Laura Kenny, in particular, are a massive inspiration - I have heard many young female cyclists say she was the inspiration for them to get into cycling" spoke Pope, and hearing their children speak of professional athletes in glowing terms will only push parents on to bring them to events such as Revolution, which in turn inspires and excites the whole family and keeps the cogs moving.
We're lucky to have the funding and the talent in this country, but it's the people who make the sport what it is. Nationwide events such as Revolution will keep interest growing for years to come. And be it Laura Kenny or Ed Clancy, seeing stars up close and personal will only serve to light the spark of generations that follow.
The final round of the Revolution Champions League takes place from 2-3 December at Lee Valley VeloPark, London. For more information, visit www.cyclingrevolution.com