It's coming up to one year since opening Luke's Dining Room at Sanctum on The Green in Cookham Dean, Berkshire. On March 7th we are set to celebrate with some of our most valued customers and suppliers that have helped make Luke's Dining Room the success that it is.
Over the past year I've been doing a lot of filming. I appeared on Junior Master Chef late last year where I hosted the semi finals in my restaurant and this year I represent Wales in Comic Relief's Great British Menu - you can catch me on BBC 2 at 7.30pm all week from 18th March. I also filmed a BBC3 Documentary all about my first year as Head Chef in the industry, at the moment that's looking likely to air on 9th May. Look out for me!
The ball has started rolling for my first recipe book (out late 2013), I'm trying out new things all the time and am really excited about getting all my ideas out there on paper for all to see. At the moment I seem to be most praised for my scallops since positive reviews from such journalists as The Observer's Jay Rayner and Daily Telegraph's Zoe Williams. It's certainly a dish I enjoy creating and serving, and it's one I'd love to share with you so you can recreate the magic at home.
Roast Scallops with Mussel Curry

Serves 2

4 scallops, 1 tbsp butter, 1 tbsp olive oil

500g Mussels, small glass of white wine

1 garlic clove, finely chopped

1 shallot, finely chopped

1 carrot, finely chopped

1 tbsp curry powder

½ tin coconut milk

Handful of spinach
Heat a large saucepan, add the mussels and white wine. Cover with a lid and leave to cook until the mussels open. Strain the liquor and pick the mussels. Discard any that do not open.
Heat a frying pan on a medium heat and add 1 tablespoon of olive oil
Add the garlic, shallot, carrot and curry powder and sweat until tender. Fry for around 5 minutes, stirring continuously to roast the spices. Now add the mussel stock and reduce by half. Then to finish add the coconut milk, picked mussels and spinach. Bring to the boil and cook for a further 5 minutes.
Finally cook the scallops. Heat a frying pan; add 1 tablespoon of oil and add the scallops. Leave for a couple of minutes to colour, then add the butter. Take the pan off the heat and leave to rest.
To serve, place a good amount of the curry on the bottom of the plate and then sit the scallops on top. Enjoy !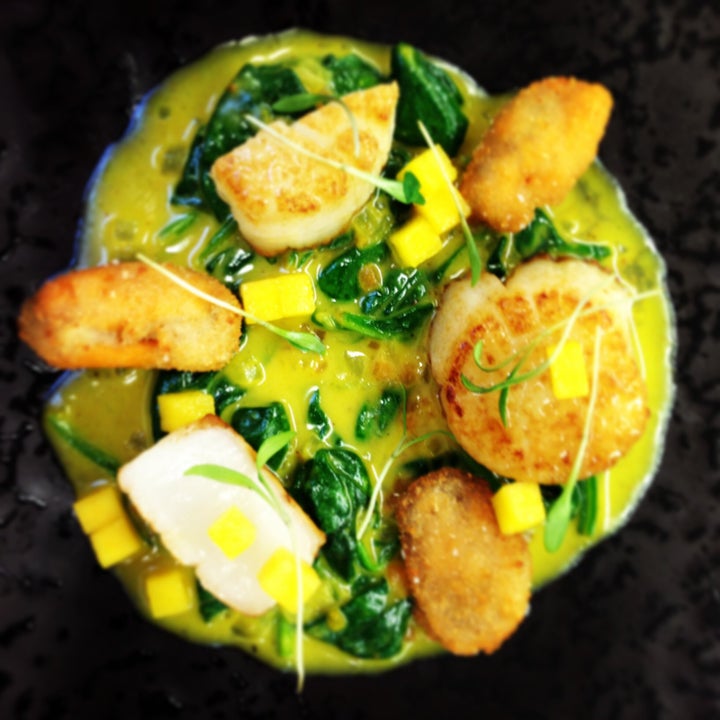 To ring in Luke's Dining Room's first anniversary I have had one of the busiest and most exciting week's to date. On Monday I spent the day writing all of the new menus for the restaurant, launching in March. I also attended a 21st birthday party at Cruise in Chester, finished at 6am Tuesday morning and my alarm went off at 9am to get collected from home to head to Liverpool Airport! I spent the day in Barcelona; lunch at a 2 Michelin stared restaurant Cinc Sentits which was a 9 course tasting menu with paired wine then strolled around Barcelona, plenty of shopping and then headed to another restaurant called 41 degrees. It's one of the world's most talked about restaurants, 41 courses with paired wines and the most amazing cocktails. As a result we were sat at the table for 4 1/2 hours and there was a HUGE bill at the end but so worth the journey. After being lucky enough to eat all over the world, this was probably my favourite meal to date! A few hours sleep and I was back up and heading to Barcelona Airport to get back to London.
This year I was lucky enough to be given tickets to The Brit Awards and it was, well, amazing! I took a boat over to the O2, arrived and headed straight for the champagne bar. Before enjoying the most amazing show, Emile Sande was by far the favourite performance for me. I also secretly enjoyed One Direction but don't tell anyone! I attended the after party before heading to Embassy Mayfair, said hello to a few recognisable faces, including Joey Essex and sister Francesca, and of course Mark Fuller. A couple of drinks later I then headed to Mahiki and Aura night clubs in Mayfair. It was a great evening and one I won't forget quickly. As a result Thursday was not too productive due to a pretty awful hangover (!), but I was back behind the stoves at Luke's Dining Room.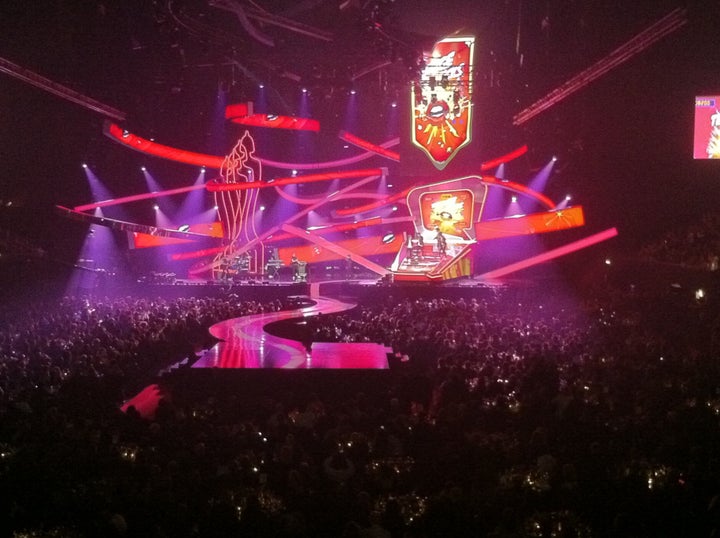 On Saturday we hosted an exclusive wedding for 40 VIP guests. We had a collection of Heston Blumenthal's development chefs as the guests so pressure was certainly on. We created 3 courses but the star of the show was certainly the Dessert Table 'like a kid in a sweet shop' which consisted of 6 desserts and a collection of childhood favourite sweets.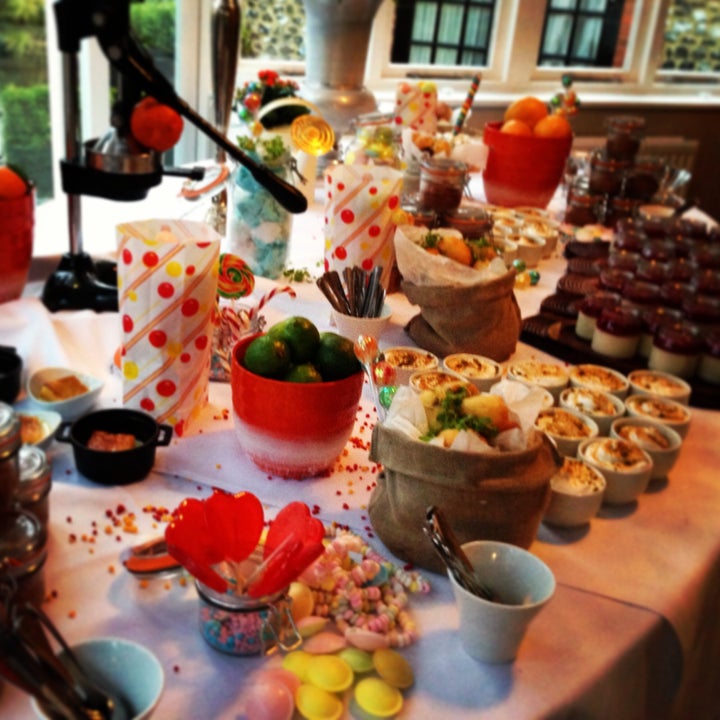 The delectable dessert table we created
Sunday lunch was packed out as usual and afterwards I headed home to Chester to relax for the evening after what was a pretty chaotic week, but well worth it...long may it continue.