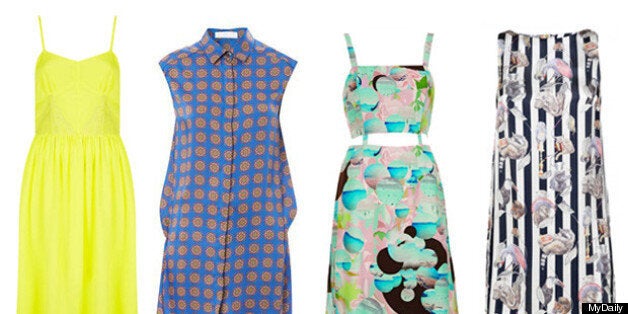 The pinnacle of anxiety when shopping for summer clothes, I have found, is the issue of sleeves. Short, long, spaghetti or strap, there is a lengthy list of what the desired arm coverage is. My current concern, though, is that the UK is in the middle of a heatwave. It is boiling and according to the BBC forecast, it is going to be boiling until the end of time. Foundation-meltingly, dress-stickingly hot. Sleepless nights will continue to be recurrent and there will a chronic shortage of Argos electric fans. My tights are destined to be buried under a layer of dust in my drawer (I have accidentally wore them twice and almost croaked it on Oxford Street, after misjudging a cloudy morning).
There are dozens of articles dictating what length our sleeves should be. Number one rule is to avoid thin straps - lest we look like a Christmas ham wrapped in string. Spaghetti straps might not be the most flattering of sleeve lengths, but really, they're not so bad. It's 500 degrees for goodness sake! We shouldn't really be wearing clothes at all, but social convention says otherwise. One way to make thin straps more wearable is on a maxi dress. Revealing your arms and shoulders feels less traumatic if everything else is under wraps. So leave spaghetti straps alone, I say. They look better than sweat patches.
With the exception of sheer - good for sun-sensitive skins and those who are uncomfortable with their arms - long sleeves carry the risk of spontaneous combustion in this heat. Practical, yes, but I am wary of chiffon. Kaftans have their time and place, but too much boho can look a bit... Gandalf. There is nothing cool about a wizard sleeve on a mere mortal.
My favourite length at the moment is the simple T-shirt sleeve. Not too short, not too long - it is very wearable in this mildly punishing weather and always looks stylish. Think tea dresses and smart, structured T-shirts. Just remember to keep it loose and you're onto something. A tight-fitting sleeve will leave you excavating material out of your armpits all day. They are pure evil in this heat and I am fully supportive of them being cut up, burnt or flung over the moon. Extremely uncomfortable, fiddly and sweat-inducing; it would be more productive to cut a hole in the top of a marquee and wear that instead.