For one, fleeting week, the sun came out and it was the height of the British summer. In a flurry of sun, cider and sunglasses, the public stripped-off and it was all naked knees and strappy sandals. I love summer and enjoy giving my poor, bobbly old tights a rest, but with the heat arises a problem - the dilemma of workwear.
It's more difficult than you might think to find a happy medium between keeping cool and looking office-appropriate. Suddenly, I'm hotter than the surface of the sun in my pencil-skirt-and-jumper combination that I relied on until May, and I'm forced to find a suitable alternative, lest I give in to heat rash. But in the glory of the Mediterranean sunshine, I forget that it's Britain and in traditional, peculiar British fashion, the heat turns into apocalyptic rain within minutes. Call it blind optimism, but I'm certain that there will be another brief moment of lovely weather - and I want to be prepared.
The pencil skirt is always a strong contender in the office style stakes, but having hibernated in mine for most of this year, I want to find a new go-to piece. The British high street is awash with lovely summery bits and pieces, from summer dresses to denim shorts, but none of it is quite suitable for work. For one, tiny shorts in the office are a no-go, unless you work on a beach. Floaty dresses keep you cool and look pretty, but it's hard not to reveal all if the wind picks up.
On a side note, there's an abundance of cropped tops around at the moment, much to my dismay. They look great on some people, but being neither brave, nor five, I find them impractically revealing. And of course, if I turned up to work in a crop top I would be shooed out of the building.
It's not all about high street trends either, of course. I know I'm too faint-hearted for tiny tops and if I'm going to spend money on an outfit, I want to actually like it and wear it for more than one season. Jeans are always an option, but if you work in an officy-office, then they might not be suitable (and either impractically warm or as heavy as anvils in the rain). So, all in all, I'm yet to find a work outfit that is a no brainer in the morning, when I'm at my most vulnerable to selecting a bizarre, back-of-the-wardrobe item - like my polka dot jumpsuit. I want something nice, smart and suitable for the erratic British weather.
So, finally, what is the answer? For me, at least, it's this Zara printed dress. Spotted on a lunch break, I fell in love with it. The bright, floral pattern is summery, it's neither too warm nor too cold, and it's structured enough to withstand rain, hail and whatever else comes our way. Bear your legs in the heat, or don trusty opaques and boots if the weather turns biblical.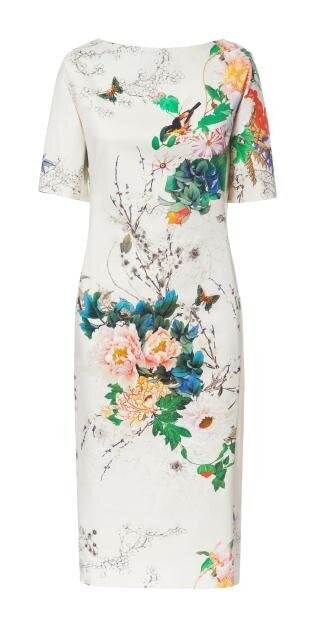 Printed Dress, £49.99, available from Zara.com
Related