"Bedankt, for the Jenever!" I crowed, thanking our Viking River Cruise tour guide, Dewi. She had provided me with... well... perhaps just one too many of this gorgeous gin spirit popular in Holland. I was at the Heffer Cafe, an historic establishment (sans cannibis smoking) in the ancient section of Amsterdam. We had just completed an impromptu chilly night tour of the city's canals, local sights and 16th centuries buildings. This included seeing the Oude Kerk, the oldest church and building in Amsterdam, and many other famous sights of the capital of the Netherlands including the immense parking garage for bicycles.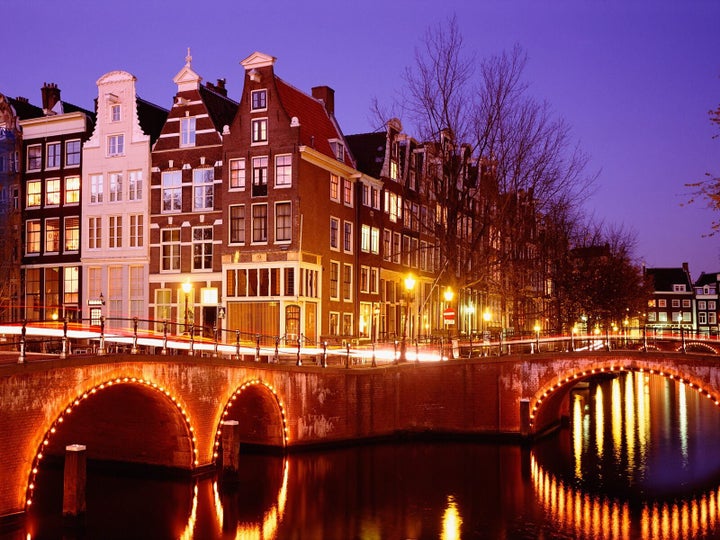 Amsterdam's Canals at Night
It is the evening before a very historic occasion. I am going to be present at the christening ceremony the next day of ten new Viking River Cruise Longships. The christening of ships, whether with elaborate ceremonies or otherwise, has been going on for time immemorial and at least since the Egyptian Pharoahs. And this is particularly special as it will be a world record for number of ships named by one company in one day.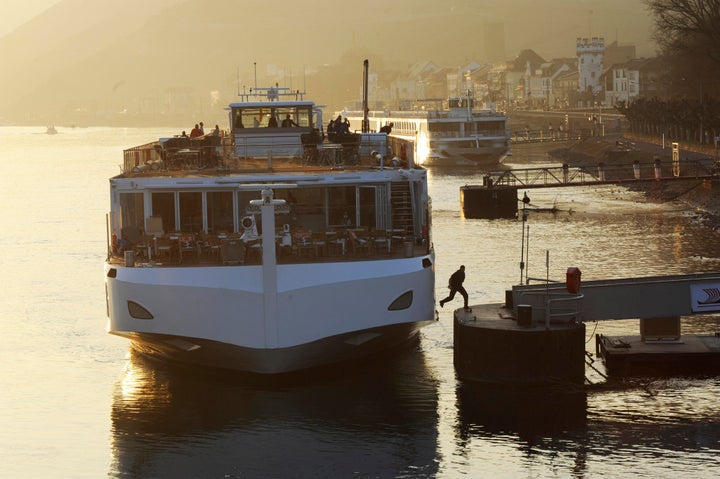 Yes, those Vikings are at it again. The conquest and domination of the river cruise market, rather than domination of the Northern Hempishere, is their latest goal. And we will be joined by the ten godmothers of the longships who all have a connection to the ports that Viking vessels visit. For the Guinness World Records™ title only eight ships will be eligible, as two of the ships have sailed previously, but it is a record all the same.
The Viking Aegir, Viking Atla, Viking Bragi, Viking Embla, Viking Forseti, Viking Jarl, Viking Rinda, Viking Skadi, Viking Tor and Viking Var are all named after Norse gods and goddesses. Unfortunately, six of the ships are still in Rostock but a simultaneous television satellite link has been set up and these ships will still be christened, too.
As the ceremony begins Torstein Hagan, Chairman of Viking River Cruises proclaims, "Today is a proud day for Viking and for river cruising. We are honoured to showcase 10 of our revolutionary new Longships and to have such a celebrated group of women helping us christen them." Then one by one, Dutch girls dressed in traditional outfits and carrying a pair of scissors each bring a godmother up to the podium. Each one gives a short speech and cuts the ribbon attached to the champagne bottle. When the godmother is christening a ship in Rostock, it is co-ordinated so that the champagne bottle will smash into the side of the ship in tandem with the cutting of the ribbon.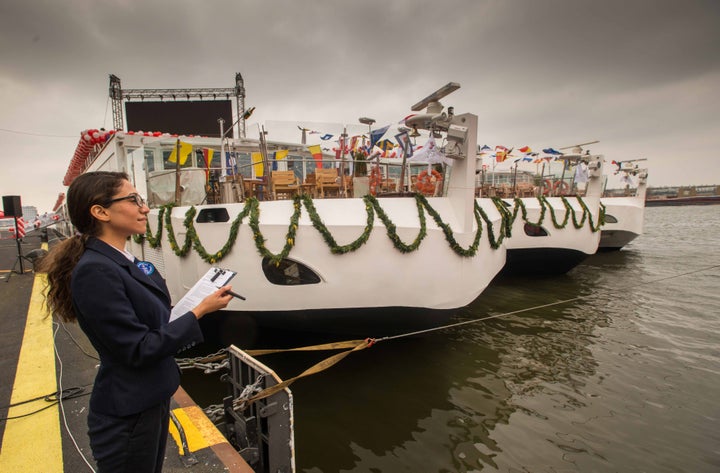 Guinness World Records Administrator
Later came an emotional speech from Torstein to the assembled crowd of well-wishers, suppliers, media and friends. He explained the Viking business model which is about providing new technology, moving forward with unique itineraries for guests, constantly improving service and using every square inch available for cabin space.
I am staying overnight on one of the new ships, Viking Aegir, and we are docked very close to the old canals. The Viking Aegir has a beautifully muted sand and brown coloured scheme with splashes of teal for accent. There is pale wood everywhere and a spacious atrium near the reception desk which lets in loads of light. Of special note is the new all weather Aquavit Terrace that reinvents the lounge by bringing scenery indoors with retractable floor to ceiling glass doors for al fresco dining when the weather is suitable. Additionally, Viking Longships lead the river cruise industry with sustainability upgrades including onboard solar panels, an onboard organic herb garden, and energy efficient hybrid engines that reduce vibrations for a smooth ride.
My cabin is one of the 95 staterooms onboard which, unfortunately, happens to be close to a generator that creates quite a loud hum all night. I have reported this to the Viking command who will, hopefully, sort this out for future guests. On Viking Aegir there are also two Explorer suites, seven 2 bedroom Veranda Suites and 22 French Balcony staterooms.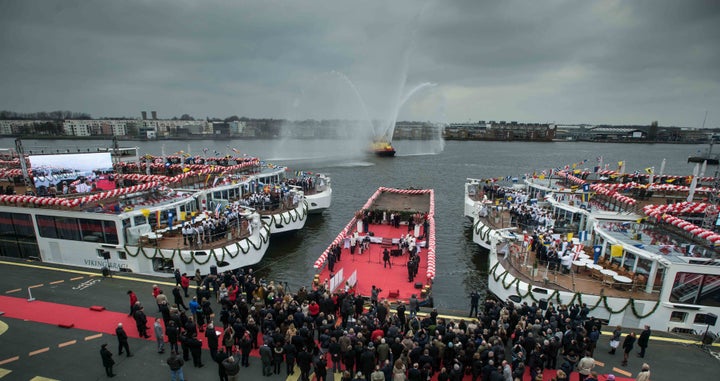 As a special treat, Neil Oliver is here as guest lecturer (which is nothing to sneeze at!). Oliver followed the course of the historic Vikings in his 2012 television series Vikings where he explored what drove the Norwegians to embark on voyages of discovery These voyages, as we all know, lead to the domination of much of the North including England and Russia, which lasted nearly 1000 years.
Viking River Cruises has been honoured multiple times as the top river cruise line on Condé Nast Traveller's "Gold List" and Travel + Leisure's "World's Best" Awards as well as being recognised as the World's Leading River Cruise Operator at the World Travel Awards and the "Best River Cruise Line" at the British Travel Awards.