"You beautiful, Lady", said the local woman, indicating my long hair. Nothing could have surprised me more than this remark. She was wrapped in a longyi (long skirt) with a small child anchored to her hip and her cheeks smeared with Tanaker, the traditional Burmese make-up. I hadn't expected to hear English in a rural village this far from the capital of Yangon and was even more surprised to get a compliment.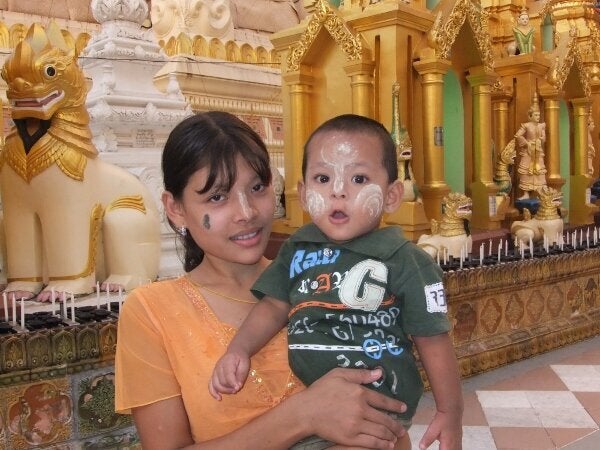 Young mother and child with Tanaker make-up
I looked around and found myself surrounded by scruffy and enthusiastic children pushing discs of Tanaker sun bloc gently into my hand. We had been instructed not to purchase from impromptu vendors but it was hard to resist. I knew I would have to pick up the pace to find Zaw, our tour guide. It would be easy to get lost in this crowd of people. "Wait up!" I yelped, stumbling over a bicycle and a basket of fruit, before finally catching up with the rest of my group.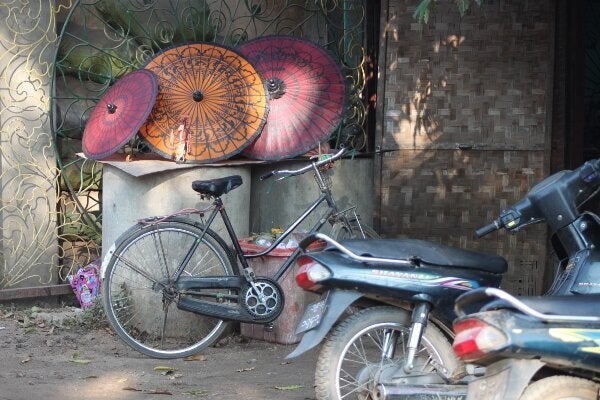 Having only arrived in Burma yesterday, it had been a very early start to get on a flight bound for Bagan, the 11th century capital, which is an optional excursion offered by Voyages to Antiquity. Flying over this ancient valley, the Irrawaddy River curves and snakes its way through the landscape. The day would be mesmerising: Golden Buddhas, pagodas and pyramids litter this part of Burma. It is a visual bonanza as there are over 2,000 of these structures. One of the most amazing places I have ever seen.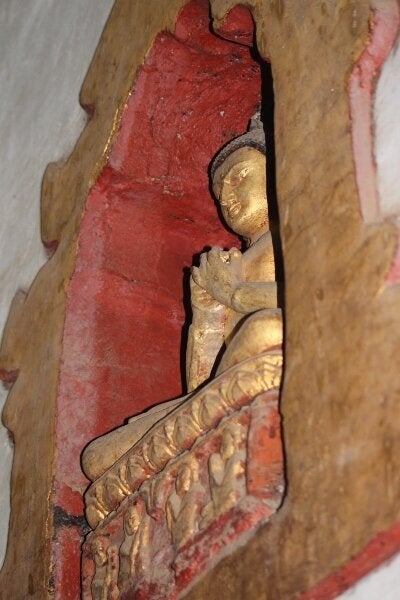 Buddha in niche at Ananda Temple, Bagan
There was even an intriguing display of extreme hairstyles with knots and twists in the newly built archaeological museum. "What does this signify?" I asked our tour guide. Zaw explained, "The exhibit is about a long held belief here in Burma. We believe men show strength through their right hands while women's power comes from having long hair." Perhaps this explained the local woman's comment?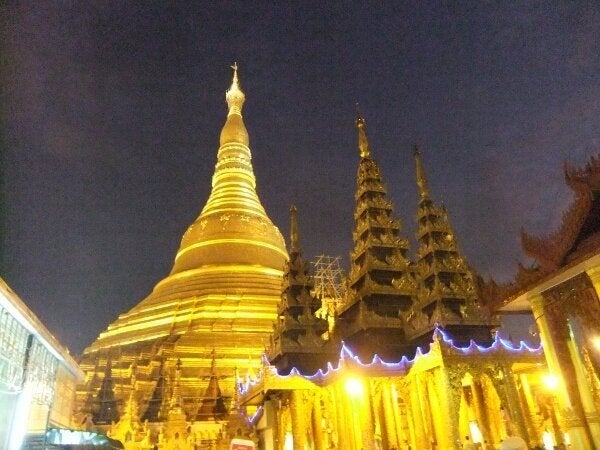 Our ship had only arrived into Yangon, the capital of Burma, the afternoon before. Fishermen had waved at us from their wooden boats and other local Burmese had been on the dock and lining the shore, all appearing equally excited to see us. Their garb was colourful and their happiness genuine all this excitement was completely contagious. I couldn't wait to disembark.
On making my way through the remarkable city, I was amazed at the vibrant Chinatown interspersed with European colonial buildings. I spotted a sign declaring 'Warmly Welcome Take Care of Tourists'. This is a loose translation of bama shan-chin, a reference to the Burmese standard of conduct in caring for any guests or tourists.
I was eager to see the famous golden Schwedagon. After dutifully removing my shoes, I was allowed to enter the complex. Birds flew overhead and I marvelled at the sight of the 100ft golden stupa. I listened to the tolling of temple bells while worshippers poured water over tiny Buddhas as an exercise of purification. Entire families were relaxing in the shadows as dusk descended while hundreds of candles were lit. "Relax and enjoy the beauty of the Stupa which is Buddha's gift!" exclaimed Thi Thi, our guide and instructor. It was truly magical.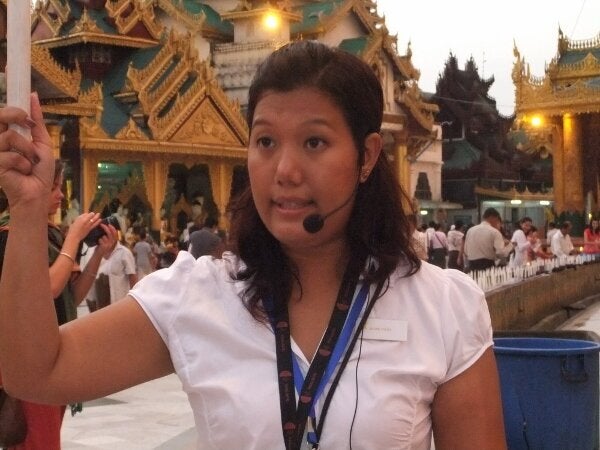 Our guide in Yangon is named Thi Thi
Burma is one visit on a 14 night South East Asia itinerary with Voyages to Antiquity on board the 408 passenger Aegean Odyssey.