Having grown up in Southern California I had never driven the famous stretch of coastal road that runs from Monterey and down through Big Sur. Today would change all that.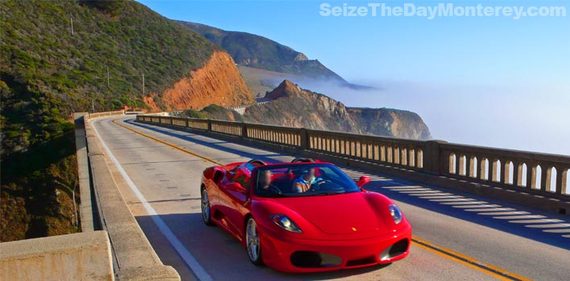 ©siezetheday-monterey.com
It is December, sunny and warm, a perfect day for a drive.
Hwy 1 or PCH (Pacific Coast Highway) is a stretch of winding tarmac that weaves its way down the central coast to San Luis Obispo, and then continues all the way to San Diego. It is possibly one of the most famous drives in the world. It is also time consuming. But, as we need to travel to San Luis Obispo anyway, this seems the ideal opportunity to enjoy the dramatic views of this unique coastline.
The wild coastal area south of Monterey only gained a highway in the early 1930s. It is incredibly rugged terrain and it took several years to build the road and construct its bridges. It was an engineering feat at the time and the bridges needed to span deep ravines and gaping canyons that came careening from the mountains straight down to the water. At the very time I am going to tackle this 3 hours of challenging driving, there is also a forest fire in the hillsides. Perhaps not the perfect day after all?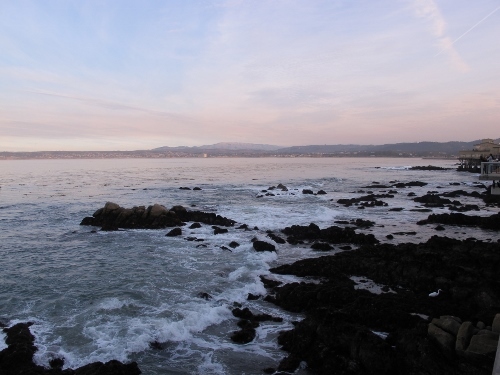 Coastline of Monterey Bay
Earlier that morning, we had been on a kayaking tour of Elkhorn Slough, a type of estuary that feeds into Monterey Bay and is part of the Monterey Bay National Marine Sanctuary. The purpose of our expedition is to view and enjoy the sea life, particularly, the Southern Sea Otters. The otters thrive in this quiet protected wetland. It is popular with, not only sea otters, but harbour seals, sea lions, dolphins, all manner of birds and even sand dollars.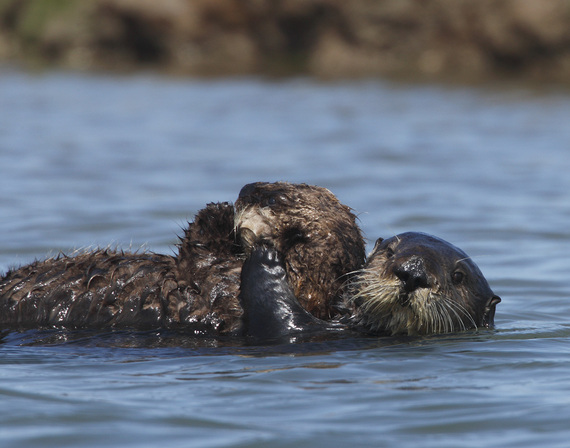 Pacific Coast Southern Sea Otter @Monterey Bay Aquarium
Southern Sea Otters have, possibly, the densest fur on the planet. Their fur is warm and incredibly soft, and the early traders and trappers arriving in California in the 19th century hunted the otter relentlessly for its beautiful coat. By the 1920s, it was believed that they had been hunted to extinction.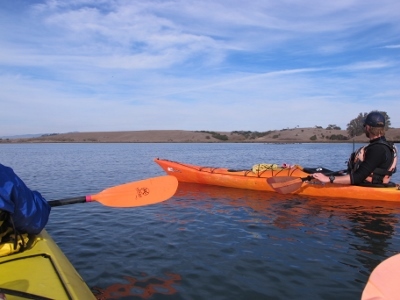 Kayaking, Elkhorn Slough
Miraculously, it was during the construction of the Pacific Coast Hwy in Big Sur that several were spotted in surveyor's photographs in the waters beneath the area around Bixby Bridge.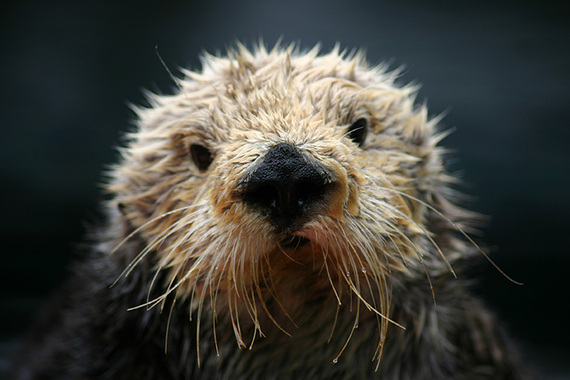 @Monterey Bay Aquarium
Thus began an incredible effort to bring these seriously endangered animals back from the brink.
Decades later it was discovered that sea otters are a 'keystone species'. As sea otters began to repopulate Monterey Bay, the kelp beds began to flourish after what had been a serious decline in the first half of the last century.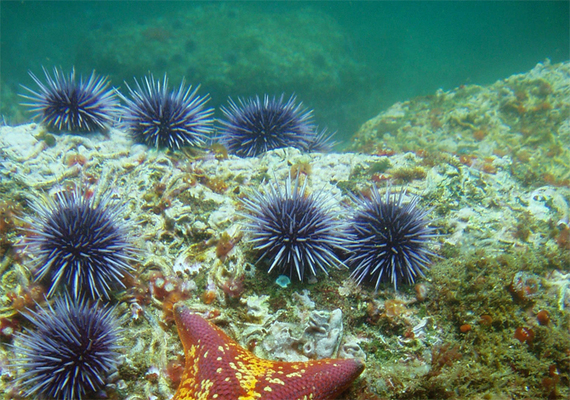 California sea urchins @reefbuilders.com
It was discovered that sea urchins, also called Urchin Barons, were eating the kelp at its root on the sea bed. This destruction of the kelp bed was effecting the entire eco-system of Monterey Bay. After much more research, it was also discovered many years later, that the only natural predator of the urchins are sea otters.
So because Southern Sea Otters eat predator sea urchins, they are critical to the health of Monterey Bay.
Our kayaking guide, also an expert on the wildlife in Elkhorn Slough, explains how the otters lie on their backs and use stones, balanced on their chests, to crush sea urchins. Stones are kept tucked under their 'armpits' when not being used. Well-shaped flat stones are valuable utensils and are even passed down by otter mothers to their pups. Otters have incredibly sharp teeth as well, easily able to crunch through the shell of a crab.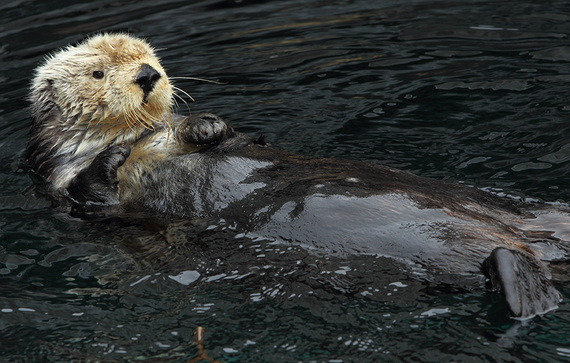 ©Monterey Bay Aquarium
These adorable creatures are incredible to watch in their natural habitat. I will never forget kayaking on the still, cool water with the sun shining and watching otters hunting, performing barrel rolls and grooming themselves. We even saw a 'raft' (colony) of sea otters in the far end of the Slough. Curious sea lions followed our kayaks at close range, wondering what type of animals we were and whether we wanted to play.
The previous day, I had visited the Monterey Bay Aquarium to see the otter's behaviour close up. I am not a massive fans of zoos or aquariums normally but I could see that this operation was more about education, less about entertainment.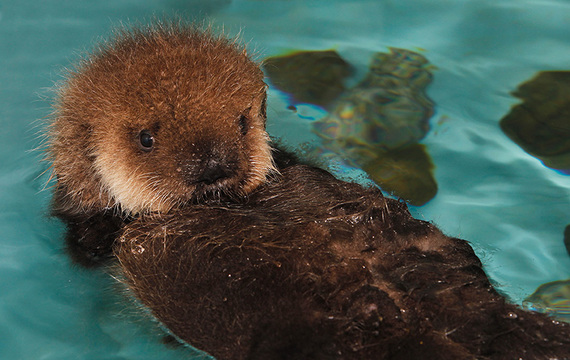 Rescued pup ©Monterey Bay Aquarium
Importantly, the aquarium is instrumental in rescuing injured or abandoned pups. I met Karl Mayer, sea otter expert extraordinaire, who is one of the top researchers for SORAC (Sea Otter Research and Conservation). Working with the public and in tandem with local rescue organisations, as well as California University Davis and University of California at Santa Cruz; special facilities have been set up here to care for rescued pups. After the baby otters have regained their strength, captive adult females become surrogate mothers to the rescuées. The pups are reared and nurtured back to health by the specialist trained staff and eventually returned to the wild.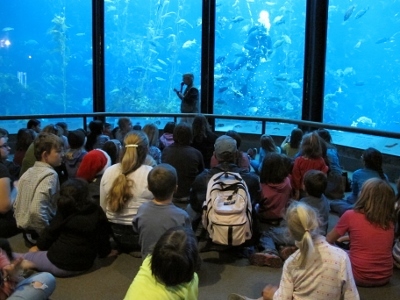 Children learning about Monterey Bay's sealife at Monterey Bay Aquarium
Alongside the Monterey Bay Aquarium is Fisherman's Wharf and the re-developed Cannery Row. There are restaurants such as Bubba Gump Shrimp, as well as exhibits and shops to visit. We stayed overnight at the nearby Hotel Pacific. The hotel's amenable décor is Spanish Colonial style but I recommend asking to stay in middle of the complex to avoid early morning traffic noise.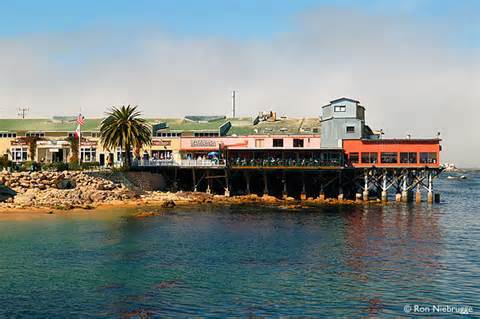 Cannery Row©wildnatureimages.com
And the drive down Big Sur? Better than I could have ever expected. Even with haze and smoke from the fires and the scary presence of fire engines, this rocky coastline is still breath taking. And so unlike the beach areas of Southern California where I grew up. These landscapes don't seem to be in the same country, let alone the same state. The approach to the incredible Bixby Bridge, in particular, took my breath away. To fully enjoy the spectacular view of the bridge, the canyon and the ocean, one should pull over and get out of the car. Unforgettable.
It's wonderful to know there are still unexplored areas of the state I grew up in to seek out and enjoy.
Monterey Bay National Marine Sanctuary
Hotel Pacific, 300 Pacific Street, Monterey, California, 93940.
Summer Rates for 2014: Weekdays (Sundays through Thursdays) $159.00-$199.00 single/double occupancy. Weekends (Fridays and Saturdays) $209.00-$299.00 single/double occupancy.