Modeled on the elegant ocean liners of old, the Queen Elizabeth offers exceptional service that never goes out of fashion.
Sailing from the port of Piraeus in Athens on a sunny autumn evening is a blissful way to start any trip and I was particularly looking forward to visiting Corfu. Unfortunately, my stay at The Savoy Hotel the night before embarkation was, well, less than salubrious. You wouldn't think you could go wrong with accommodation named 'Savoy', but, unfortunately you can.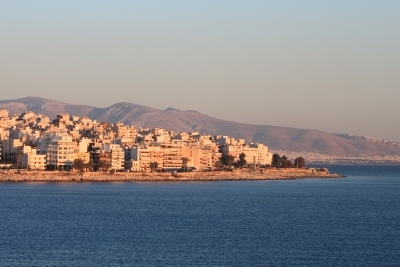 Sailing from Piraeus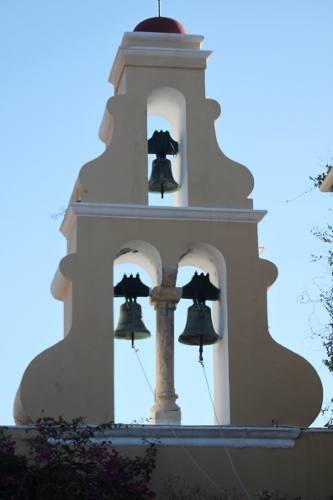 Church bells: Paleokastritsa Monastery Corfu
But thoughts of this are soon cast aside when I step on board the Queen Elizabeth. She's a big girl (90,000 tonnes) but not so large that you could get lost on her. And there are plenty of amenities, though not so many that you wonder whether you are actually on a ship or in a floating shopping mall. With a guest capacity of 2,092 and crew of 1,005 there is almost a 2:1 guest, staff ratio.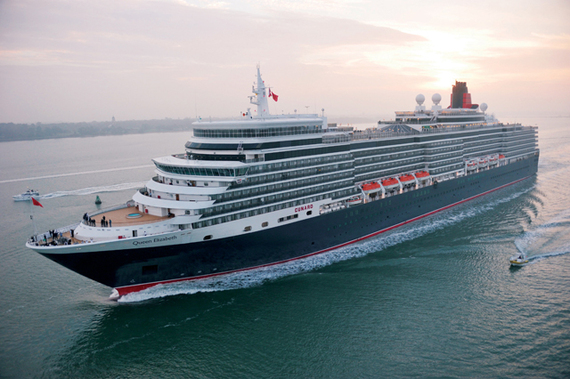 Queen Elizabeth ©Cunard
The Royal Theatre is one of the many classic venues on board. Three decks high, with 830 seats and 20 'royal' boxes; not only do they have slick, sophisticated variety shows of an evening but, during the daytime, guests can watch blockbuster films like The Great Gatsby. The Queen's Room is the spot for Cunard's famous afternoon teas but also for regular tea dances and after dinner dancing, too.
Many enjoy having a pub lunch at the Golden Lion but I loved taking part in the pub quizzes. I made a bee-line for the Royal Arcade anytime the shopping impulse hit. There is a plethora of Queen Elizabeth and Cunard memorabilia here for aficionados..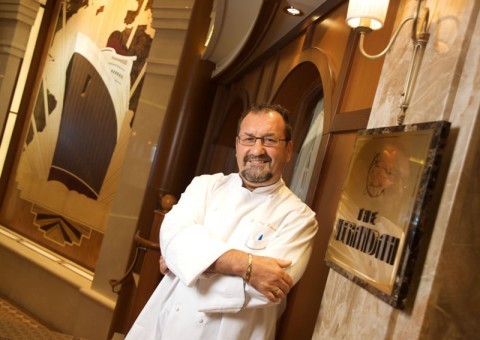 Chef Jean-Marie Zimmerman outside Verandah Restaurant ©Cunard
And speaking of lunch, The Princess Grill is exceptional, especially the service, meal after meal. Beyond that was the gastronomic experience of dining at The Verandah Restaurant, voted Best Cruise Restaurant by Cruise International Magazine. The Verandah offers sumptuous French cuisine with menus designed by Chef Jean-Marie Zimmerman. I particularly enjoyed little touches like the delicious petit fours. The a la carte menu is influenced by Zimmerman's beloved homeland: dishes evoke the personality and flavour of regions such as Périgord, Pyrenees, Alsace, Bresse and Burgundy.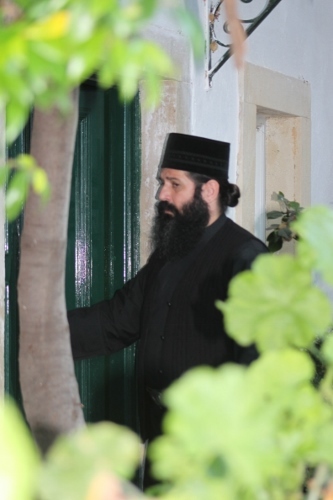 Monk at the Paleokastritsa Monastery, Corfu
But my absolute favourite venue was the Yacht Club. My friends and I were there every night, tearing up the dance floor and having a blast. Though the live band played some decent tunes, I liked the DJ best. Not only were we dancing most of the night, even leading a Congo line now and then, some of the Japanese guests taught us 'Gangnam Style' moves. Hilarious.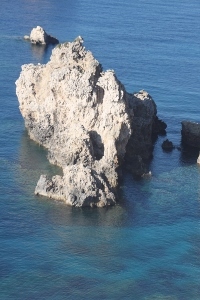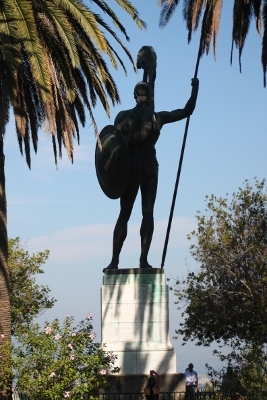 Statue of Achilles, Achillion Palace, Corfu
Our first port of call is the island of Corfu which, astonishingly, I have never visited before. On a gorgeously sunny day, I take a tour to the holiday residence (more like castle) of Empress Elizabeth of Austria, nicknamed Sisi, who was truly a fairy tale princess. The gardens and views from the house were astounding. I loved the rooms that have been refurbished and appear as they might have in the 19th century. Particularly the dining room with porcelain cherubs on the walls.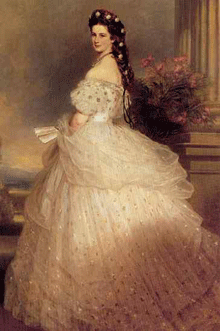 Portrait of Empress Elizabeth 'Sisi' of Austria by Franz Xaver Winterhalter
Secluded beaches, green hillsides and crystal clear turquoise waters are what bring repeat visitors to Corfu. I think the quaint Paleokastritsa Monastery at the north-eastern corner of the island is well worth a visit. While here, enjoy a beautiful and tranquil location but don't miss having a peak in the ancient church. There is even an old olive oil producing mill tucked into the bowels of the buildings. By mid-day, it was time for a quick lunch and some home-made wine. There was even folk dancing thrown in at this local farmhouse.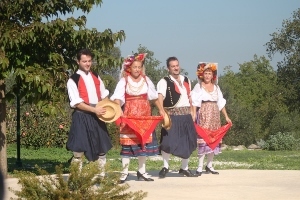 Folk Dancing, Corfu
The sail out from Corfu Town rivals Venice any day of the week. Something I never thought was possible. As the old town has many Venetian influences, it really isn't a surprise.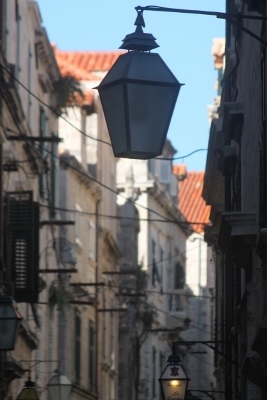 Dubrovnik Old Town
Next stop, Dubrovnik, was its usual flamboyant self. It was a treat, as always, to walk around the whitewashed walls of the old city. And there are so many unique things to purchase, though it was terribly crowded. Apparently the hit series 'Game of Thrones' is filmed in this very location.
I can't sign off without mentioning my favourite part of this ship, the Royal Spa. The 13,000 square-foot space features art deco style decor and two levels of treatment rooms, fitness and pool facilities. I had a wonderful therapist named Kylaisha who gave me a manicure and pedicure using a scrub on my feet, ankles and calves. Just the ticket at the end of a long, hard day at sea!
All images ©roamingscribe unless stated.
Departing Civitavecchia on 20 June 2014, a seven-night 'Pearls of the Adriatic' cruise to Venice calls at Corfu, Kotor and Dubrovnik with an overnight stay in Venice. Fares from £999 per person including return flights. For reservations: 0843 374 0000 or www.cunard.co.uk