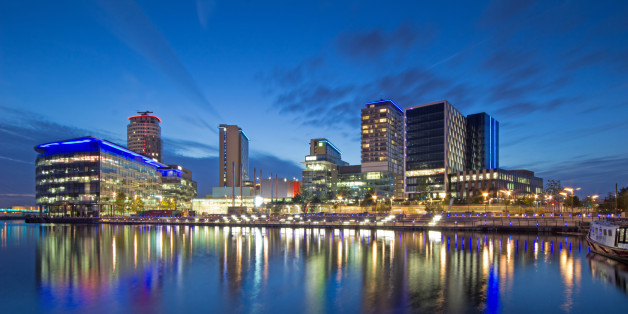 Getty Images/Flickr RF
Top Ten Sporty Things to do in Britain's Great Northern City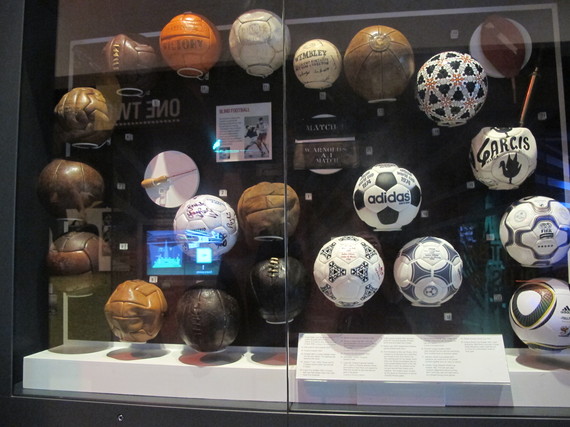 Exhibit at the National Football Museum
Manchester, where the industrial revolution began, is well-known globally for football and for Old Trafford Stadium, christened 'the theatre of dreams' by former player, Bobby Charlton. Recently, Manchester United has been in the news with the promotion of Ryan Giggs to interim manager for the club. The city also boasts a second venue, the Etihad Stadium, which is on the same campus as the National Cycling Centre and is home to Manchester City F.C. But there are loads of other sporty things to do here as well as watching the footie.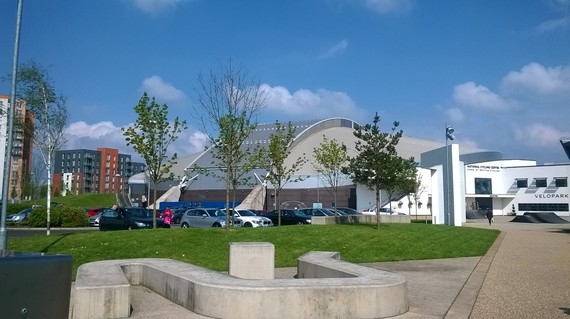 National Cycling Centre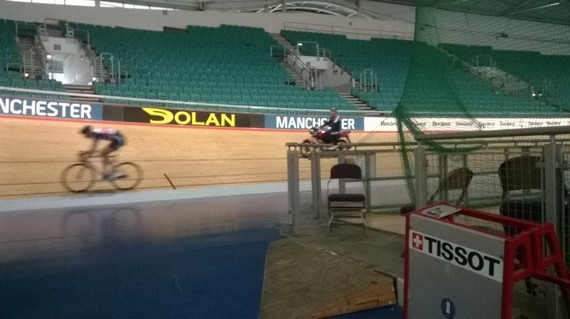 Board track at the Velodrome
1) Velodrome and National Cycling Centre
It's great to come the National Cycling Centre and see cyclists training or racing on the board track. You can also come here to take in the exciting BMX Super Cross events. But did you know that the public can ride, too? Yes, anyone can use the velodrome track as long as they have a bike and the correct equipment. And these are available for hire. The National Cycling Centre houses the first ever velodrome that was built in England. Finished in 1994, it was for professional cyclists to train as well as being used by Team GB to prepare for upcoming Olympic Games.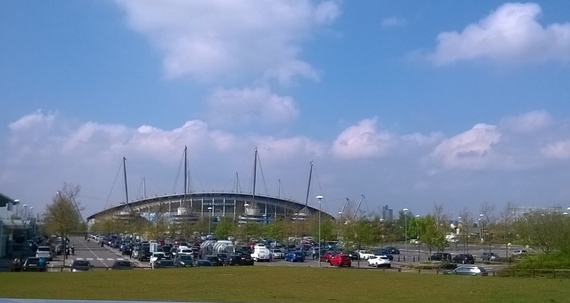 The fifth largest stadium in England is home to Manchester City football club and dominates the Etihad Campus which it shares with the National Cycling Centre. The 47,805 seat stadium was built for the 2002 Commonwealth Games and also held the 2008 UEFA Cup Finals.
Old Trafford
3) Manchester United or Manchester City game
Obviously, you should go to a match at Old Trafford or at the Etihad Stadium and enjoy the carnival atmosphere that is part and parcel of the experience of attending a Premier League game. Games are often sold out so you should plan ahead to get a hold of tickets. Take the Metrolink Tram from the city centre to either venue so you can get into the spirit of it all with the other supporters. Take note, there is a ten minute walk to the stands at Old Trafford once you arrive but this is a good time to pick up your souvenirs from road side concessions stands.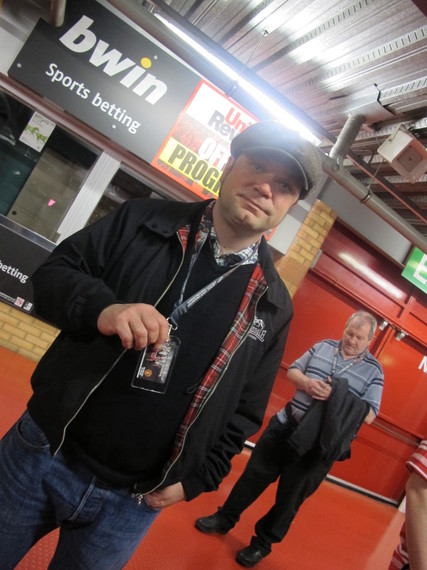 On the Tour
4) Old Trafford Museum and Tour
Considering it was the afternoon before match day, I was amazed at how busy the tours were at Old Trafford stadium with every slot being sold out. Stuart Brown was our guide and a very entertaining man indeed. The puns were coming fast and furious but it did keep up the pace. Towards the end, when we were visiting the spots where people really wanted pictures, it all got a bit pressurised.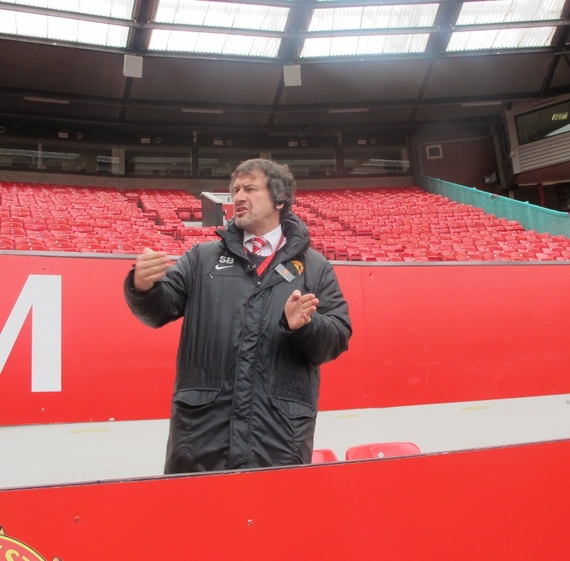 In the locker room, there certainly wasn't time to get that selfie you might want under your favourite player's shirt. A bit of a shame because, otherwise, it was a very interesting tour.
5) National Football Museum
Admission to the National Football Museum is free so pop in for a look. Not only are the building and exhibits fresh and new but space is ample and displays are well laid out. These displays are universally interesting, no matter if you are a fan or just mildly interested in the beautiful game. The museum covers the history of the sport but also includes fashion, memorabilia, players, trophies and other unique items which will capture your imagination. There is even a video installation/artwork by artist Sam Taylor of David Beckham sleeping. If you want to play a nominal extra fee for Football Plus, there are loads of interactive activities, too.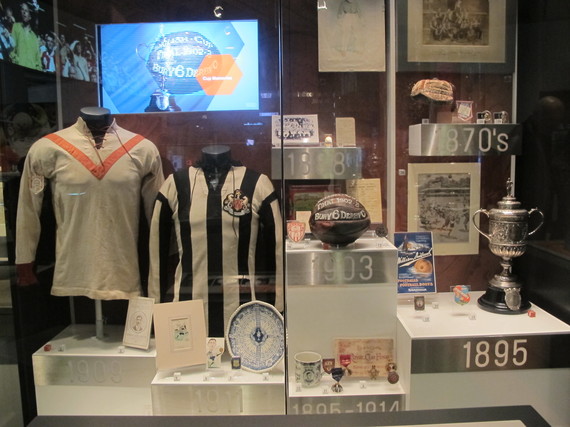 Jerseys and memorabilia over the decades
6) Emirates stadium at Old Trafford
The Emirates cricket ground, where Lancashire County Cricket plays, is just a few minutes down the road from Old Trafford football stadium and hosts, not only country cricket, but international matches. The stadium was host to an Ashes Test match last year and has undergone 40m in refurbishments over the past couple of years to bring it bang up to date in terms of international standards.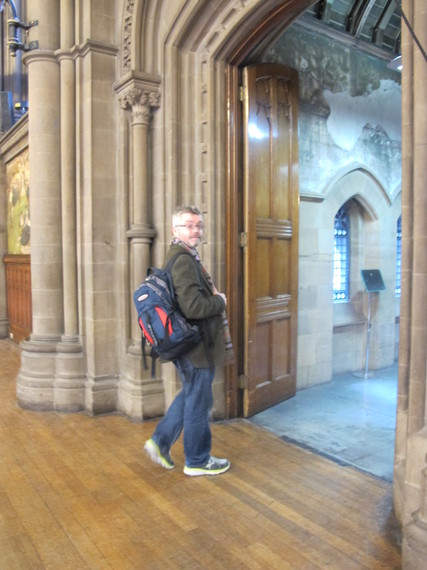 The Great Hall on the 'Discover Manchester' Walking Tour
7) Football Walking Tour
Make a bee-line for the Visitor's Information Centre near Piccadilly Gardens and get yourself on one of the Football Walking Tours for an experience you will really enjoy. The tour guides are well informed, engaging and it is well worth the dosh (I did the Discover Manchester tour with Sibby). The Football Tour will visit the places that footballers have lived, drank and the stories and fables surrounding these great athletes. Manchester has a very compact city centre so it is a comfortable walk to all the major attractions.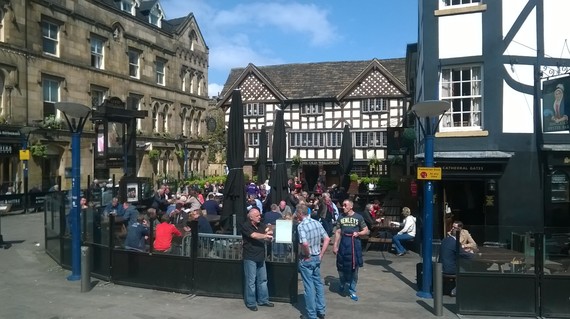 The medieval Wellington Pub
8) Eating and Drinking
The Old Wellington medieval pub, across from Selfridges, near Manchester Victoria Station, is a great place for a pint before a match. The pub is run by the Nicholson's chain and the food is reasonably good. I also checked out the Northern Quarter and tried Trof on Thomas Street. Great chow at reasonable prices with a 'to die for' Cajun Chicken Salad that is spicy and tasty, too. Sam's Chop House is a good place to go for British food and old time ambience. In business since 1872, most of the fixtures look to be original and the atmosphere is lively. I had the fish n' chips n' mushy peas, one of my favourites, though I thought the steak and kidney pudding was far too strong a taste, with the kidney bits completely overpowering the steak.

© Salford Watersports Centre
9) Water Sports
Wakeboarding, kayaking, windsurfing are just a few of the sports on offer at the Salford Watersport Centre. About a 15 minute drive from the city centre, Salford is conveniently located for those visiting the city. There is everything from dinghy sailing to windsurfing, power-boating to climbing and everything in between to try out at the Centre. There are group classes, one to one tuition and courses as well as all the kit you could ever want to hire or buy.
10) Hotel Football
The foundations are in place and construction is going to schedule on Gary Neville and Ryan Giggs' (GG Hospitality) new Hotel Football. The new concept sport hotel is being built alongside Old Trafford and promises to be an exciting and vibrant new venue and accommodation for football enthusiasts, families, tourists and business users alike. There will even be a five a side football pitch on the roof as well as Manchester's first Café Football, which will serve up terrace style food with a unique football twist.
All images ©roaming scribe unless stated.
Accommodation provided by Stay City with prices from £65 per night for one bedroom apartments.