There is great excitement with the new Sandals resort opening on the Spice Isle. On my first visit, I fall in love with Caribbean cooking, BB's Crabback and Saltylicious chocolate.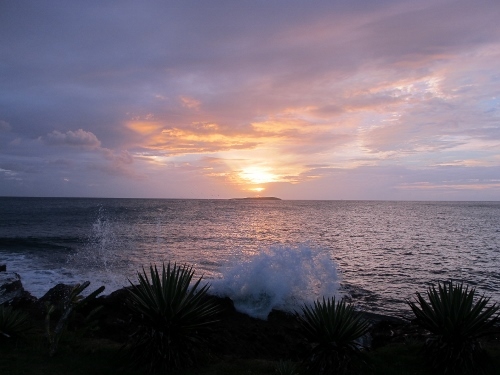 Gastronomic Grenada
I have come to Grenada to attend the 4th Annual Rum and Beer Festival. With a Creole hog roast planned and different varieties of rum to sip, it should be a good introduction to this famous Caribbean beverage. There will also be organic chocolate to try out with intriguing flavours such as Saltylicious from Edmond Brown's The Grenada Chocolate Company. But I am also planning to get a general introduction to the Spice Isle and am excited to begin my gastronomic and cultural exploration.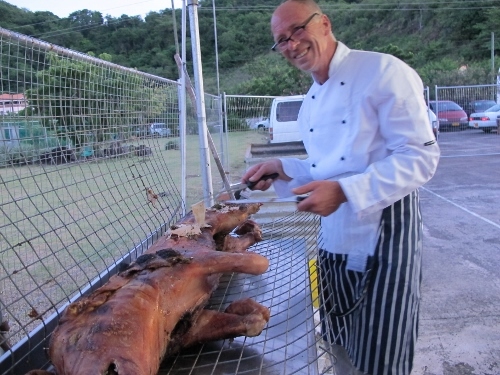 But first, I wake up to a sizzling hot sunrise on the quiet and gorgeous Morne Rouge Bay and set out on an early morning walk along the beach to gain some kind of orientation. The soft, warm breeze ruffles my hair and feels good on my skin.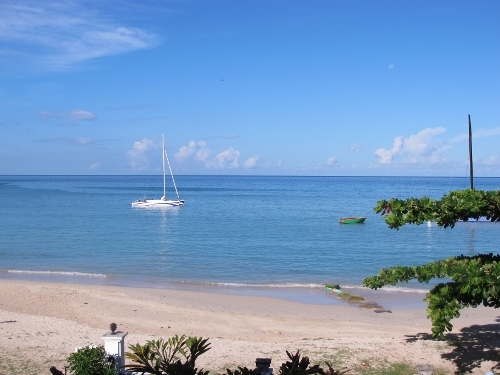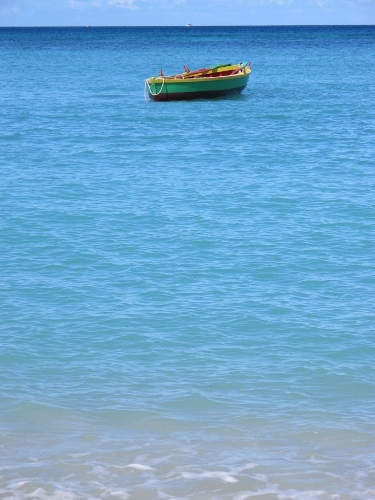 I turn the round, brown object I have picked up over and over in my hand. I think it might be nutmeg. But I find out it is actually a rotten apple from the dangerous Manchineel Tree. Harry, the Kalinago's Bartender, instructs me to be careful, as a ripe piece of the tree's fruit is poisonous. Its juice could irritate my skin. He then picks up and cracks open one of the enormous almonds that are lying about with a rock. I try the fruit of the nut and then try the almond as well. Both are delicious. It strikes me immediately that islanders are eager to teach newcomers about their island and the abundant natural resources here.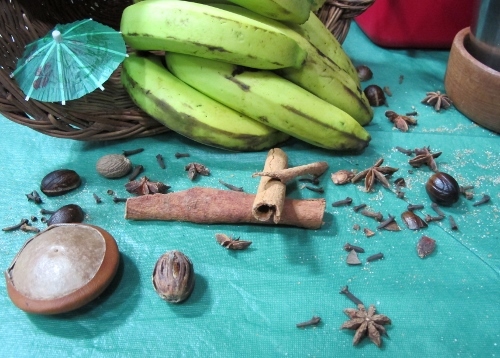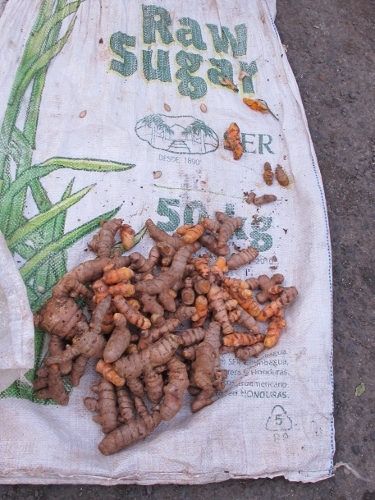 Grenada is world renowned for, not only its nutmeg, but also mace, cloves and cinnamon. Yet, there are many further fantastic, indigenous plants that are important in local cooking: turmeric, cocoa beans, plantains, bread fruit, mangos, golden apples, almonds, Callaloo, sorrel and passion fruit can all be found on this tropical island paradise.
Making my way over to the True Blue Resort, I am looking forward to a cooking lesson with duo Esther and Omega. Actually as much a comic routine as cookery class, these two are very funny indeed. They have even appeared on Grenadian television. Along with about 15 other people in the audience, we learn to prepare Callaloo Chicken and Plantains cooked in Ginger Orange Sauce. Both Grenadian specialties are fabulous and it is an excellent introduction to the cuisine of the island.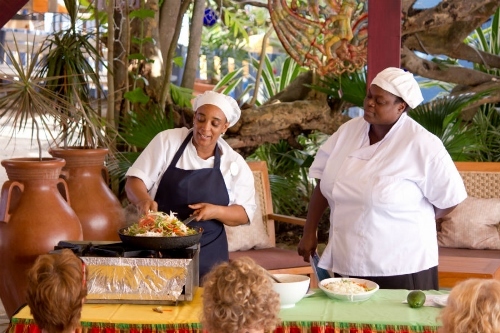 Esther and Omega ©True Blue Resort
The capital city, Saint George, is the location for Brian Benjamin's famous restaurant BB's Crabback. Perched in an open air restaurant right on the harbour, guests are invited to write graffiti on the walls and enjoy very special food. A native of Grenada, Brian trained while living in London but picked up his love of cooking from his Grandmother.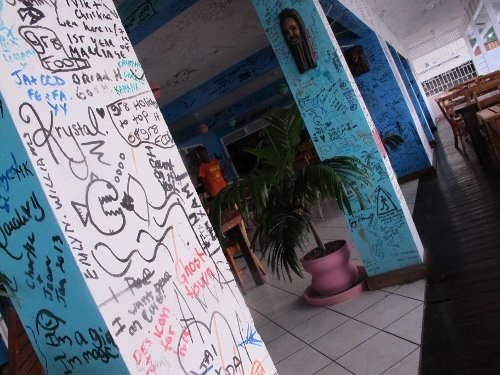 As it is early in the day, we are off to the nearby Saturday morning market in Saint George to check out all the gorgeous fresh produce and pick up some local items for the restaurant. I enjoy trying out fresh coconut and also seeing an abattoir that has not changed since the 18th century.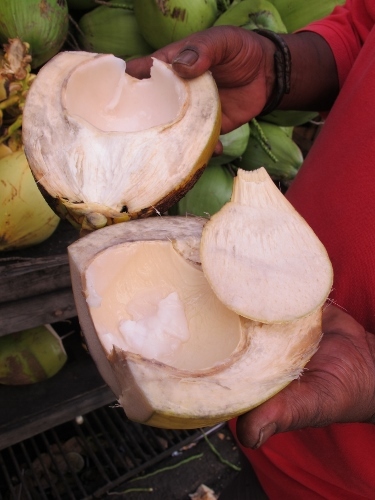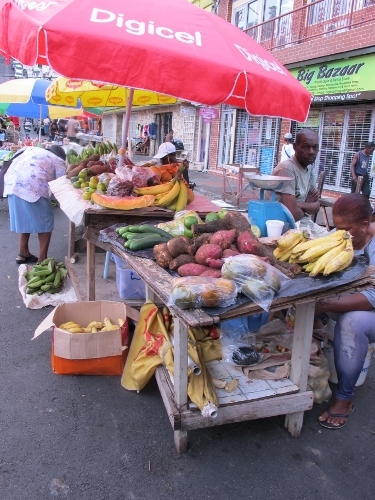 Back at the restaurant, I don an apron and duck into the kitchen to cook some Saltfish Souse with fried plantains for breakfast. Brian is hovering nearby and giving support and directions. Re-constituted cod is first soaked with the flaked fish fried up with finely chopped veg and lashings of vegetable oil. It is then plated up with a small salad with Brian's secret dressing recipe. Served with fresh bakes, fried doughy cakes, it is astonishingly good.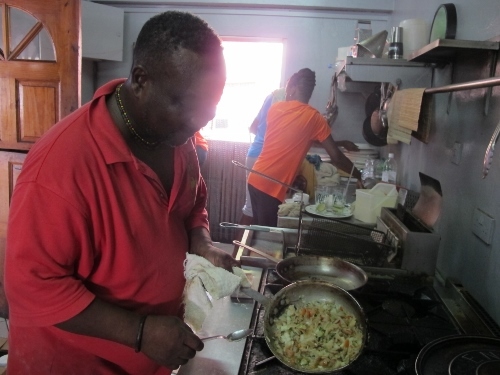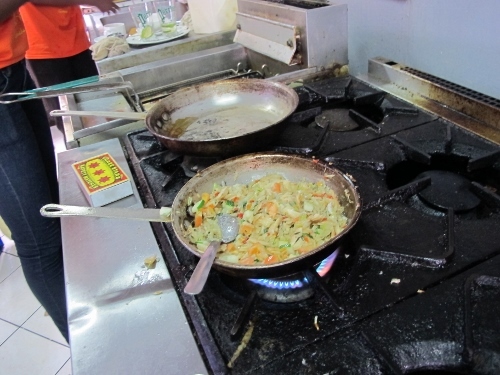 Next, I observe Brian whip up the Crabback's signature dish, Crabback which is land crabs fried up with herbs, wine and cheese. The whole wonderful mess is then served in a crab shall with warm bakes. Apparently, the restaurant goes through about 1,000 of these crabs a week. Incredible.
Prices are from $30-$79 EC.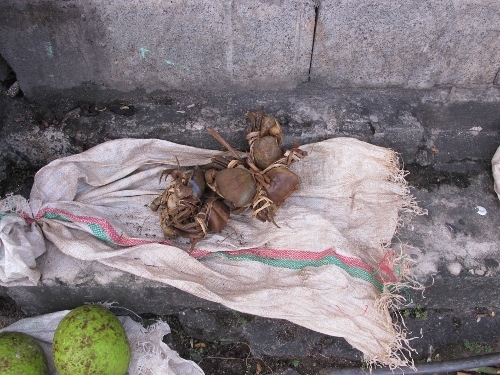 Artistic Grenada
Later in the week, I have a tour of the island with Mandoo my very informative guide. I soon meet a lovely man named Albert. Albert has a tiny shop at the Concorde Waterfalls and displays his goods for everyone to enjoy. He carves and creates amazing jewellery from a type of dark fossilised coral. The finished bracelets and pendants are distinctive and truly unique.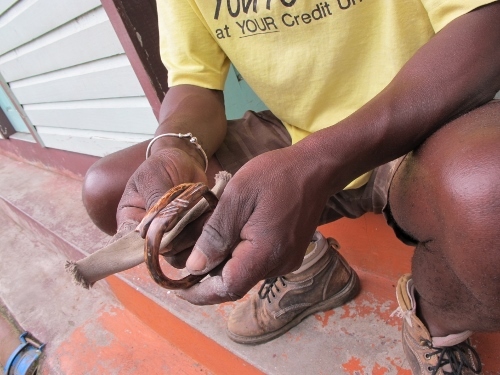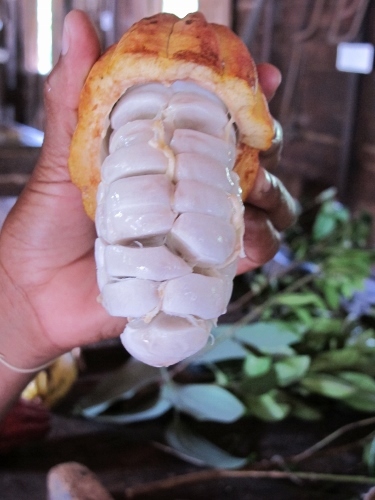 While on tour, we visit the remarkable River Antoine Rum Distillery which produces Rivers Rum. Visiting here is like walking back in time 200 years. The water mill wheel is the oldest in the Western Hemisphere that is still in use. It was shipped here from Derby in the 18th century and has been in continuous operation ever since.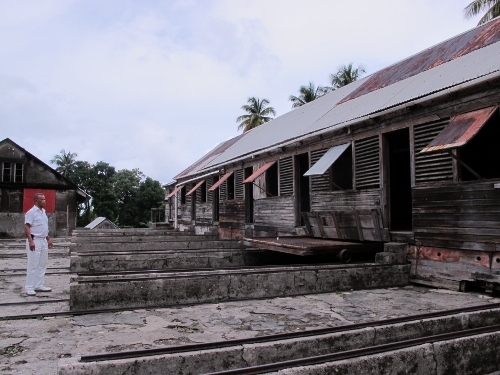 Natural Grenada
Mona monkeys are everywhere in Grand Etang National Park and eager to get a bit of food from the tourists. They are attractive animals but I notice their very sharp teeth! I am so sad to learn that most of this species was destroyed in Hurricane Jeanette back in the 1950s when all the vegetation was wiped out.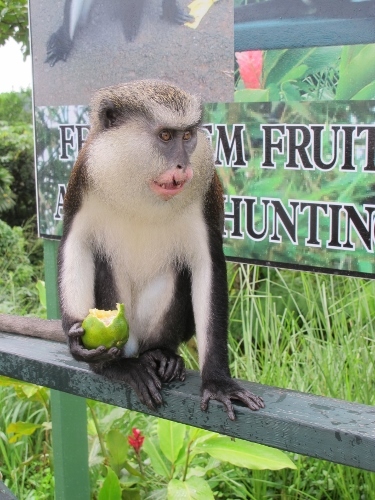 Up here in the higher altitude of Grenada, it rains continuously. But the beautiful green foliage wouldn't be abundant without this precipitation. This is why there are waterfalls everywhere.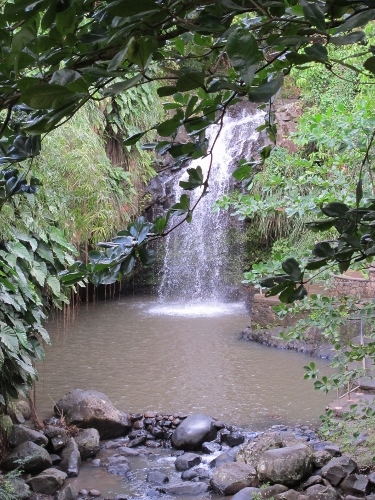 Anandale Waterfall
The natural flora and fauna of this island is captivating, but I am also interested in sea life. Scuba Tech, based at the Calabash Hotel, takes me and assorted other snorkelers and divers out to the Underwater Sculpture Park, the first of its kind in the world, as well as Dragon Bay. As there had been a storm the night before, the water is a bit churned up and also the swell is significant. This makes it tricky to snorkel with any success but I still enjoy being out on the water.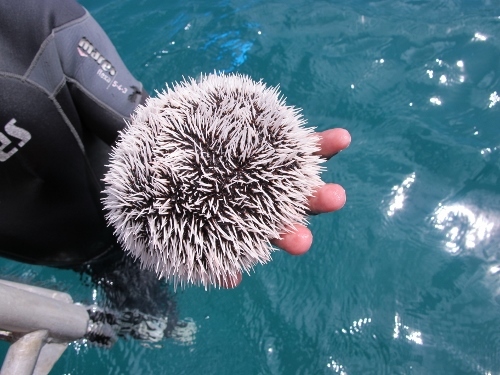 It is tremendous seeing the island from a completely different perspective. We even spot the soon to be opened Sandals Resort.
I must admit that it is the interior of the island with its friendly people, prodigious farms, plantations and wildlife that plucks my heartstrings. Hopefully, I will be able to come back soon and continue exploring.
All Images ©roamingscribe unless stated
Lynn was sponsored by the Grenada Tourist Board and stayed at the Kalinago Beach Resort and the True Blue Bay Boutique Resort.. Lynn also visited the Spice Island Beach Resort